Brett Kavanaugh begins his confirmation hearings with Americans still divided on his merits, recent polling finds, making him one of the least popular Supreme Court hopefuls in recent history.
In 11 polls taken since the start of August ― including a weekend HuffPost/YouGov survey ― support for Kavanaugh averages out at a mean of about 38 percent, and opposition at about 35 percent, with another 30 percent unsure.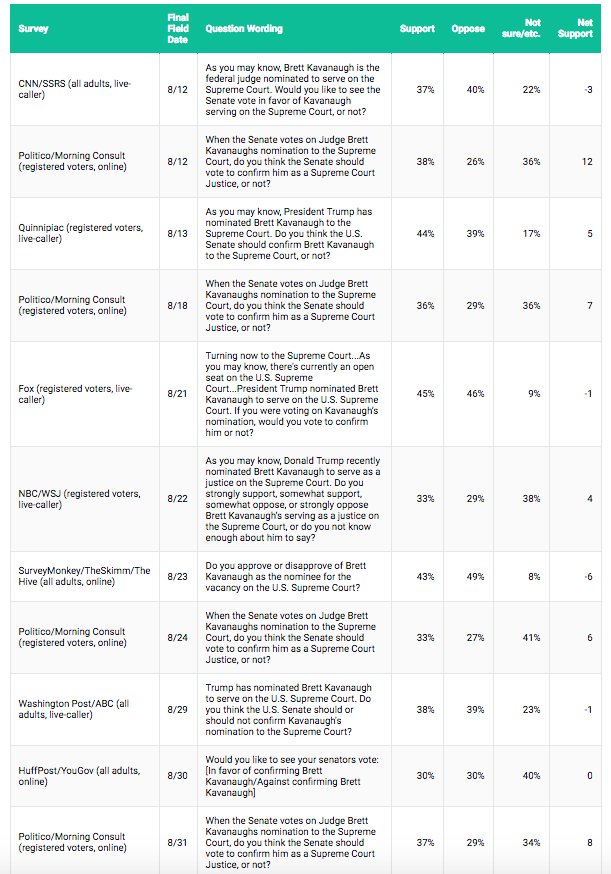 It's not clear that views of the nominee have changed much in the time since his name was first announced. Of the four pollsters who've checked in on opinions of Kavanaugh more than once since his name was first announced, Fox News found him falling from a net +6 in July to a net -1 in late August, while Quinnipiac found his numbers rising modestly from -1 in late July to +5 in mid-August. Weekly Politico/Morning Consult polling has found his numbers fluctuating between a high of +12 and a low of +6, while three HuffPost/YouGov surveys have ranged between +2 and 0.
Regardless, Kavanaugh's ratings continue to lag behind those of his predecessors. He's one of only two of 11 nominees in Washington Post/ABC trendlines from the past 30 years whose opponents outnumber his supporters. The other is failed nominee Robert Bork.
Excepting Bork and another failed nominee, Harriet Miers, nominees prior to the end of the Obama era were often able to drum up a majority of public backing. Clarence Thomas, Stephen Breyer, John Roberts, Samuel Alito, Sonia Sotomayor and Elena Kagan all saw above 50 percent support for their confirmation at least once during the process, according to the Post/ABC numbers. Since then, Merrick Garland, Neil Gorsuch and Kavanaugh have all failed to reach the same bar.
Kavanaugh may owe his faltering numbers at least in part to a combination of increasingly rigid partisanship and to President Donald Trump's own unpopularity. As ABC notes, "views of Kavanaugh are tightly tied to views of Donald Trump." In the HuffPost/YouGov survey, a 54 percent majority of those who disapprove of Trump's decision to nominate Kavanaugh attribute their opposition mainly to a lack of trust in the president's judgment, rather than Kavanaugh's record.
"A person's opinion on a Supreme Court nominee has always hinged on his or her political party to some extent, but the Kavanaugh nomination has set a new standard for polarization. ... [I]f Americans are 'sorting' their opinions on Supreme Court confirmations according to which party they belong to, the era of broadly popular Supreme Court nominees may be over," FiveThirtyEight's Nathaniel Rakich wrote in July. That, he noted, could mean that Kavanaugh has less to fear from the confirmation process than an earlier nominee might from similar unpopularity.
Two months out from the election, it's hard to predict how much weight voters will give to Kavanaugh's confirmation battle. A 53 percent majority of those who don't want their senators to confirm Kavanaugh call the Supreme Court very important in deciding their vote, according to the latest HuffPost/YouGov survey, as do 48 percent of those who favor his confirmation.
But in a separate, mid-August survey, just 15 percent of registered voters chose the Supreme Court as among their top two issues, ranking it distinctly behind health care, immigration, and the economy. Fourteen percent said they'd heard a Democratic candidate in their state mention the Supreme Court in the week the poll was taken, and 13 percent said that they'd heard a GOP candidate raise the issue.
Use the widget below to further explore the results of the HuffPost/YouGov survey, using the menu at the top to select survey questions and the buttons at the bottom to filter the data by subgroups:
The HuffPost/YouGov poll consisted of 1,000 completed interviews conducted Aug. 28-30 among U.S. adults using a sample selected from YouGov's opt-in online panel to match the demographics and other characteristics of the adult U.S. population.
HuffPost has teamed up with YouGov to conduct daily opinion polls. You can learn more about this project and take part in YouGov's nationally representative opinion polling. More details on the polls' methodology are available here.
Most surveys report a margin of error that represents some, but not all, potential survey errors. YouGov's reports include a model-based margin of error, which rests on a specific set of statistical assumptions about the selected sample rather than the standard methodology for random probability sampling. If these assumptions are wrong, the model-based margin of error may also be inaccurate. Click here for a more detailed explanation of the model-based margin of error.
Popular in the Community