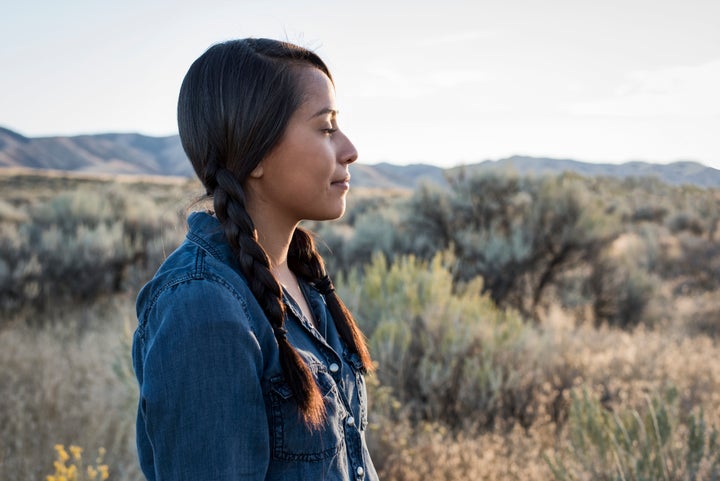 The Pledge of Allegiance describes the United States as "one nation, under God." But a new study from the Pew Research Center shows that for a significant number of Americans, "God" is not the God of the Bible.
The online survey of more than 4,700 adults, published Wednesday, found that a slim majority of Americans described themselves as believing in God "as described in the Bible" (56 percent). On the other hand, 33 percent of Americans said that while they don't believe in that God, they do believe in some other higher power or spiritual force in the universe.
This belief in something bigger is found even among those who identify as atheists, agnostics or "nothing in particular" ― a group that previous Pew research has found makes up more than 22 percent of adults and is growing. In fact, 72 percent of that religiously unaffiliated group, collectively known as "nones," expressed belief in God or a higher power. Fifty-three percent of them said they believe in a vague spiritual force, 17 percent confessed to believing in the God of the Bible, and 2 percent were unclear on the particulars.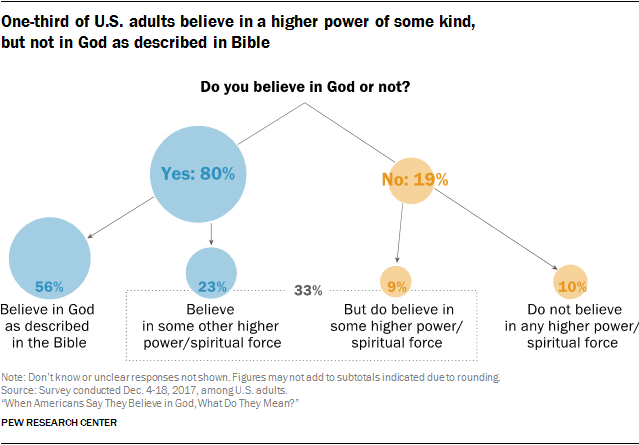 Not surprisingly, Christians were the most likely to say they believed in the God described in the Bible (80 percent). This belief was especially pronounced among Christians who go to historically black Protestant churches (92 percent) and evangelicals (91 percent).
But there were some differences in belief within Christian denominations. For example, 26 percent of mainline Protestants and 28 percent of Catholics said they believe in a higher power or spiritual force, but not in the God of the Bible.
Only 33 percent of Jews said they believe in the God of the Bible, while 56 percent just believe in a higher power or spiritual force.
There were not enough responses for Pew to draw conclusions about Muslims, Buddhists, Hindus and other religious believers.
Ryan T. Cragun, a professor of sociology at The University of Tampa who studies secularization, told HuffPost that the survey aligns with other research indicating that non-belief is growing in the U.S.
While none of the atheists surveyed said they believe in the God of the Bible, about 18 percent said they believe in another higher power or spiritual force. Cragun said he suspects that this higher power that atheists and many other religiously unaffiliated folks are referring to is not necessarily supernatural and may lack other classic Judeo-Christian characteristics.
"For many people, when they claim they believe in a higher power, they are not referring to something supernatural, like a deistic god or the force that underlies all things that is part of Hinduism or Buddhism," Cragun said. "To the contrary, they are describing something like the laws of nature or a sense of connection to all of humanity."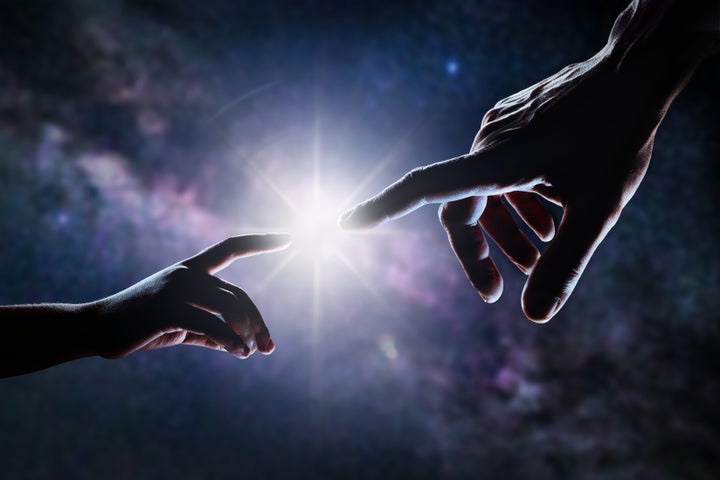 Young people were less likely than older Americans to say they believe in the God of the Bible. About two-thirds of adults 50 and older said they believe in God as described in the Bible, while only 43 percent of those aged 18 to 29 said the same.
While the new survey did not address how beliefs in God or another higher power have changed in recent years, previous studies have indicated that the percentage of Americans who say they believe in God or a universal spirit has generally been declining. In 2007, Pew found that 71 percent of U.S. adults said they believed in God with absolute certainty. In 2014, that number had slipped down to 63 percent.
Tom Krattenmaker, a religion columnist and author of Confessions of a Secular Jesus Follower, told HuffPost that the Pew findings bring encouraging news for those who don't think faith and secularism need to be at loggerheads.
"Despite this being an age of disaffiliation," Krattenmaker said, "it's clear that people are still pursuing spirituality and trying to cultivate meaning and purpose in their lives."
The Pew Research Center survey had a sampling error of plus or minus 2.3 percentage points.
Support HuffPost
The Stakes Have Never Been Higher
Related
Before You Go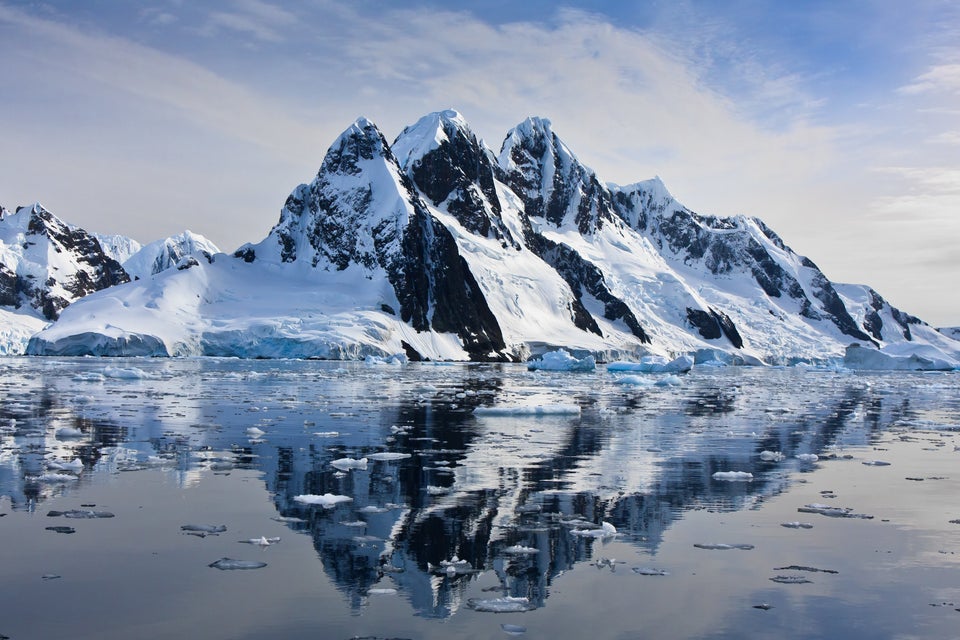 Our Readers Define God In One Word
Popular in the Community