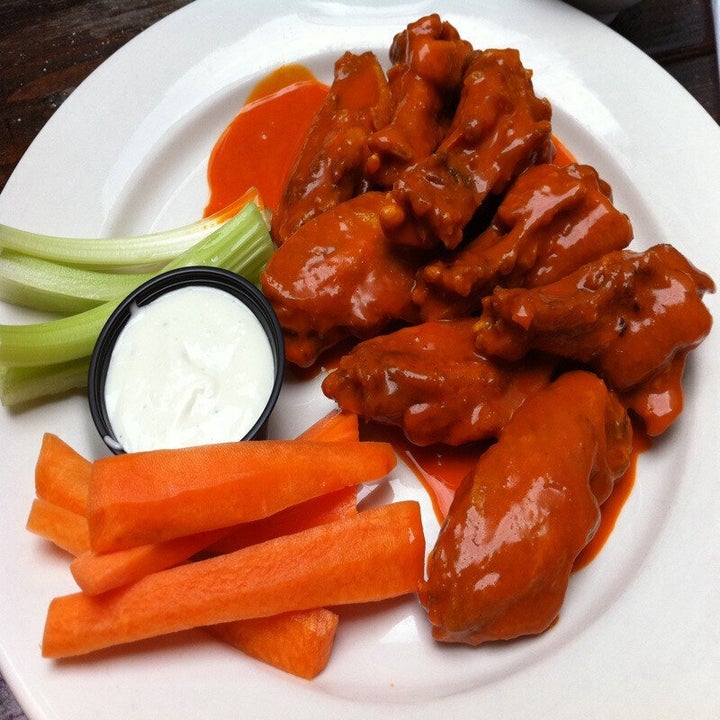 On Super Bowl weekend, Americans are expected to eat 1.25 billion chicken wings -- that's 100 million pounds -- according to a new report by the National Chicken Council. If the wings were laid end-to-end, they would circle the circumference of the Earth more than twice, which is about a quarter of the way to the moon. Super Bowl Sunday is the most popular day for wing-eating for the whole year; 25 billion wings are projected to be eaten in 2012 and five percent of those will likely be consumed on February 5. Wing consumption on Super Bowl Sunday is three times higher than on any other Sunday in the year.
It isn't just wings that are popular during the Super Bowl. Amazingly, they represent only an eighth of Sunday's total expected chicken consumption, explained Harry Balzer, chief food and beverage industry analyst and vice president of The NPD Group, in a press release emailed to The Huffington Post.
Chickens have two wings (the "drumette" and the "flat"), and three joints. While the meatier first and second joints are sold domestically, the thin third joint known as the "flapper" is often exported to Asian countries. Similar things happen to other parts of the chicken. Dark meat is often exported abroad since Americans are so enthusiastic about chicken breasts.
The supply of wings is limited by the amount of chickens. Thus, if the demand for wings is higher than the demand for other parts of the chicken, wing costs go up. According to the National Chicken Council, wing prices always go up during the fourth quarter of the year as restaurants start to stock up for the Super Bowl. Not surprisingly, prices usually peak in January.
Buffalo wings are actually a fairly new culinary creation; they were first served at Anchor Bar in Buffalo, New York in 1964, though there are several different stories about how precisely they came to be. Regardless, in half a century wings have gone from a regional specialty to the unofficial national bar food of America.
Related
Popular in the Community