From big portions to even bigger cars, Americans have repeatedly caught flack for how much we consume.
A new study shows we're gorging on information, too.
The report by the University of California, San Diego, titled "How Much Information?" explores American information consumption and communication, and offers up some incredible calculations of how much information we take in, and where we get it.
Some highlights from the study:
Americans spend an average of 11.8 hours per day receiving information, which adds up to about 1.3 trillion hours of information consumption in a year.
Americans consumed about 3.6 zettabytes (or 3,600 exabytes) of information in their homes in 2008. To put that in perspective, one exabyte is equal to about all of the hard drives in the entire state of Minnesota, which has a population of 5.1 million.
Forty-one percent of Americans' information consumption time is spent watch TV, although TV accounts for less than 35 percent of the information bytes consumed.
Fifty-five percent of information bytes consumed in the home come from computer and video games. The study explains that this share of our 3.6 zettabytes is so big in part because modern game consoles and PCs create huge streams of graphics.
The researchers calculated that we consumed, on average, 10, 845 trillion words in 2008, or about 100,000 words per American, per day. (As the New York Times points out, Tolstoy's "War and Peace", for comparison, is 460,000 words long).
Although technology has made us every more connected -- we can now get information virtually everywhere, on our phones, computers, TVs, in our cars, in elevators, and more -- the bytes of information we consume have grown at 5.4 percent annually, which is far less than the growth rate of computer and information technology.
Here are some charts from the study "How Much Information?" that present a breakdown of the source of the information we consume.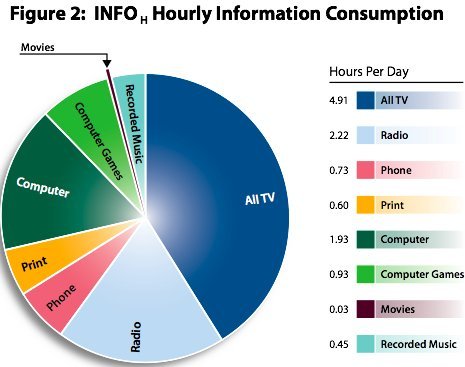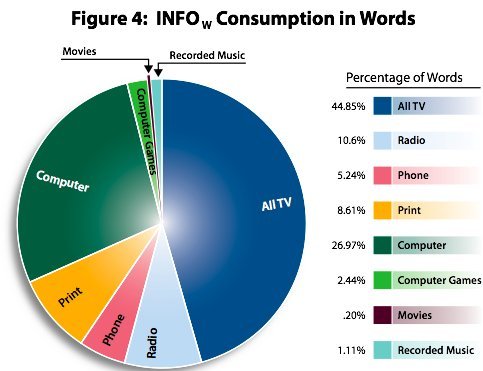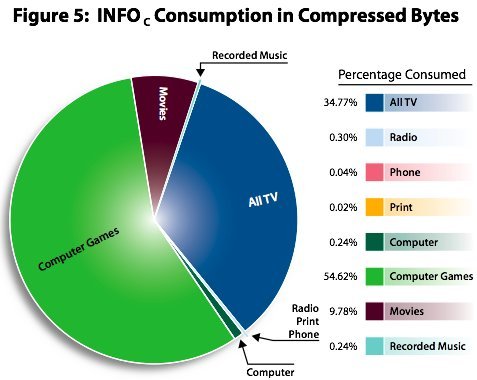 Read more about the study and download a full copy of the report here.
Popular in the Community