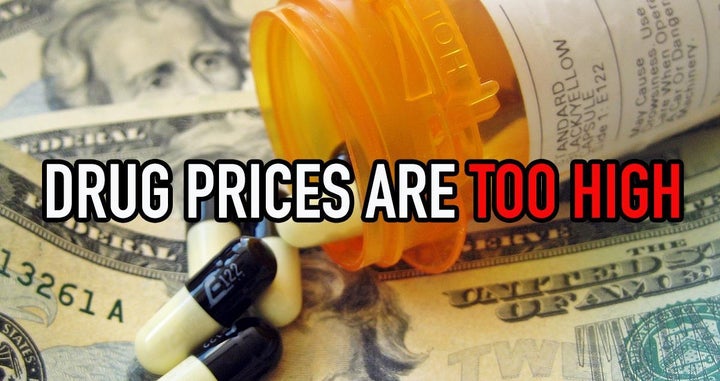 It is morally wrong that in the richest country in the world, at the richest point in our history, millions of Americans don't take the medicines their doctors prescribe because they can't afford them. Americans are facing a drug affordability crisis. Even among those with health insurance coverage, nearly one-third struggle to meet out-of-pocket costs, including the skyrocketing costs of critical and lifesaving prescription drugs.
This is why it is so important that, today, the "Improving Access to Affordable Prescription Drugs Act," was introduced by Senators Al Franken (D-Minn.), Bernie Sanders (I-VT.), Sheldon Whitehouse (D-R.I.), Sherrod Brown (D-OH), Amy Klobuchar (D-Minn.), Elizabeth Warren (D-Mass.), Tammy Baldwin (D-Wis.), Jack Reed (D-R.I.), Kirsten Gillibrand (D-N.Y.), Maggie Hassan (D-N.H.), Dick Durbin (D-Ill.), Chris Van Hollen (D-Md.), Jeff Merkley (D-Ore.), Tom Udall (D-N. Mex.), Richard Blumenthal (D-Conn.), and Cory Booker (D-N.J.).
Drug prices in the United States are too high, and for no good reason. The U.S. spends nearly $1,000 per person on prescription drugs. That's nearly 40 percent more than Canada does for the same medications! And even generic medicines, which account for approximately 80 percent of all prescriptions in the U.S., are unaffordable, with more than a third costing over $100 per prescription. Big Pharma lobbyists defend these practices by claiming that companies must take on large risks and invest significant resources into the research and development of new drugs. They claim that high prices are the cost of innovation.
But this is a lie. Pharmaceutical research and development is largely subsidized by taxpayer dollars, with little risk to drug companies. Indeed, pharmaceutical companies,which are collectively worth hundreds of billions, have extremely comfortable profit margins. On average, their net profits are greater than those of any other industry. The truth is, high drug prices are the cost of drug corporation greed and nothing else.
In 2015, the five largest drug companies raked in more than $50 billion in profits. Instead of reinvesting these profits into creating new and better drugs, drug companies spend their money on marketing and advertising —in some cases, spending twice as much on marketing as they do on the development of new treatments.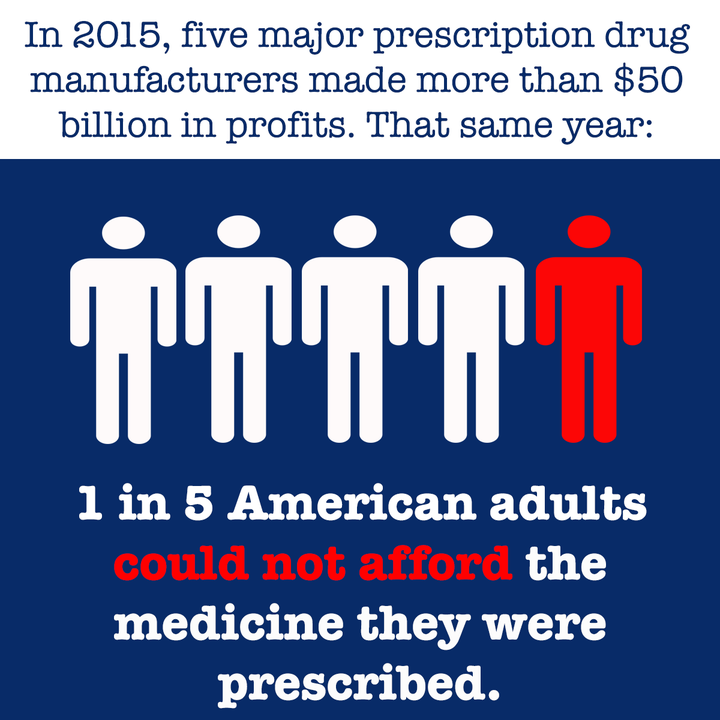 The Improving Access to Affordable Prescription Drugs Act includes a wide-ranging approach to lower prescription drug prices and cut down on drug corporation shenanigans:
Allow Medicare to negotiate fair drug prices and lower out-of-pocket costs for seniors.

Allow the importation of safe and affordable drugs.

End the monopoly abuses of prescription drug corporations that keep prices high.

Accelerate cost-lowering generic competition.

Stop companies from gouging consumers with steep price increases.

Remove tax deductions for TV and Internet ads that promote drugs to consumers.

Cap out-of-pocket medicine costs in health insurance plans.

Require transparency from the drug industry.
Recent polling shows that when it comes to healthcare, the vast majority of Americans have two major priorities: First, lowering individual costs for healthcare. Second, lowering prescription drug prices. This bill would accomplish both. It is time that politicians in DC listened to the American people and not the drug corporation lobbyists.
Popular in the Community