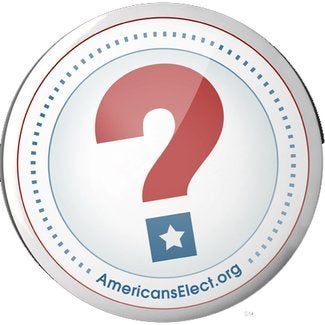 "There is a desire among delegates and millions of Americans who have supported Americans Elect to see a credible candidate emerge from this process," wrote Wachtel, against evidence to the contrary. This includes the fact that their best possible nominee, Buddy Roemer, only obtained 6,293 support clicks, far short of the level of support he needed to earn the group's nomination. None of this is Buddy Roemer's fault. By means of comparison, he earned 16,309 votes during the time he was actively participating in the GOP's primary process.
The good news, if you can call it that, is that Americans Elect opted to not pursue what would have been its best option -- to just overthrow the selection standards that never threatened to work in the first place:
However, the rules, as developed in consultation with the Americans Elect delegates, are clear. As of this week, no candidate achieved the national support threshold required to enter the Americans Elect Online Convention in June. The primary process for the Americans Elect nomination has come to an end.

Americans Elect, from the outset, has been a rules-based process, with the rules publicly available and open to debate by the delegates. Our key priorities have been to: 1) honor the trust Americans Elect has built with the delegates and American public; 2) require candidates to earn the nomination by building support among the Americans Elect delegate community and American voters; and 3) create a basis for a solid future for the Americans Elect movement.

This decision honors these priorities.
Wachtel went on to list Americans Elect's accomplishments. One of those, the organizations ability to secure ballot access, is definitely worth noting. The rest, however, are dubious. When it comes to "building the technological platform for the first nonpartisan secure national online primary at AmericansElect.org," this was clearly a $9 million bust. The group's boast of attracting "a significant base of more than 4 million supporters," falls flat because it's pretty clear that this "base" failed the test of "significance." "Educating the national and local media on the Americans Elect mission," was something the organization did constantly. Convincing the national and local media to take the effort seriously was harder, for the obvious reasons. (I'll never get tired of pointing out that Bill Belichick was a "candidate.")
"Let's make history!" concluded Wachtel (in the emailed version of the statement). You know ... maybe someday! As long as there are people foolish enough to throw millions of dollars at a weird group that has a zazzy solution that's in search of a problem, Americans Elect is a light that will never go out. In the meantime, the 2012 election cycle will continue with perfectly credible third party candidates, like Gary Johnson, the end.
Calling all HuffPost superfans!
Sign up for membership to become a founding member and help shape HuffPost's next chapter
BEFORE YOU GO