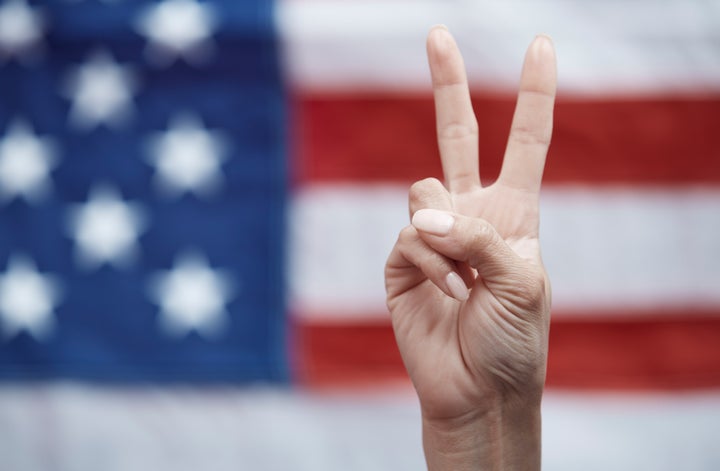 Fifty-six percent of Americans said they dislike Clinton, and 60 percent said they dislike Trump. Forty-four percent dislike her "a lot," and 51 percent express an equally negative view of him.
But when those who dislike each nominee a lot were asked in a follow-up question whether they actually "hate" the candidate, considerably fewer said yes.
Eighteen percent of all Americans said they hate Clinton, and 24 percent said they hate Trump. Sixty percent of Americans don't hate either candidate, while only 2 percent hate both.
President Barack Obama, who was also included in the survey, was disliked by 47 percent and hated by just 15 percent.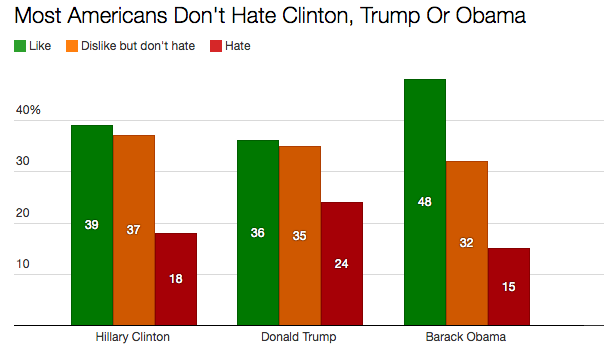 Another poll found people even less likely to express enmity toward the presidential nominees. An August survey from Quinnipiac University, asking the same questions, came up with similar like/dislike numbers, but found that just 8 percent of voters said they hate Clinton and only 10 percent said they hate Trump
That disparity could be partially a consequence of how each poll was conducted. The HuffPost/YouGov survey was fielded online, while the Quinnipiac poll used live phone interviewers. Respondents talking to another person might have felt less comfortable expressing hatred than those taking the survey privately on their own computer. (For proof of this theory, see pretty much any online comments section.)
But even when taking a survey in anonymity, most members of both parties stopped short of declaring they hate the other party's nominee. Forty-five percent of Democrats in the HuffPost/YouGov poll said they hate Trump, while 42 percent said they merely dislike him. Thirty-seven percent of Republicans said they hate Clinton, while 50 percent said they merely dislike her.
Plus, most Americans don't dislike both Clinton and Trump. About 70 percent of those surveyed said they have a positive view of at least one of the two candidates.
The HuffPost/YouGov poll consisted of 1,000 completed interviews conducted Sept. 7 to Sept. 9 among U.S. adults, using a sample selected from YouGov's opt-in online panel to match the demographics and other characteristics of the adult U.S. population.
The Huffington Post has teamed up with YouGov to conduct daily opinion polls. You can learn more about this project and take part in YouGov's nationally representative opinion polling. Data from all HuffPost/YouGov polls can be found here. More details on the polls' methodology are available here.
Most surveys report a margin of error that represents some, but not all, potential survey errors. YouGov's reports include a model-based margin of error, which rests on a specific set of statistical assumptions about the selected sample, rather than the standard methodology for random probability sampling. If these assumptions are wrong, the model-based margin of error may also be inaccurate. Click here for a more detailed explanation of the model-based margin of error.