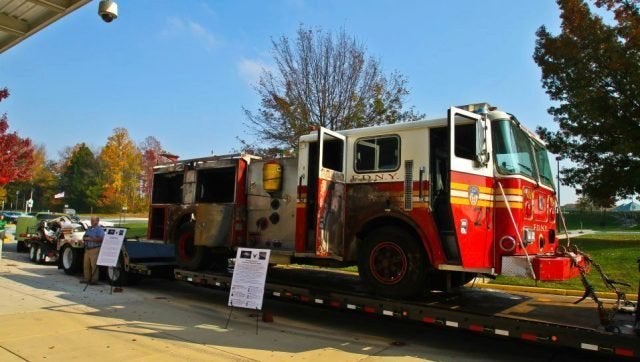 PRINCE WILLIAM, Va. -- The planned Americans in Wartime Museum will be adding a fire engine involved in the response to the Sept. 11, 2001 terrorist attacks at the World Trade Center towers to its permanent collection, officials announced Thursday.
The Fire Department of the City of New York's Squad 252 engine was on display Thursday at the McCoart Building during a ceremony honoring the acquisition of the artifacts, and the squad's crew who died at Ground Zero, according to Kathy Bentz, director of operations at the museum.
The fire apparatus was charred and dented in several places on both sides.
The nonprofit museum obtained the engine through an agreement with the Port Authority of New York and New Jersey and the help of volunteers, according to Bentz.
She said the artifacts fall in line with the museum's mission of honoring wartime service in uniform and on the home front.
"The way Pearl Harbor launched World War II -- we see 9/11 launching the war on terror," Bentz said.
Museum officials said they were honored to have the historic items be a part of their future exhibit which they said would help everyone learn about the terrorist attacks and its effect on the nation.
"It is a privilege to have these and to be the caretakers," Bentz said of the artifacts.
A crushed FDNY Chevrolet Lumina and other items from Ground Zero were also on display at the ceremony and will become part of the museum's collection, she said.
Prince William fire and rescue Assistant Chief Tim Keen attended the ceremony. He was a captain in the department on Sept. 11, 2001 and responded to the Pentagon attack.
Seeing the damaged vehicles brought back memories for the fire official.
"The damage -- while you saw it on TV, it doesn't do it justice until you see it in person," he said of the engine. "This is a piece of history and we're really proud of having it in Prince William County."
Law enforcement and fire and rescue officials escorted the artifacts as they were driven on a flatbed truck from New York to the McCoart building between Tuesday and Thursday.
"As the vehicles came from New York to the Pentagon to here, people came out on overpasses all along the way, saluted the vehicles, waved [and] honked their horns," Bentz said. "It was just a heartfelt outpouring of support."
For now, the artifacts will be kept in storage until the museum opens, which officials expect to happen soon.
Thursday's ceremony was held steps away from Prince William County's Sept. 11, 2001 memorial.
In June 2011, the county received four rusted steel beams from the World Trade Center to be a part of the memorial.
Staff writer David Pierce can be reached at 703-530-3905. ___
(c)2012 the News & Messenger (Manassas, Va.)
Distributed by MCT Information Services
Calling all HuffPost superfans!
Sign up for membership to become a founding member and help shape HuffPost's next chapter
BEFORE YOU GO