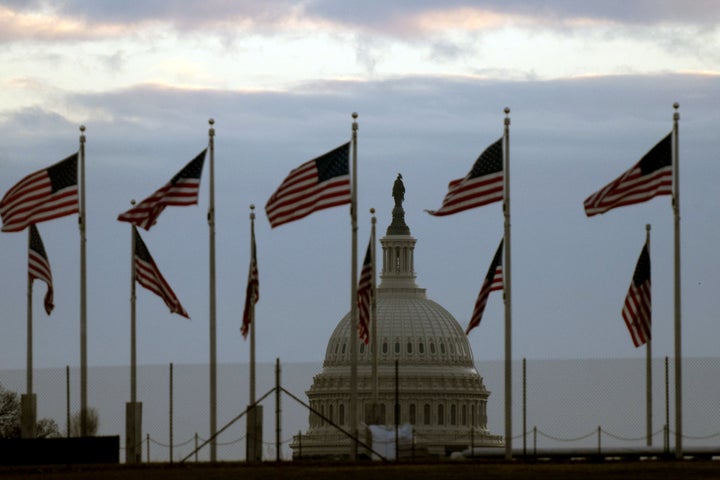 More than four in 10 Americans now consider the partial government shutdown a very serious problem, a new HuffPost/YouGov poll finds.
Seventy-one percent of Americans now say they see the partial government shutdown as at least somewhat serious, a modest uptick from 62 percent last week and 61 percent at the beginning of the shutdown. The share who consider it very serious now stands at 42 percent, up from one-third last week.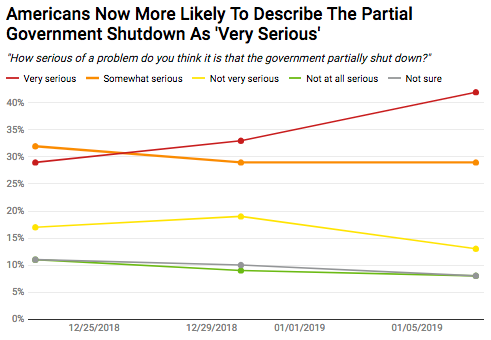 The shift also means that concerns now surpass the public's worries about last year's brief January shutdown, which was seen as at least somewhat serious by only 64 percent of Americans in HuffPost/YouGov's polling.
Twenty-three percent of Americans now say they've been affected in some way by the current shutdown or that they expect to be, up from 10 percent at the start of the shutdown. For some, that simply means living with the sense that their government isn't working. But other responses were more specific. Several said they'd reconsidered visits to national parks or expressed looming concerns about tax season. (The White House has since announced that tax refunds will be paid regardless of the status of the shutdown.)
"My husband works for the government and is currently furloughed," wrote one woman polled who said she was concerned for her family's "immediate financial future" and that she disapproved of the role both congressional Republicans and President Donald Trump had played in the shutdown.
HuffPost readers: Are you affected by the government shutdown? Email us about it. If you're willing to be interviewed, please provide a phone number.
Americans are 34 points more likely to disapprove than they are to approve of the way Congress has handled the shutdown. The public also disapproves of the performance of the congressional GOP, specifically (-29), and, by smaller margins, of Trump's performance (-17) and congressional Democrats' actions (-9); they're about split on the performance of their own representatives (+2).
The results appear to represent a modest reversion from the change seen in last week's survey, although, as before, it's unclear to what extent the movement reflects a genuine shift in opinion, rather than the kind of fluctuation inherent to tracking surveys.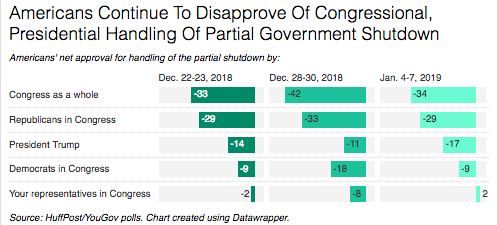 A 51 percent majority of Americans say Trump deserves at least partial responsibility for the shutdown, with 41 percent naming Democrats in Congress, and 35 percent putting at least some responsibility on Republicans in Congress. Those numbers are largely similar to where they stood last week.
In contrast with shutdowns from previous years, there's so far been relatively little polling on this one, perhaps in part because its start coincided with Christmas and the new year.
An Ipsos/Reuters tracking poll finds that currently about half of Americans mostly blame Trump for the shutdown, with 32 percent naming congressional Democrats and 6 percent congressional Republicans. Another survey from Morning Consult, taken at the beginning of the shutdown, bore similar results, with 43 percent of voters saying Trump was most to blame, 31 percent pointing the finger at Democrats in Congress, and 7 percent naming the congressional GOP.
An Economist/YouGov poll taken over New Year's also gave President Trump the plurality of the blame, and found that 40 percent of the public believe Trump should accept the Democrats' current offer of $1.6 billion for border security, with just 24 percent saying Democrats should agree to spend $5 billion for a border wall. Another 19 percent said the two parties should meet somewhere in the middle.
Use the widget below to further explore the results of the HuffPost/YouGov survey, using the menu at the top to select survey questions and the buttons at the bottom to filter the data by subgroups:
The HuffPost/YouGov poll consisted of 1,000 completed interviews conducted Jan. 4-7 among U.S. adults, using a sample selected from YouGov's opt-in online panel to match the demographics and other characteristics of the adult U.S. population.
HuffPost has teamed up with YouGov to conduct daily opinion polls. You can learn more about this project and take part in YouGov's nationally representative opinion polling. More details on the polls' methodology are available here.
Most surveys report a margin of error that represents some, but not all, potential survey errors. YouGov's reports include a model-based margin of error, which rests on a specific set of statistical assumptions about the selected sample rather than the standard methodology for random probability sampling. If these assumptions are wrong, the model-based margin of error may also be inaccurate. Click here for a more detailed explanation of the model-based margin of error.
Support HuffPost
The Stakes Have Never Been Higher
Popular in the Community