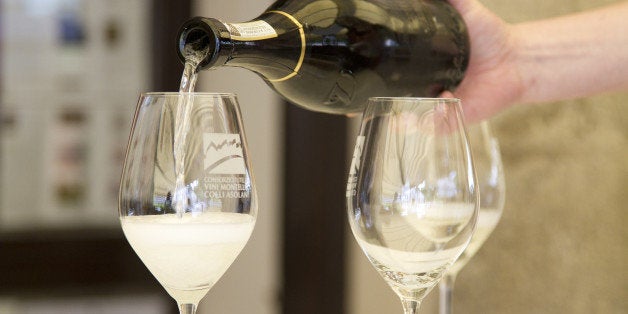 NEW YORK, Feb 11 (Reuters) - Americans are drinking more Italian wines than Italians themselves, owing to the popularity of sparkling wines from the southern European country and millennials.
Italian varieties are the top imported wine in the United States, which is the world's largest consumer market, according the Italian Wine and Food Institute.
Winemakers attending the Vinitaly trade show in New York said despite such classic Italian wines as Barolo, Brunello and Babaresco, the sparkler Prosecco is the favorite.
"It is Prosecco that is driving sales right now. It was pulled in by Moscato," Stevie Kim, managing director of Vinitaly, said about the sweet, sparkling Italian dessert wine.
"And it is the millennials who are in the driver's seat," she added, referring to people born in the 1980s and later.
The Silicon Valley Bank (SVB), which serves many California vineyards, noted in its 2014 annual business report for the industry that "the Millennial generation is consuming more foreign wine." Millennials also have a fondness for sweeter wines.
Sales of Moscato imported from Italy were up 26.3 percent by volume for the 52 weeks ending Jan. 4, according to the Nielsen ratings company. Imports from Italy of a still version of the grape were up 14.1 percent by volume.
Unlike Prosecco, which is made from the Glera grape and must be produced in a well-demarcated region, Moscato is a grape that can be grown anywhere and is not subject to the regulations of an Italian consortium.
So Italian brands of Moscato, such as Riunite, Maschio Cadora, or Ceretto Santo Stefano, are battling U.S. brands, including Barefoot, Beringer or Cupcake, for shelf space.
And although Italy is the world's largest wine exporter, Italians are drinking less wine as American consumption rises.
"(The) large majority of Italians like to drink a glass of wine having their meal," said Michele Antonio Fino, associate professor at the University of Gastronomic Sciences of Pollenzo. "They don't feel it is as necessary as it was 30 years ago."
Wine consumption is at its lowest point in Italy since the country was unified in 1861, according to Coldiretti, the largest Italian farmers' association.
Although final figures were not available, Italians were expected to drink per adult about 10.6 gallons (40 liters) of wine in 2013, or just about a third of the 29 gallons a year they used to consume in the 1970s, according to the Italian winemaking association Assoenologi.
By comparison, Americans drank between 1.4 gallons and 2 gallons per person in the 1970s. In 2012, they consumed 2.7 gallons of wine, according to the California-based Wine Institute.
The consortium that governs the production of Prosecco reported global sales in 2013 topped some 241.6 million bottles, up more than 24 percent from 2012.
"It's just taken off like a shot. You used to be able to get good Prosecco for under $10 a bottle here," said Kim. "Now, many are nearer to $20."
Still, there are signs that Prosecco producers and many other winemakers will have difficulties raising their prices in 2014. California's SVB cautioned that the higher volume of wine available for sale in a sluggish economy will temper the opportunity for producers to raise prices.

Related