When America declared our independence from the British Crown 240 years ago today, we cut ourselves off from the "dowry" of Crown Jewels protected in the Jewel Vault in the Tower of London. Including the Imperial Crown of State -- adorned with the Second Star of Africa, part of the largest diamond ever mined in history, 2,783 other diamonds, 17 sapphires, 277 pearls, 11 emeralds and 5 rubies -- a total of 142 spectacular items are protected as Crown Jewels, "enduring symbols of 900 years of monarchy." Every year approximately 2 million Britons and foreign tourists gape at them from behind a glass partition.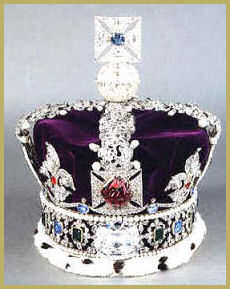 When we took our independence from Britain we eschewed the trappings of monarchy including this Imperial Crown of State, and created a new system of government and a new system of Crown Jewels - National Parks.
In contrast, America's Crown Jewels are spread out across our country like a vast network of precious gems available for every American and millions of foreign visitors to enjoy . The system of living, breathing landscapes and historic sites to which President Abraham Lincoln made the first deposit of Yosemite Valley in 1864, now stands at 411 units valued at $92 billion, according to a recent study.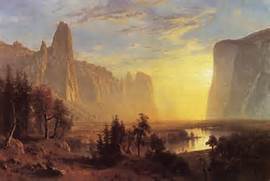 The ethereal vision of Yosemite Valley that Albert Bierstadt portrayed in his paintings inspired President Lincoln to set aside the valley as our fist state park, later expanded to become Yosemite National Park.
With the great man-made monuments of Europe behind them, Americans in the "new world" chose a system of values based on land, creating our Crown Jewels from the glorious swaths of nature they encountered as they pushed west. Today our "Crown Jewel" National Park System ranges from the diamond hard face of "the Great One" - Mount Denali in Denali National Park, Alaska to the welcoming turquoise waters of the US Virgin Islands National Park and archaeological records dating back to 800 BC. From Independence Hall in Philadelphia where the US Constitution was debated and signed to George Washington Carver's Secret Garden at his birthplace National Monument in Diamond, Missouri, our historical sites serve as guideposts, continually refining our progress towards a nation "with liberty and justice for all."
Last week President Obama added another jewel to our treasury, creating the Stonewall Inn National Monument in New York City as a tribute to the efforts of the LGBT community to have their human rights recognized. Our Crown Jewels support our lives by purifying our air and water, providing habitat for wildlife, absorbing storm surge and protecting us from the effects of climate change. As valuable as they are, Britain's crown jewels cannot lay claim to those qualities.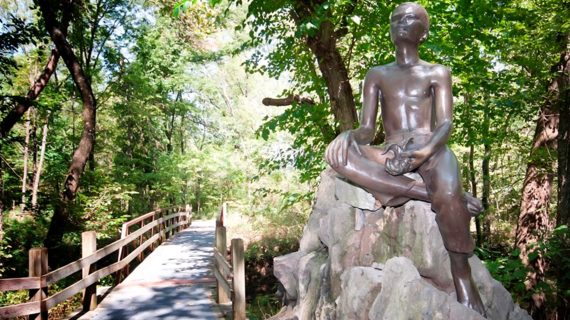 I can hardly wait to explore the trail to his Secret Garden at George Washington Carver National Monument in Diamond, Missouri when I speak at Carver Day on Saturday, July 9.
So today I rejoice in the knowledge that the American people truly recognize and prize our Crown Jewel National Park System. A study released last week by the National Park Foundation shows that Americans assign a value of $92 BILLION to the System and the services provided by its caretaker agency, the National Park Service. The study showed that even people who do not visit national parks value them highly and say they'd be prepared to pay higher taxes to protect them.
These results perfectly illustrate the complete unacceptability that our Congress assigns a meager annual budget of approximately $3 billion to the parks, resulting in a huge deficit of funds to adequately care for and protect them, to maintain the roads and restrooms (I learned that each stall at Grand Canyon south rim uses one mile of toilet tissue every day!) hire biologists and wildlife managers, and park rangers to tell the stories of history and nature. It is only appropriate that we create an endowment for the Park System that honors the park service's mission to protect them in perpetuity instead of having to depend on an anemic annual budget.
I am trusting that this report will spur a different conversation about the future of our Crown Jewels. I hope it exposes the Park Service's attempts to allow a greater corporate presence in our national parks in exchange for money, as proposed by the current director in a pending order. Like a poison pill that will go into effect after he leaves office at the end of this year, the order proposes a shift to commercialize our crown jewels in ways that have not been allowed in 152 years and was not intended by their 19th Century founders. If managers at the Tower of London suddenly decided to give corporations titular ownership of the Crown Jewels in exchange for money, today's uproar over the outcome of Brexit might seem comparatively mild.
In Estes/Rocky Mountains National Park a few weeks ago, I sat on a bench overlooking idyllic Bear Lake and watched visitors strolling by on the trail. From the youngest babies and eager young children clutching their Junior Ranger notebooks and making notes, to elderly family members walking with a cane, no one seemed rushed or stressed. Everyone smiled and said hello to me as I sat quietly enjoying the forest and the lake, the ambience of singing birds and quaking aspen leaves.
Seeing a young mixed couple going around for the second time, I asked what they'd think if they knew there was a move afoot to allow a greater corporate presence in our parks.
"What?!" they blurted simultaneously. "That's dumb. We come out here to get away from the corporate world."
As we celebrate our Independence from Britain and all other foreign powers today, let us remember the words of our founding father Thomas Jefferson, in one of his last letters:
". . . let the annual return of this day forever refresh our recollections of these rights, and an undiminished devotion to them," he said of Independence Day and the Declaration of Independence in June 1826. He died the following month.
Let us demand of Congress that they allocate the budget required by the Park Service to appropriately care for our Crown Jewels. I have no issue with corporations contributing to the support of our parks, but God forbid that they have an ego big enough or rude enough to want to impose their "brand" on our collective treasures. For shame! Whatever else happens, it is our patriotic duty to defend our parks "for the benefit of this and future generations."
REAL LIFE. REAL NEWS. REAL VOICES.
Help us tell more of the stories that matter from voices that too often remain unheard.