There is no law guaranteeing U.S. workers paid vacation, but the vast majority of Americans think there should be one, according to a new HuffPost/YouGov poll.
In the poll conducted just before Labor Day, 78 percent of respondents say large employers should be required to provide workers at least some paid vacation time, a result virtually unchanged from the three-quarters who said the same thing last year. Just over 60 percent say businesses should give their employees two weeks or more of time off.
The U.S. is an outlier among advanced economies when it comes to guaranteeing vacation time for workers. Although most private sector employers do offer at least some paid time off, there is no federal mandate requiring that workers be offered paid vacation as part of their jobs. European countries, by contrast, provide at least 20 vacation days per year for employees.
With vacation time left at the discretion of employers, how much paid time off you receive in the U.S. typically depends on where you fall along the income scale. High-income earners are significantly more likely to enjoy paid vacation than low-income earners. For instance, among the highest 10 percent of wage earners, 92 percent have access to vacation days, according to the Bureau of Labor Statistics; among the lowest 10 percent, only 40 percent do.
In the survey, of those employed at least part time, 58 percent say they receive paid vacation time from their employer, while 42 percent say they don't receive any paid vacation time. Fifty-four percent say they haven't taken a vacation in the last 12 months.
Most Americans think employers should provide at least two weeks of paid vacation, according to the survey. Thirty-eight percent say two weeks should be guaranteed. Another 13 percent think three weeks is appropriate, and 18 percent say four weeks.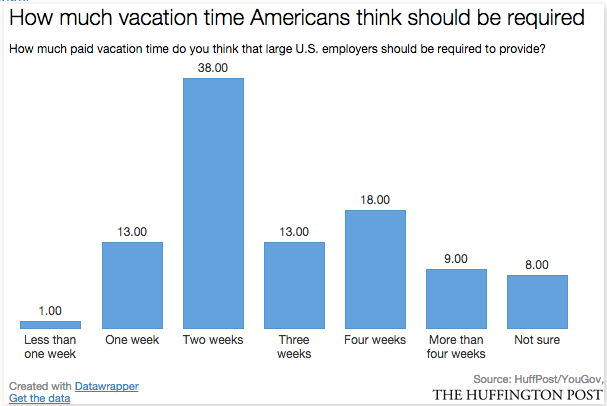 Liberals in Congress have proposed vacation mandates in the past without any success. A 2013 bill introduced by Rep. Alan Grayson (D-Fla.) would have guaranteed workers at large businesses at least one week of paid vacation, but the legislation picked up no traction with either Republicans or Democrats. Sen. Bernie Sanders (I-Vt.), who's running to be the Democratic nominee for president, introduced a bill in June that would provide most workers with at least 10 vacation days per year. That bill is unlikely to ever make it out of committee in the Republican-led Senate.
Many Americans who do receive paid vacation days don't necessarily take them. In a July HuffPost/YouGov poll, 37 percent of Americans who work part time or full time said they'd delayed taking a vacation this year in order to save money, and 45 percent said their ability to take time off from work had been at least somewhat of a factor in their summer plans.
The HuffPost/YouGov poll consisted of 1,000 completed interviews conducted Sept. 2-3 among U.S. adults, using a sample selected from YouGov's opt-in online panel to match the demographics and other characteristics of the adult U.S. population.
Calling all HuffPost superfans!
Sign up for membership to become a founding member and help shape HuffPost's next chapter