CHICAGO -- Thousands of people in Egypt who flooded streets in riots calling for President Hosni Mubarak to step down were joined Saturday by relatives and supporters at protests in major American cities.
"Mubarak will go. If not today, then tomorrow," Magdy Al-Abady, 39, of Chicago, said during a demonstration downtown in front of the Egyptian consulate's office. The genomics researcher, with an Egyptian flag draped over his shoulders, said his brother and parents were protesting in Egypt and he was speaking often with his brother.
Protesters also gathered outside the United Nations complex in New York City, filled the street in front of the Egyptian embassy in Washington and marched through downtown San Francisco to show solidarity with the uprising. Other cities including Seattle and Los Angeles also saw demonstrations.
In Chicago, picketers marched and chanted, "Hey Mubarak you will see, all Egyptians will be free." They held signs that said "Victory to the Egyptian people" and "Freedom and Justice for all Egyptians."
Al-Abady said he wants President Barack Obama to support the Egyptian people.
"He must say very clearly that he does not support Mubarak," Al-Abady said. "Mubarak is not Egypt. The Egyptians are not Mubarak."
The crowd in New York called for the international community to support the popular uprising and abandon Mubarak.
Dahlia Ashour, a native of the Egyptian capital of Cairo who still has family in Egypt, said she was disappointed Obama hadn't made a forceful statement in support of the protesters. "He should be standing by the people, not by the regime," she said.
Obama has issued a plea for restraint in Egypt and called on Mubarak to take steps to democratize his government and refrain from using violence against his people.
Ahmed Soliman, of Manhattan, said Egypt deserves a leader who is "completely democratic." He said the riots and massive demonstrations are the result of genuine popular anger, not the work of a scheming opposition party.
"This is coming from the people," he said. "I've been waiting for this to happen. I left Egypt 18 years ago, and I have been dreaming of this day since then."
In downtown Seattle, protesters carried hand-lettered signs, saying "We'll shout until he's out" and "Down, Down Mubarak."
Dozens gathered in Harvard Square in Cambridge, Mass., to peacefully protest, waving Egyptian flags, holding signs and chanting for Mubarak to step down as they marched toward Boston.
In San Francisco, a crowd crammed into a small plaza waving Egyptian flags and raising chants in English and Arabic against Mubarak. Demonstrators said they were not placated by Mubarak's decision Saturday to name his intelligence chief as his first-ever vice president.
"We want to say to the U.S. administration: Stop supporting terror - terror and dictatorship," said Omar Ali, 21, of San Francisco, referring to the Mubarak regime. "Either you stand for democracy or not."
College students in Los Angeles used Facebook to organize a demonstration outside the federal building in Westwood, asking for Mubarak to be ousted and a new interim government.
In Chicago, 35-year-old student and mother Basma Hassan waved the Egyptian flag and said she wants the Egyptian people to know they have support in the U.S.
"We feel their pain," she said. "We don't want anyone to think we betrayed them."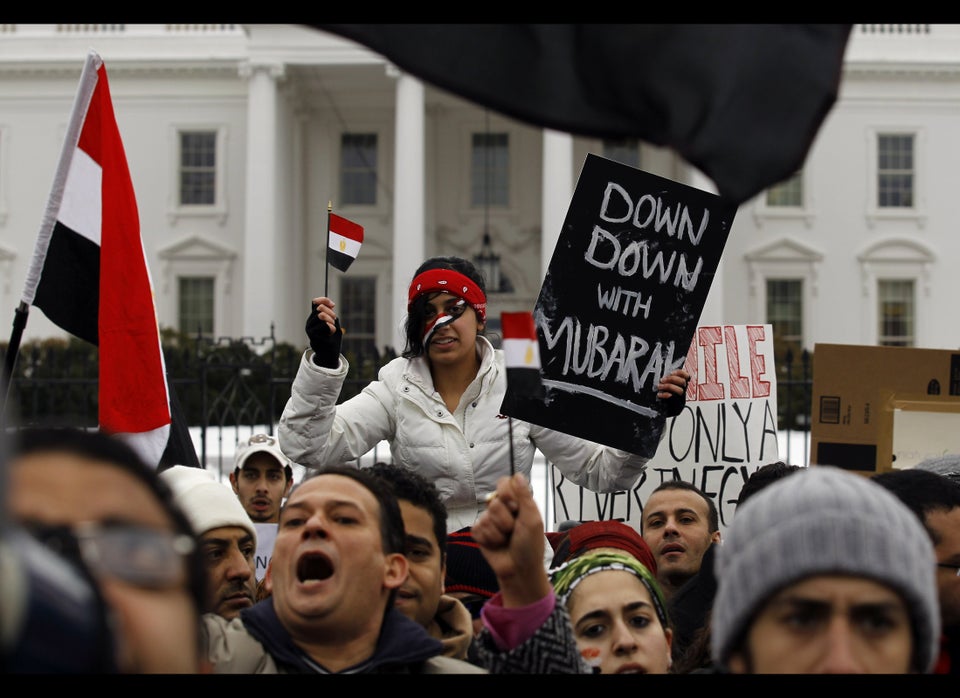 Protests Across America
Photographs courtesy of the Associated Press.
Related
Popular in the Community