A new survey asked Americans to rate different religious groups on a "feeling thermometer" from zero to 100. The results revealed that Americans are warming up to people to different faiths.
The survey, released Wednesday by Pew Research Center, found that Americans rate Jews the warmest and Muslims the coolest. Pew surveyed 4,248 adults between Jan. 9 and 23, 2017, and found that Jews got an average rating of 67 degrees, while Muslims came in at just 48 degrees.
Across the board, though, Americans feel increasingly positive toward a range of religious groups. Pew compared the results of the study with those of a previous poll conducted in 2014, and almost every religious group received a higher thermometer rating in the second survey.

"One of the really interesting things was that the increasingly warm feelings we see for these groups is so broad based," Jessica Martinez, lead researcher for the study, told The Huffington Post. "There's increasing warmth in the way religious groups view each other and in the way Democrats and Republicans view different groups. Even though there are differences, generally both view most of the groups more warmly than they did before."
Thermometer ratings for Jews rose from 63 degrees to 67 degrees. Muslims received a rating of 48 degrees, up from 40 degrees in 2014. Ratings for Catholics, Buddhists, Hindus, Mormons and atheists also rose. The biggest increase in "temperature" occurred for atheists, whose rating rose from 41 degrees to 50 degrees.
Americans, on average, continue to treat Muslims with hostility. A recent HuffPost/YouGov poll found that just 28 percent of Americans hold very or somewhat favorable views of Islam, while 48 percent hold very or somewhat unfavorable views of the faith.
Among different demographic groups, however, views of Muslims and Islam vary significantly. HuffPost's poll revealed a 29-point gap between Republicans and Democrats who view Islam favorably ― at 15 percent and 44 percent, respectively.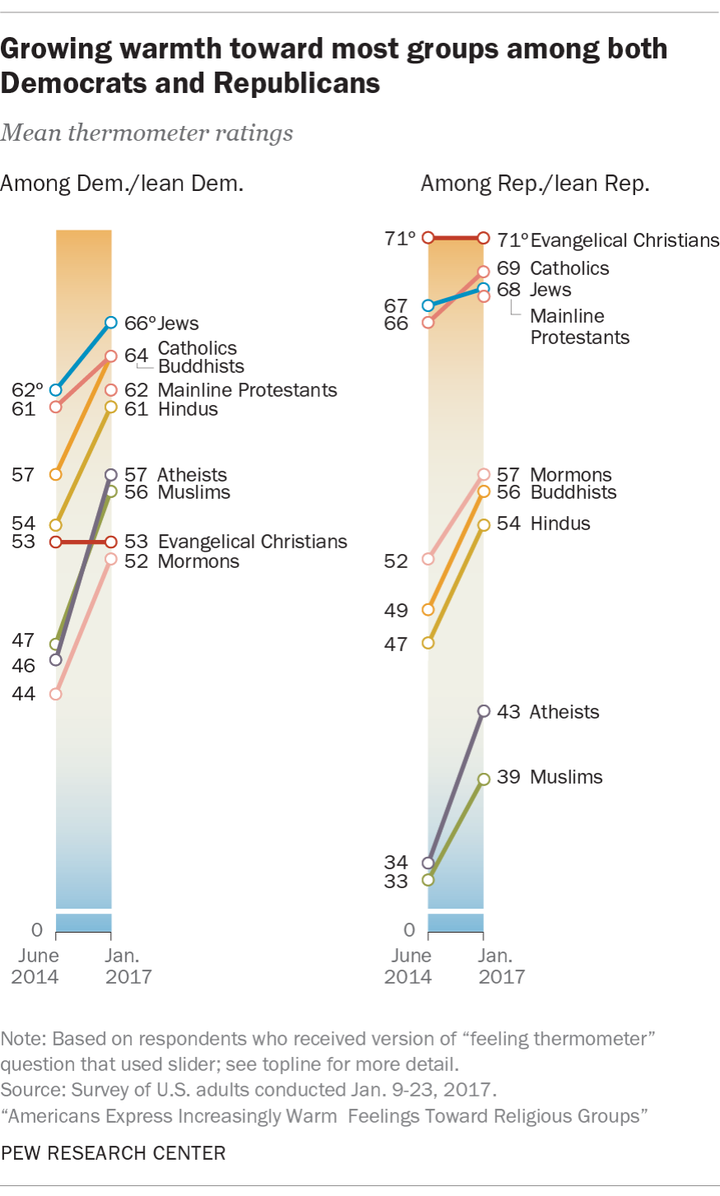 Pew's survey also found a the largest discrepancy between how white evangelicals and Black Protestants rate Muslims ― 37 degrees and 60 degrees, respectively. White evangelicals only rate atheists lower than Muslims, at 33 degrees. And Atheists reciprocate the feeling. They rate white evangelicals at just 29 degrees.
Americans in different age groups also tend to hold different views of faith groups. Younger Americans, ages 18 to 29, rate all religions relatively similarly. They report the coolest temperature for Mormons, 54 degrees, and the highest for Buddhists, 66 degrees.
Americans aged 65 and older, however, hold very favorable opinions of some faiths and quite low opinions of others. That age group rates atheists the lowest ― at 44 degrees ― and mainline Protestants the highest ― at 75 degrees.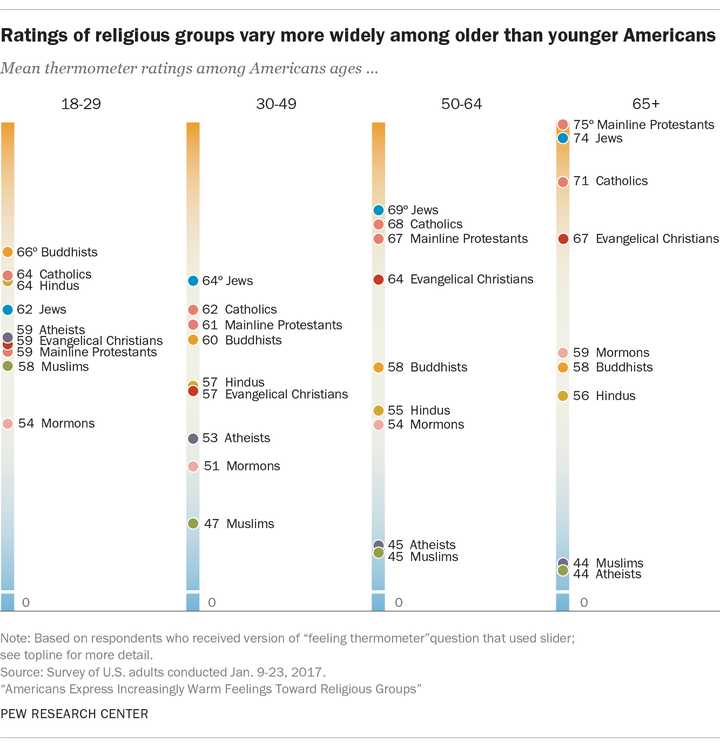 Respondents tended to have higher opinions of faiths that they had a personal connection to through friends and acquaintances. Those who didn't know someone who was atheist rated the group at 38 degrees on the "feeling thermometer." Those did know at lease one atheist rated the group at 59 degrees.
Between Americans who said they didn't know someone who was Muslim and those who did, the temperatures reported toward the faith group were 42 degrees and 56 degrees respectively. Pew also found that the percentage of Americans who said they knew someone who was Muslim rose from 38 percent to 45 percent between 2014 and 2017.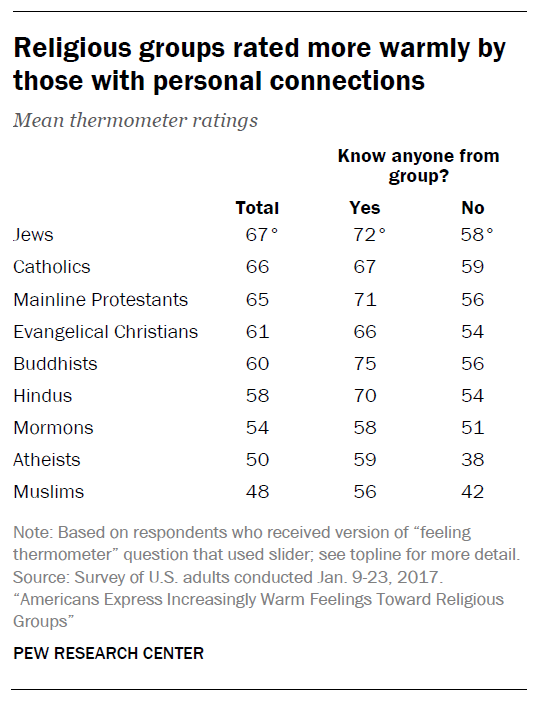 Despite persisting antagonism toward Muslims, atheists and other faith groups in the U.S., Martinez noted that the ratings have risen impressively in spite of large divisions among Americans.
"It's interesting to see ― coming out of such a divisive election year where saw a lot of divisions among Americans emphasized ― that we're actually finding overall increasingly positive feelings toward faith groups," Martinez said.
Related
Before You Go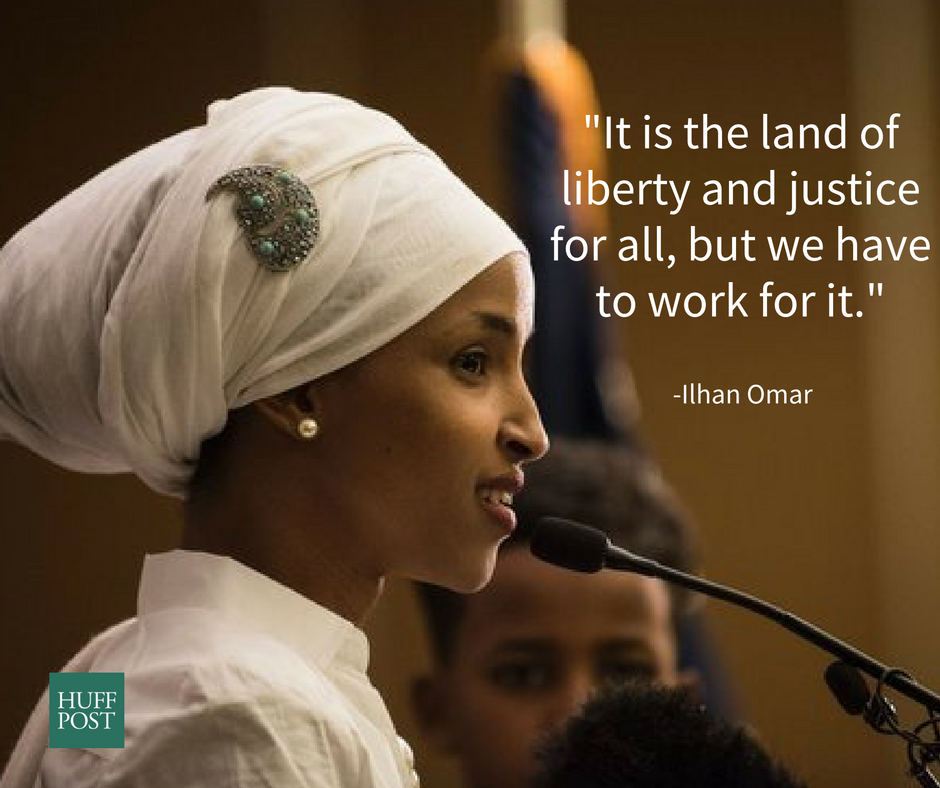 Muslim Women Who Made A Difference In 2016
Popular in the Community