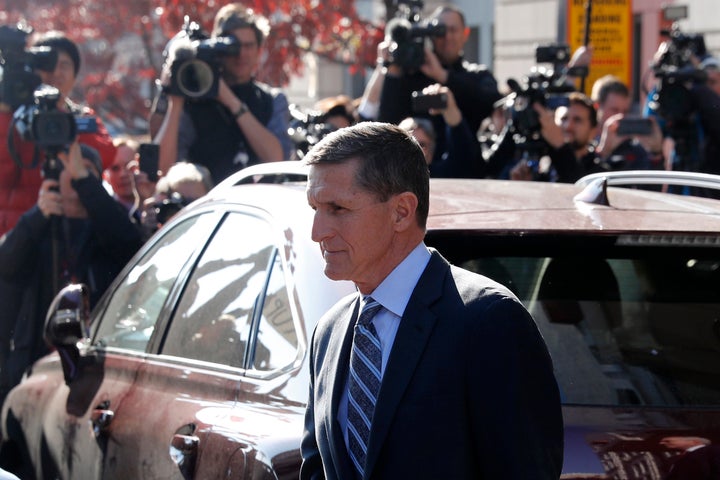 Another 28 percent of the public doesn't believe that the Russia story is a legitimate issue, with the rest unsure.
The numbers are virtually identical to a May survey taken following the firing of former FBI director James Comey and the revelation that Trump reportedly revealed classified information to Russian officials.
In the intervening months, however, views of the Russia story's legitimacy had flagged somewhat, reaching a low of 42 percent in September.
In a separate tracking question, 53 percent of Americans now say that the Trump administration's relationship with Russia is at least a somewhat serious problem, and 38 percent that it's very serious. Nearly a third say it's not very or not at all serious, little changed from earlier in the year.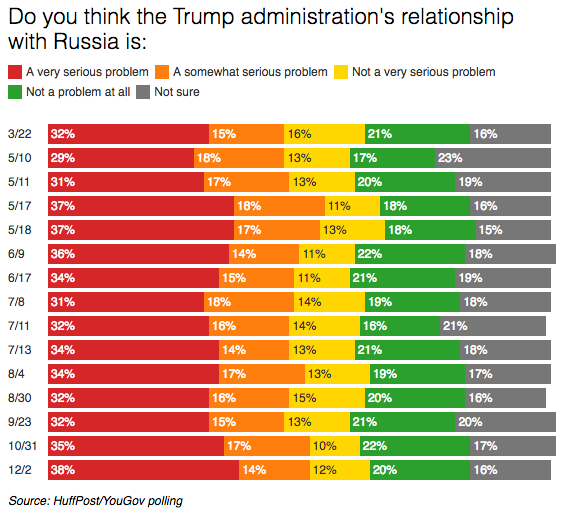 A slim majority of the public, 53 percent, believes that Flynn did something wrong, with 39 percent saying his actions are part of a larger pattern of wrongdoing in the Trump administration, and a tenth that they were an isolated incident. A tenth say that Flynn ― who, as respondents were told, pleaded guilty to a crime ― did nothing wrong, with 37 percent uncertain.
Responses were largely split along political lines, with 82 percent of voters who backed Hillary Clinton in last year's election, but just 6 percent of those who supported Trump, considering Flynn's actions as evidence of broader wrongdoing. A majority of non-voters and those who supported a third party say they aren't sure what to make of any of it.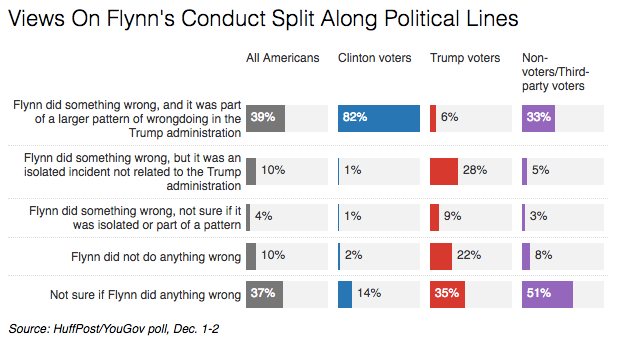 Americans say by an 8 point margin, 36 percent to 28 percent, that they approve of Robert Mueller's handling of his job as special counsel on the Russia probe, with more than a third not sure. Nearly three-quarters of Clinton voters approve, while a majority of Trump voters disapprove.
Use the widget below to further explore the results of the Huffpost/YouGov survey, using the menu at the top to select survey questions and the buttons at the bottom to filter the data by subgroups:
The HuffPost/YouGov poll consisted of 1,000 completed interviews conducted Dec. 1-2 among U.S. adults, using a sample selected from YouGov's opt-in online panel to match the demographics and other characteristics of the adult U.S. population.
HuffPost has teamed up with YouGov to conduct daily opinion polls. You can learn more about this project and take part in YouGov's nationally representative opinion polling. More details on the polls' methodology are available here.
Most surveys report a margin of error that represents some, but not all, potential survey errors. YouGov's reports include a model-based margin of error, which rests on a specific set of statistical assumptions about the selected sample rather than the standard methodology for random probability sampling. If these assumptions are wrong, the model-based margin of error may also be inaccurate. Click here for a more detailed explanation of the model-based margin of error.
Popular in the Community