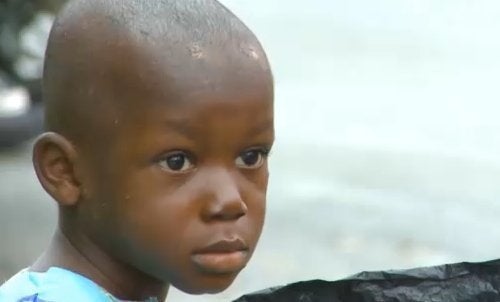 If you live in the U.S. and you are:
•In bondage
•Having bad dreams
•Under a witchcraft attack or oppression
•Possessed by mermaid spirits or other evil spirits
•Barren and having frequent miscarriages
•Experiencing an unsuccessful life of disappointment
•Experiencing financial impotency with difficulties
•Facing victimization and a lack of promotion
•Experiencing a stagnant life with failures
...You need not wait for too long. Helen Ukpabio, a Nigerian evangelist, will be traveling to the United States in March where she will be preaching in Texas. All ye people in the U.S. who have been struggling with the possession of mermaid spirits no longer have to be like fish out of water, someone's finally coming to shore you up.
While it is laughable that there are credulous people in this world who believe in such fishy claims, the real issue that should trouble every American is that their impending guest is also a notorious child-witch hunter. Ukpabio alleges that Satan constantly manifests himself in the bodies of children through demonic possession, turning them into witches and wizards. Condemned as witches, these children are splashed with acid, buried alive, immersed in fire or expelled from their communities. According to Nigerian humanist campaigner Leo Igwe, Ukpabio "is a Christian fundamentalist and a Biblical literalist. She uses her sermons, teachings and prophetic declarations to incite hatred, intolerance and persecution of alleged witches and wizards." Ukpabio, we learn from Igwe, claims to be an ex-witch, who later founded her own church to pursue her "anointed mission" of delivering people from witchcraft. Her ministry's services include deliverance sessions that identify and cast out demons. Her church has extended witch- hunting branches all over Nigeria and even to other countries.
This won't be Ukpabio's first trip to the United States. In her last visit to Houston, Texas in 2010, she defended herself by arguing that her critics pick on her because she is an African. She cited J.K Rowling's Harry Potter series, arguing that if Westerners do not take Rowling's work seriously, then she (Ukpabio) is a hapless victim of Western racism. However, while Rowling's readers tend to buy brooms, hats and "magic wands" for their children to play with, parents inspired by Ukpabio are more likely to buy machetes and physically confront the alleged demons living in their children's bodies. Also, citing Western interference and racism has now become the mantra for many unscrupulous Africans pursuing self-serving ends. They unfairly take advantage of Africa's injurious history with the West, a topic that elicits sentimental reactions from most Africans whenever it is invoked.
"If a child under the age of two screams in the night, cries and is always feverish with deteriorating health, he or she is a servant of Satan," Ukpabio writes in her book, Unveiling the Mysteries of Witchcraft. In many rural African settings, these symptoms are common in almost all babies. In a country where more than 10 percent of children die before they reach five years, what these babies need is immediate medical attention. By instructing gullible Nigerian parents to persecute their own children, she continues to enrich herself, through her books and remittances from exorcisms. In this, she joins the growing list of televangelists who are fleecing poor Africans all over the continent, promising "miracles" for a fee.
I first learned of her nefarious campaign in the heartbreaking documentary, Dispatches: Return to Africa's Witch Children. For the past nine years, I have worked with street children in Kenya, most of them coming from abusive backgrounds. I have watched over young boys who occasionally experience dreadful nightmares due to the trauma they endured under violent parents, guardians or relatives. This distress haunts the children for a long time and their suffering has caused substantial inhibition of their psychological and intellectual growth. It therefore disturbs me to see Ukpabio, hiding behind the immunity of religion, inflicting even worse torture on Nigerian children.
My appeal to rational Americans is to ensure that Ukpabio, with her hateful campaign against defenseless children, knows that she is not welcome in their country. She should be met with hostility similar to the protests against the Pope's visit to the United Kingdom. While we should all respect the freedom of everyone to practice their religion, this respect should stop where it starts harming those around them. Like in the popular phrase attributed to Oliver Wendell Holmes Jr., the right to swing my fist ends where the other man's nose begins. In the name of religion, crimes against children continue with no justice or accountability from relevant authorities. However, protesting against Ukpabio's visit to America would be a step towards the right direction in giving a voice to her unfortunate little victims.

Popular in the Community