 With a sluggish job market and slow wage growth, Americans are cutting back on everything, including something many consider a necessity: health care.
More than 60 percent of Americans who didn't have prescription drug coverage said they skipped a doctor's visit in the last year because of cost, according to a new Consumer Reports survey. That's up from nearly 50 percent the year before. Even among Americans with prescription drug coverage, costs are getting too high; more than 20 percent of them still missed doctor's visits because of cost, the survey found.
The new report echoes the findings of others indicating that rising health care costs may be becoming unsustainable for many Americans, putting their health at risk. Nearly 60 percent of Americans skipped doctor's visits, cut their pills in half or didn't take their medications at all, didn't get diagnostic tests or took other steps to save money on health care in the last 12 months, according to a survey from the Henry J. Kaiser Family Foundation released in June.
Though Americans without health insurance are getting hit the hardest, even those with coverage have seen their costs soar. Health care costs for a family of four with a workplace-sponsored health insurance plan topped $20,000 for the first time this year, according to a May report. And health care costs -- which increased at a rate of about 6 percent last year -- are expected to rise at a faster rate, according to Standard & Poor's.
But there may be some hope in the form of health care reform, which will extend health insurance coverage to about 30 million people, the Congressional Budget Office estimates. Still, even with the new law, some low-income Americans may still end up stuck with huge health care bills they can't afford and taking some of the actions described in the Consumer Reports survey.
More than 60 percent of Americans without prescription drug coverage skipped a medical test because it was too expensive, according to the Consumer Reports survey, up from about one-third of that group last year. Nearly one-third of Americans without prescription benefits skipped a dose of medication and nearly 20 percent cut pills in half.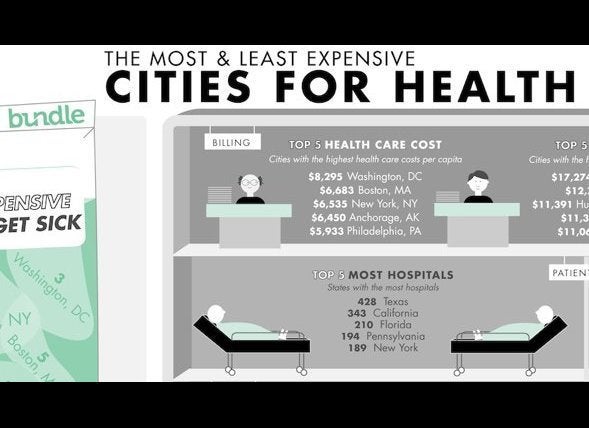 10 Cities With The Highest Health Care Costs
Related
Popular in the Community