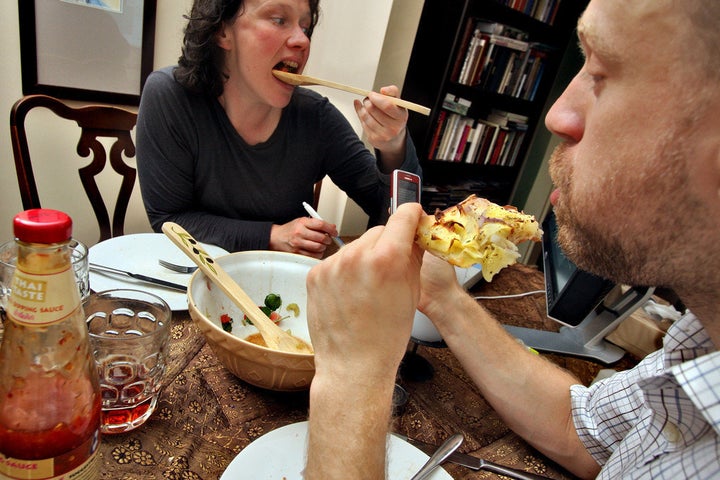 iYogi surveyed 1,100 customers to determine whether consumers' monthly expenditures aligned with the U.S. Department of Energy estimate that Americans spend 6 to 12 percent of their yearly incomes on utilities.
Surprisingly, 63 percent of households surveyed by iYogi reported spending 35 percent more per month on technology-related bills than on utilities, with mobile phone bills accounting for the highest technology expenditure at around $94 per month.
Other key findings of the survey include:
Households spend $19 per month downloading games, music, movies and other content to phones.

The average two-person family owns around 7 IP devices, or devices that connect to the Internet, including laptops, tablets and smart phones. Among families with three members or more, the number of IP devices per household jumps up to 10 or 11.
Half of all respondents subscribed to "triple play" packages offered by cable companies -- which normally include Internet, TV, and phone access -- as opposed to individual or dual packages.
Instant messaging applications were the most popular type of software downloaded onto smart phones, with 30 percent of respondents reporting having some version of IM program. The next most popular downloads, in order, were music/movies/video apps, games, ringtones, and e-books.
The study's conclusion? "Technology is the real utility."
But iYogi's conclusion might not be entirely accurate, according to at least one critic who reviewed the study.
"There are, in other words, about four times as many potential mobile customers as residential broadband access, cable TV or landline voice accounts," Kim wrote.
Kim also points out that heating and cooling expenses vary across the country. That means large families in more temperate areas may spend the same percentage of income on technology bills as small families living in areas where heating and cooling expenses are higher.
The question of whether Americans are really spending more on technology than on other services like water and electricity has been a source of debate for some time, Kim notes the blog post "Is Communications Spending Growing, or Not?" on the blog IP Carrier.
And while it's true that consumer spending on communications technology grew by hundreds of billions of dollars between 1990 and 2000, many studies fail to consider that "consumer value" -- the difference between what a consumer gets from a product and what he or she pays -- has grown as well.
The problem is that changes in product quality are not reflected in retail price metrics.

That is a common "problem" where we look at software and computing devices, where a constant dollar amount buys more processing power and features every 18 months to 24 months.

U.S. communications expenditures as a share of national disposable income has been flat since 1997, but users have added over 100 million broadband and video connections and over 100 million wireless connections, according to the Bureau of Economic Analysis.