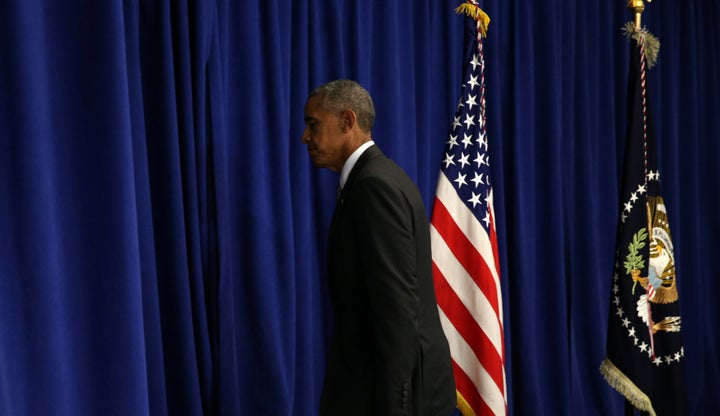 Twenty-one percent of Americans say they're "very scared" about the way things are going in the world today, and 71 percent say they're at least somewhat scared, little changed from the 22 percent and 70 percent, respectively, who said the same in a HuffPost/YouGov survey taken last December.
Also virtually unchanged was the percentage of Americans who say they worry a great deal that they or someone in their family will become a victim of terrorism ― 12 percent in the most recent survey, and 13 percent last winter.
And, as was the case last year, the possibility of being personally affected by terrorism or gun violence isn't at the top of most Americans' minds. While 30 percent rated that as among their two biggest worries in the most recent poll, the top spot went to economic and health concerns. Forty-two percent of Americans say they worry about losing a job or having financial problems, while an equal 42 percent are concerned about suffering a serious illness or injury.
Different demographic groups have different concerns. Younger Americans are most worried about losing a job, while those over age 65 are far more anxious about the possibility of suffering ill health. Twenty-eight percent of black Americans rank the possibility that they or someone in their family will be the victim of police brutality among their biggest fears, while just 4 percent of white Americans say the same. Forty percent of Republicans, but just 28 percent of Democrats, consider becoming the victim of terrorism or gun violence a top worry.
It's not clear which of the two presidential candidates would benefit more should their campaign turn to focus more on issues related to America's safety.
Americans say by a 14-point margin, 36 percent to 22 percent, that electing Hillary Clinton would make the country less safe, rather than more safe. By a 7-point margin, 42 percent to 35 percent, they say the same about Donald Trump.
About a third of Americans say Clinton wouldn't do much to change the safety of the U.S., while just 14 percent say the same of Trump.
Americans who think Trump would make the country safer are, by almost every measure, more concerned about their safety than the rest of the public. They're more than twice as likely as their fellow countrymen ― 32 percent, as opposed to 15 percent ― to say they're "very scared" about the way things are going in the world today. Twenty percent, compared to 8 percent of everyone else, worry a great deal that they or someone in their family will be affected by a terrorist attack. And they're 10 points likelier than others to cite becoming the victim of such an attack as among their top two concerns.
The HuffPost/YouGov poll consisted of 1,000 completed interviews conducted Sept. 20-Sept. 21 among U.S. adults, using a sample selected from YouGov's opt-in online panel to match the demographics and other characteristics of the adult U.S. population.
The Huffington Post has teamed up with YouGov to conduct daily opinion polls.You can learn more about this project and take part in YouGov's nationally representative opinion polling. Data from all HuffPost/YouGov polls can be found here. More details on the polls' methodology are available here.
Most surveys report a margin of error that represents some, but not all, potential survey errors. YouGov's reports include a model-based margin of error, which rests on a specific set of statistical assumptions about the selected sample, rather than the standard methodology for random probability sampling. If these assumptions are wrong, the model-based margin of error may also be inaccurate. Click here for a more detailed explanation of the model-based margin of error.
Calling all HuffPost superfans!
Sign up for membership to become a founding member and help shape HuffPost's next chapter