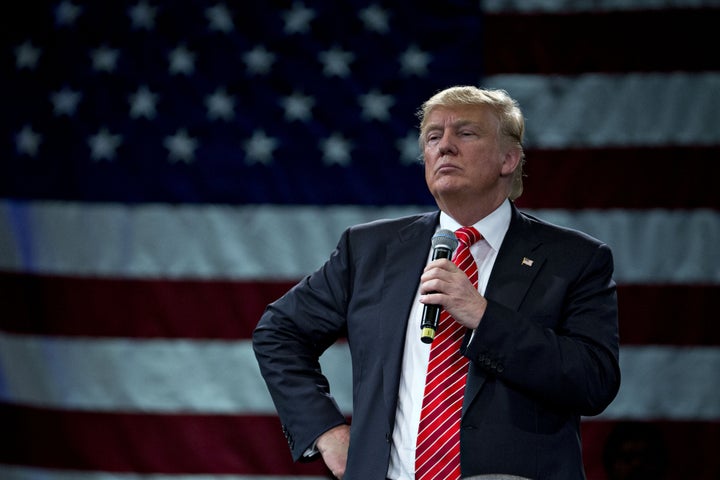 Republicans aren't thrilled with any of their options in the primaries. Anger in the electorate hasn't actually risen much this year. And Americans think the Senate should consider Obama's Supreme Court nominee. This is HuffPollster for Thursday, March 17, 2016.
A LOT OF REPUBLICANS WILL BE UNHAPPY WITH ANY NOMINEE - HuffPollster: "In a new HuffPost/YouGov survey, conducted prior to Tuesday's primaries, fully half of all registered voters who belong to or lean toward the Republican Party still say they'd prefer to see someone besides [Donald] Trump as the party nominee this year. Among that group of GOP voters, 79 percent believe any of Trump's remaining rivals would make a better nominee. That adds up to nearly 40 percent of the GOP electorate that views Trump as the worst of all possible primary options....Only 36 percent think Trump's Republican rivals should work together to try to stop him from winning the nomination. A 52 percent majority -- including, unsurprisingly, nearly all of Trump's supporters, oppose such an effort. An ABC/Washington Post poll conducted earlier in March found similar results, with 53 percent of Republicans opposing the idea of a contested convention." [HuffPost]
A contested convention would be chaos - HuffPollster: "If [Republicans] can't find a nominee on the first ballot, or voting round, it will be the first time since 1952 that either party has had a contested convention... Proceeding beyond the first ballot opens up a lot of uncertainty. In many states, even if the candidate doesn't release their delegates to vote for someone else, delegates are only required (or 'bound') to vote for the candidate they're assigned to for the first ballot. That means that if no candidate receives a majority vote of the delegates on the first ballot, a whole lot of delegates will be free to change their votes. Even more delegates become unbound if the voting proceeds to third ballots or beyond. At that point, no one really knows what would happen." [HuffPost]
HUFFPOLLSTER VIA EMAIL! - You can receive this daily update every weekday morning via email! Just click here, enter your email address, and click "sign up." That's all there is to it (and you can unsubscribe anytime).
DONALD TRUMP AND HILLARY CLINTON ARE BOTH UNPOPULAR - Michael Barbaro: "America has lived with Mr. Trump and Mrs. Clinton, in a remarkably intimate fashion, for decades, processing their controversies, achievements and setbacks, from impeachment to marital breakdowns, Senate victories to flashy skyscraper openings. Voters' impressions of them, with few exceptions, are largely formed and fixed. According to Gallup, 53 percent of Americans have an unfavorable opinion of Mrs. Clinton and 63 percent have such a view of Mr. Trump....Fewer than half of Republican voters across five states on Tuesday said Mr. Trump was honest and trustworthy. Even in the states where he won, a majority of voters do not view him as truthful. And while majorities of Democratic voters viewed Mrs. Clinton as honest and trustworthy, she finished second to Mr. Sanders among those who said honesty mattered most in their decision." [NYT]
Anger might not be the driving force behind Trump's rise - Aaron Blake: "Exit pollsters this year are asking voters in every state whether they are angry about how government functions; but in 2012, they asked it in just four states. The fourth of those four states voted Tuesday — Ohio — and showed a rather unremarkable two percentage point uptick in anger, from 36 percent of GOP primary voters saying in 2012 that they were angry to 38 percent in 2016. There was also a modest anger uptick in an earlier primary state, Georgia. The anger quotient there in 2012 was 42 percent. This year? 46 percent. It ticked up slightly more in Tennessee, from 40 percent to 47 percent. Trump won both of these states handily, and maybe voters were slightly angrier. Alas, in Mississippi — another state Trump dominated this year — anger actually ticked slightly down versus four years ago, from 42 percent to 40 percent. And as we noted a while back, national Washington Post-ABC News polling conducted right before the voting began this year showed anger was actually down slightly from a high in 2014. But mostly, over the past few years, it's been flat." [WashPost]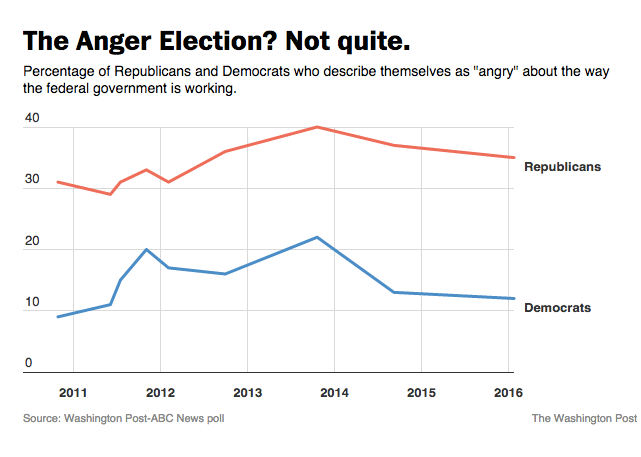 AMERICANS WANT THE SENATE TO CONSIDER MERRICK GARLAND - HuffPollster: "President Barack Obama officially put forward a Supreme Court nominee on Wednesday to fill the vacancy created by Justice Antonin Scalia, escalating a battle with Senate Republicans who vow to continue ignoring any Obama nominee….According to an ABC News/Washington Post poll conducted in early March, 63 percent of Americans agree, 44 percent strongly, that the Senate should hold hearings and vote on a nominee. Thirty-two percent disagree and say the Senate should not hold hearings. Similarly, a recent NBC/WSJ poll finds that 55 percent of voters disapprove of the Senate's decision to "not consider" an Obama nominee, with 45 percent saying they strongly disapprove. Just 28 percent said they approve….Despite an overall consensus on the issue, polls also show a clear divide along party lines. Over half of Republicans in the NBC/WSJ poll support leaving the seat open and not considering any nominations, a decision nearly 8 in 10 Democrats disapprove of. [HuffPost]
ELIMINATING GOVERNMENT DEPARTMENTS IS UNPOPULAR - Frank Newport: "The American public soundly disagrees with candidate Ted Cruz's proposal to eliminate four departments of government and also comes down against his proposal to abolish the IRS. This presents a fascinating portrait of a population of people who are very negative about government in general, and yet tend to be unenthusiastic about proposals to eliminate a lot of government….63% of Americans disagree with the Cruz proposal to eliminate 'the Department of Education, the Department of Energy, the Department of Commerce and the Department of Housing and Urban Development.' Just 18% agree. And, when asked about abolishing the Internal Revenue Service, 44% of Americans disagree, 34% agree, while 22% don't have an opinion." [Gallup]
THURSDAY'S 'OUTLIERS' - Links to the best of news at the intersection of polling, politics and political data:
-Eric Loepp explains how Donald Trump changes voters' views of other candidates. [WashPost]
-Hillary Clinton is nearly unbeatable after Tuesday's primaries. [NYT]
-Trump may have lost a few delegates on Tuesday because his supporters don't like foreign-sounding names. [538]
-Jimmy Kimmel surveys Americans on what they think about "Obama's Supreme Court nominee, Tyrion Lannister." [WashPost]
-FiveThirtyEight predicts that Kansas has the best chance of winning March Madness. [538]
Popular in the Community