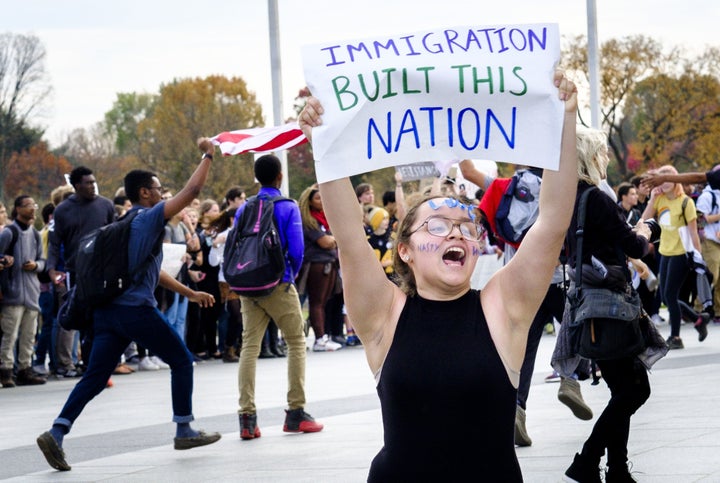 A new report shows considerable support for immigration reform. It's not clear which presidential candidate benefits most from fear of terrorism. And Americans are divided on a proposals to monitor Muslim neighborhoods. This is HuffPollster for Tuesday, March 29, 2016.
YOUNG REPUBLICANS SEE IMMIGRATION AS A POSITIVE - Public Religion Research Institute: "Following months of anti-immigrant rhetoric and policy proposals to toughen border security and increase deportations, from Donald Trump and other leading Republican Presidential candidates, a report released today finds that such rhetoric may not resonate with Republicans under the age of 30….The survey—which included interviews with 1,083 Republicans between the ages of 18 and 29—finds that a slim majority (51 percent) of young Republicans say that the increasing number of newcomers to the country strengthens American culture and way of life, compared to 36 percent who say they are a threat. In contrast, only 22 percent of Republican seniors (age 65 or older) believe that recent immigrants strengthen American society, compared to 61 percent who say they are a threat…'While the campaigns of the leading Republican presidential candidates have been fueled by antipathy toward immigrants, these views are not reflective of the general public's mindset and may not resonate among younger Republicans and white evangelical Protestants,' said Dr. Robert P. Jones, CEO of the Public Religion Research Institute." [PRRI]
A pathway to citizenship is popular among the general American public - More from PRRI: "More than six in ten (62 percent) Americans say immigrants who are currently living here illegally should be allowed a way to become citizens provided they meet certain requirements, while 15 percent say these immigrants should be allowed to become permanent legal residents but not citizens, and about one in five (19 percent) say illegal immigrants should be identified and deported. Attitudes on this question have remained remarkably stable throughout 2015. With the single exception of South Dakota, majorities in all states and regions support a path to citizenship for immigrants now living in the country illegally." [PRRI] 
FEAR AND ANXIETY COULD HELP TRUMP... - Michael Crowley: "Democrats insist that their presumptive nominee, Hillary Clinton, can harness public fear to her own advantage, saying voters will reward her long hours of experience in the White House Situation Room…Not so fast, argue a pair of academics who have studied the effect of terrorism on public opinion for more than a decade….'All of these issues are, in fact, pillars of the aggressive response we have seen by Donald Trump in response to the news today,' said Elizabeth J. Zechmeister, a political science professor at Vanderbilt University. She is the co-author, with University of California Riverside professor Jennifer L. Merolla, of the book 'Democracy at Risk: How Terrorist Threats Affect the Public.'...In a cautionary note for Democrats, Merolla said that their research showed that frightened voters do not necessarily look for traditional leadership qualities such as Clinton's long tenure in government. She added that female politicians 'are typically at a disadvantage' when terrorism is a dominant issue.'" [Politico]
...Or it could help Clinton - Bethany Albertson, Joshua Busby and Shana Gadarian: "The newly released American National Election Studies (ANES) pilot study, which was conducted in January, provides a window into this question. The data show that anxiety about terrorism is concentrated among Republicans and correlated with support for Donald Trump — but there remains considerable evidence that Hillary Clinton is the candidate advantaged on this issue….Republican support may be an effect of anxiety or itself the cause of anxiety. And Clinton has considerable foreign policy experience and is more hawkish than President Obama…. Our research shows that anxiety should lead people to support expertise, not just threatening rhetoric. At the moment, these various factors work to Clinton's advantage." [WashPost]
AMERICANS ARE DIVIDED ON PROPOSALS TARGETING MUSLIMS - HuffPollster: "In the aftermath of last week's terrorist attacks on Brussels, a new HuffPost/YouGov poll finds that Americans are receptive to proposals targeting Muslims, even as they acknowledge a tide of rising anti-Islamic sentiment. Forty-five percent of Americans agree with Texas Sen. Ted Cruz's proposal to 'empower law enforcement to patrol and secure Muslim neighborhoods before they become radicalized,'...People who agree with proposals targeting U.S. Muslims are more reluctant to directly condone singling them out. Those polled in the new survey say by a 7-point margin that Muslims shouldn't be subject to additional scrutiny solely because of their religion. Given the choice between two possible approaches, a 63 percent majority say it's better for law enforcement to work with Muslim communities than to subject them to intense surveillance." [HuffPost]  
WE STILL DON'T KNOW WHAT WILL HAPPEN IN NOVEMBER - Seth Masket: "No, the nominations haven't really been settled, but Hillary Clinton is highly likely to end up the Democratic nominee, and, barring some convention dust-up, Donald Trump is looking pretty good to be the Republicans' choice. So can we make some guesses as to what that election looks like? We should keep in mind that polls this far from the election (still eight months away) generally aren't very reliable. A great many voters still aren't paying close attention to the race, and their opinions may shift as they learn more about the candidates." [Pacific Standard]
HUFFPOLLSTER VIA EMAIL! - You can receive this daily update every weekday morning via email! Just click here, enter your email address, and click "sign up." That's all there is to it (and you can unsubscribe anytime).
TUESDAY'S 'OUTLIERS' - Links to the best of news at the intersection of polling, politics and political data:
-David Byler examines Donald Trump's chances under four different demographic scenarios. [RCP]
-Jessica Contrera profiles PredictIt, which offers a legal way to gamble on elections. [WashPost]
-Patrick Ruffini (R) looks at how Trump foiled the GOP establishment. [National Review]
-Emily Thorson lists five political myths destroyed by Trump. [Politico]
-A new Pew Research survey finds polarized views on whether Merrick Garland should be confirmed to the Supreme Court. [Pew]
-Emily Guskin and Scott Clement say Trump supporters probably aren't the reason for increased GOP turnout. [WashPost]
Calling all HuffPost superfans!
Sign up for membership to become a founding member and help shape HuffPost's next chapter