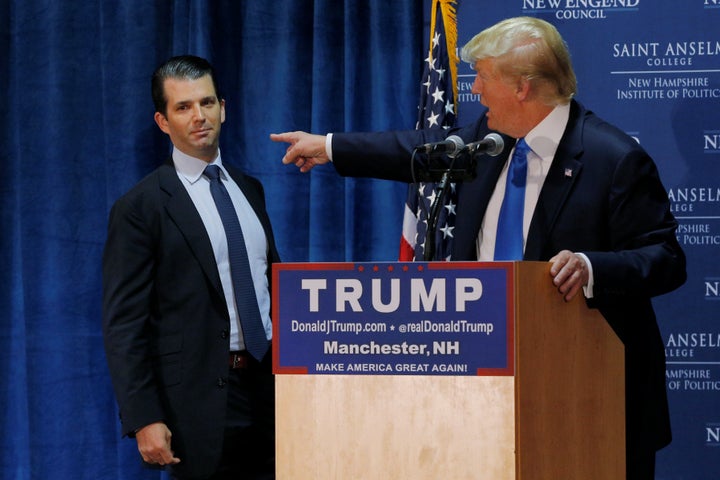 President Donald Trump has defended his eldest son's decision to meet with a Kremlin-linked lawyer last year in hopes of obtaining damaging information about Hillary Clinton by saying it was nothing out of the ordinary.
"Most politicians would have gone to a meeting like the one Don jr attended in order to get info on an opponent," Trump tweeted on Monday. "That's politics!"
"I've been involved in 9 presidential campaigns ... never happened, never would happen for all kinds of reasons," Republican consultant John Weaver told HuffPost earlier this month.
To be sure, 52 percent of those polled view it as inappropriate for a U.S. politician to get damaging information on an opponent from people linked to a foreign government, with 25 percent saying it would be okay.
But by a small margin, more agree than disagree with the point Trump's been making ― 41 percent say it's likely most politicians would agree to such a meeting, while 36 percent say most would not.
Trump wasn't explicitly mentioned in the question. But the significant political divide among the respondents ― Trump voters were more than 10 times likelier than Clinton voters to consider such a meeting appropriate ― suggests that people were picking up on the not-so-subtle context for the survey. (An earlier survey that did use Trump's name garnered largely similar results.)
Accordingly, Trump voters are much more likely to accept his claim that Donald Trump Jr.'s decision to take the meeting was par for the course ― 86 percent of the president's backers say they believe most politicians would have done the same, while just 10 percent of Clinton voters agree.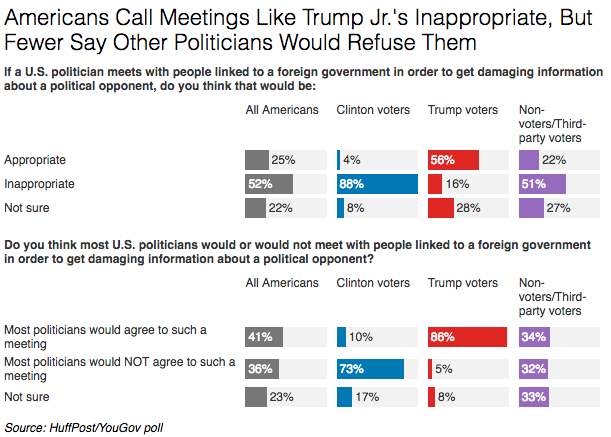 That divide persists even when the survey respondents are asked about politicians from a specific party. Most Clinton voters say they believe that both Republican and Democratic politicians would decline such a meeting (although a greater number say a Democrat would do so). Trump voters overwhelmingly say they think most Democratic politicians would attend ― even more so than Republicans.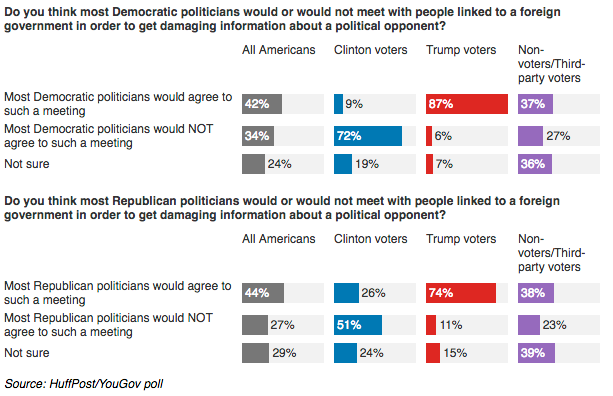 Among the remainder of those polled ― Americans who didn't vote or who chose a third-party candidate in 2016 ― 51 percent say that a meeting of the kind Trump Jr. participated in is inappropriate, with 22 percent saying it isn't. But they're about evenly split on whether most politicians would do so anyway, with 34 percent saying they would and 32 percent that they would not. This group is about equally likely to think Democrats and Republicans would attend.
Trump's claim that most politicians would have behaved similarly to his son may help to normalize his administration's behavior in his supporters' eyes, and to play into the existing mistrust of the government among many Americans. But Trump's stance may not be the greatest argument for a president who spent much of his campaign promising to "drain the swamp" in Washington.
Just a quarter of Americans view Trump as more honest and trustworthy than the average U.S. politician, with 45 percent saying he's less honest and trustworthy and 19 percent considering him about the norm.
Use the widget below to further explore the results of the HuffPost/YouGov survey, using the menu at the top to select survey questions and the buttons at the bottom to filter the data by subgroups:
The HuffPost/YouGov poll consisted of 1,000 completed interviews conducted July 18 among U.S. adults, using a sample selected from YouGov's opt-in online panel to match the demographics and other characteristics of the adult U.S. population.
HuffPost has teamed up with YouGov to conduct daily opinion polls. You can learn more about this project and take part in YouGov's nationally representative opinion polling. More details on the polls' methodology are available here.
Most surveys report a margin of error that represents some, but not all, potential survey errors. YouGov's reports include a model-based margin of error, which rests on a specific set of statistical assumptions about the selected sample rather than the standard methodology for random probability sampling. If these assumptions are wrong, the model-based margin of error may also be inaccurate. Click here for a more detailed explanation of the model-based margin of error.
REAL LIFE. REAL NEWS. REAL VOICES.
Help us tell more of the stories that matter from voices that too often remain unheard.