Americans are angry about last weekend's white supremacist rally in Charlottesville, Virginia, disappointed by President Donald Trump's response to it, and largely unsure whether he opposes white nationalism, a HuffPost/YouGov survey shows.
But the poll also paints a more complicated picture of the nation's racial views. A significant minority say they view white people as facing serious discrimination. And a quarter admit that they have some sympathy for the political views of those who filled the streets of Charlottesville for the "Unite The Right" rally, attended by protesters including Ku Klux Klan members and neo-Nazis.
Views across several questions are divided by race in the poll ― which was taken after Trump's comments Monday but almost entirely before his press conference Tuesday, in which he defended his response to the violent rally. White Americans are more likely than black Americans to perceive whites as facing discrimination and less likely to consider white nationalism a serious threat. White Americans also seem somewhat more likely to be satisfied with Trump's response to the events of last weekend.
But those differences are eclipsed by the gap between Americans who backed Trump in last year's presidential election and those who supported his Democratic opponent Hillary Clinton.
Below are some of the key findings from the wide-ranging survey.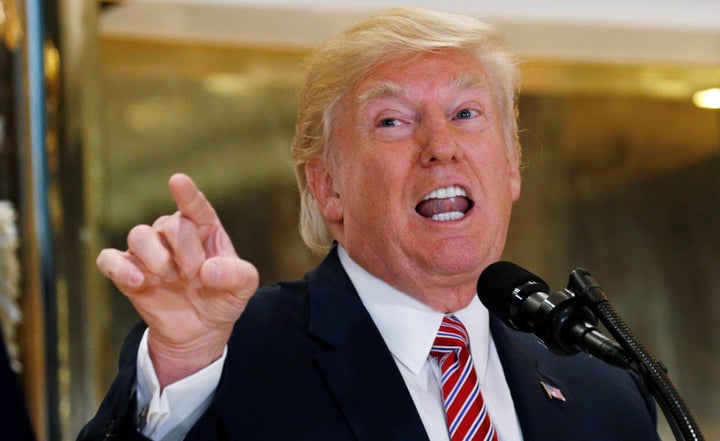 Few Think Trump Did Enough To Condemn Violence
Two days after the events in Charlottesville, Trump spoke Monday to condemn the instigators of violence by name. "Racism is evil, and those who cause violence in its name are criminals and thugs, including the KKK, neo-Nazis, white supremacists and other hate groups that are repugnant to everything we hold dear as Americans," he said.
The next day, Trump soft-pedaled that denunciation, assigning blame to "both sides," and arguing that the group of white nationalist rally-goers included "some very fine people."
Just 22 percent think that Trump is personally opposed to white nationalism, according to the poll. Thirty-one percent believe he personally supports white nationalism and another 24 percent that he doesn't have a strong opinion about the ideology, with the remaining 24 percent unsure.
Three in 10 Americans say the president did enough to condemn the violence in Charlottesville, with 48 percent saying he did not. Only a quarter believe he was right to wait two days before first condemning the KKK, neo-Nazis and other white supremacists by name, while 48 percent say he should have acted earlier. Six percent don't think he should have issued condemnations of those groups at all.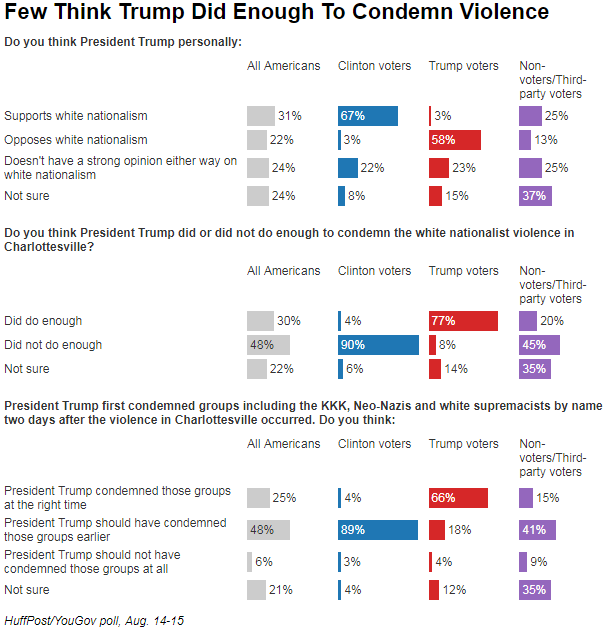 Most Are Angry About Charlottesville, Call Car Attack Terrorism
Just over 60 percent of those surveyed say they've followed news about the rally at least somewhat closely. Most are outraged: 61 percent, including a majority of both Clinton and Trump voters, say they're angry about the rally and just 18 percent that they are not. By comparison, in a 2014 survey, just 28 percent reported feeling anger about the death of black teenager Michael Brown, who was fatally shot by a white police officer in Ferguson, Missouri.
Sixty-three percent of those who responded to the new HuffPost/YouGov survey describe the incident in which a man plowed his car into a crowd of protesters, killing one woman and injuring 19 others, as a terrorist act. (The suspected driver, James Alex Fields Jr., 20, of Ohio, has been charged with offenses including second-degree murder and malicious wounding.)
But although half say that the political positions of the white nationalists who attended the rally were mostly wrong, 21 percent say those marchers "went too far, but they have a point." Four percent believe the white nationalists were mostly right in their positions.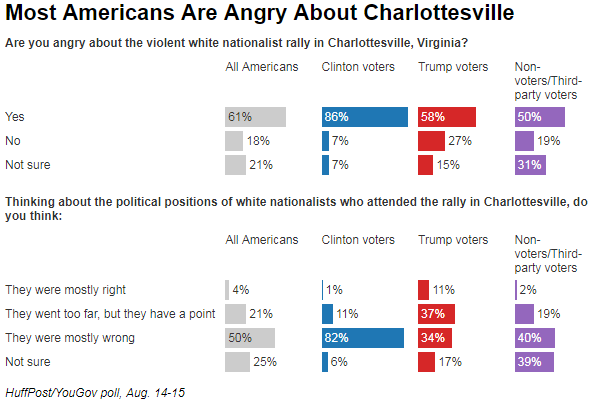 Few Consider Charlottesville Violence An Isolated Problem
A majority of respondents, 57 percent, believe that white nationalism poses at least a somewhat serious threat to the nation, although just under a third consider it to be very serious.
And the nation overwhelmingly believes that the threat is not limited to Charlottesville: 68 percent say the violence that occurred represents a broader problem in American society, with just 17 percent calling it an isolated incident.
But another question suggests that some grievances are bubbling up. Forty percent of those surveyed say that white people face a lot of discrimination in the U.S. today, up from 24 percent in November. (In the earlier poll, unlike the more recent one, white people were listed among a battery of other demographics, which may explain some of the discrepancy.)
Views are deeply politicized, with Clinton voters nearly six times likelier than Trump voters to view white nationalism as a very serious threat.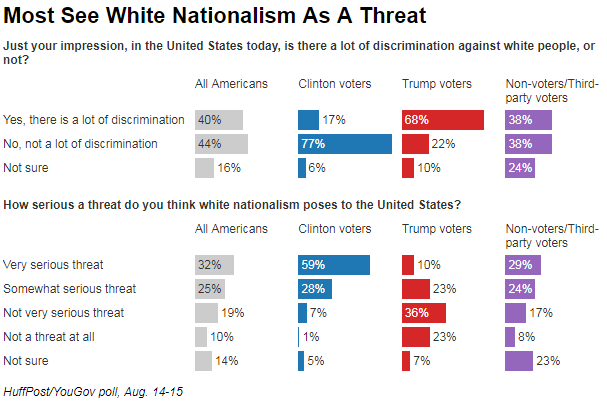 Another question also points to a significant mismatch in political intensity. Sixty-five percent of Democratic voters and independents who lean toward the Democrats say it's very important to them that their party condemn the violence in Charlottesville, while 39 percent of Republicans and GOP-leaners say the same.
While two-thirds of Clinton voters believe that white nationalism is more common among the right-wing than the left, the majority of Trump voters think that white nationalism is equally as common or more common on the left.
Use the widget below to further explore the results of the HuffPost/YouGov survey, using the menu at the top to select survey questions and the buttons at the bottom to filter the data by subgroups:
The HuffPost/YouGov poll consisted of 1,000 completed interviews conducted Aug. 14-15 among U.S. adults, using a sample selected from YouGov's opt-in online panel to match the demographics and other characteristics of the adult U.S. population.
HuffPost has teamed up with YouGov to conduct daily opinion polls. You can learn more about this project and take part in YouGov's nationally representative opinion polling. More details on the polls' methodology are available here.
Most surveys report a margin of error that represents some, but not all, potential survey errors. YouGov's reports include a model-based margin of error, which rests on a specific set of statistical assumptions about the selected sample rather than the standard methodology for random probability sampling. If these assumptions are wrong, the model-based margin of error may also be inaccurate. Click here for a more detailed explanation of the model-based margin of error.
Before You Go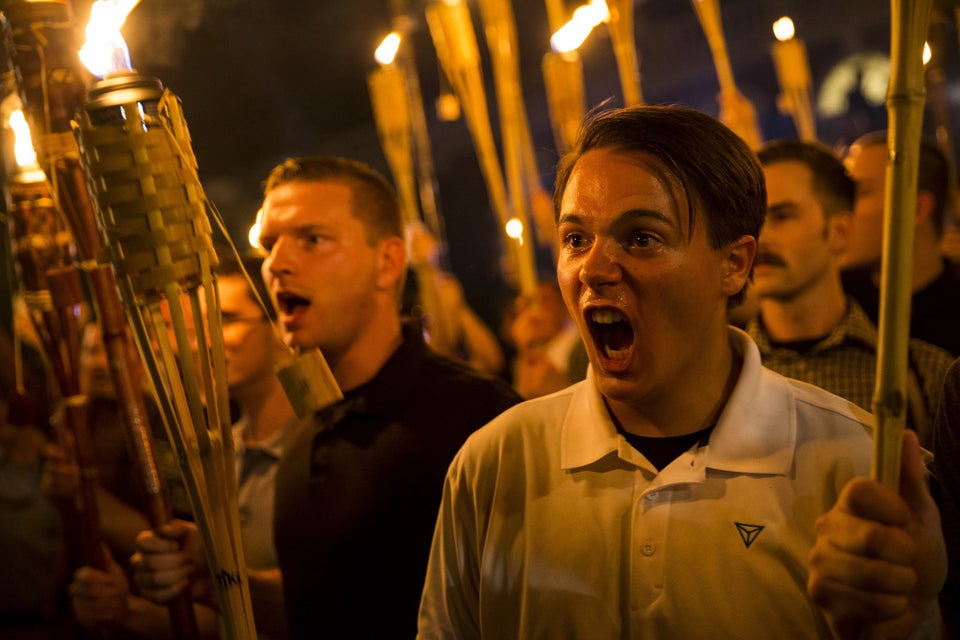 Clashes In Charlottesville
Popular in the Community