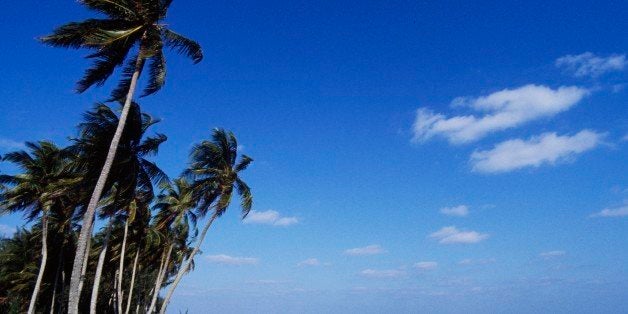 American workers are too scared to go on vacation.
About 40 percent of us don't plan on using all of our paid time off this year, according to a new survey released Tuesday by the U.S. Travel Association and GfK, a market research firm. The survey polled 1,303 workers, including 235 senior business leaders.
The two most common reasons survey respondents cited for not taking a break: They dread the pile of work awaiting them when they return, and no one else can do what they do at the office. These people suffer from what the researchers called a "martyr" complex, believing that they're the only ones who can do their jobs.
Most telling: More than 20 percent of workers said one of the main reasons they aren't taking all of their vacation days is because they don't want to appear replaceable.
"Fundamentally what's going on there is fear," said Michael Leiter, a psychology professor at Acadia University who studies people's relationship with their work, but wasn't involved with the new research. "People are afraid if they're not present and they're not continually churning stuff out that bad things are going to happen."
Why workers aren't taking vacation days, according to the survey: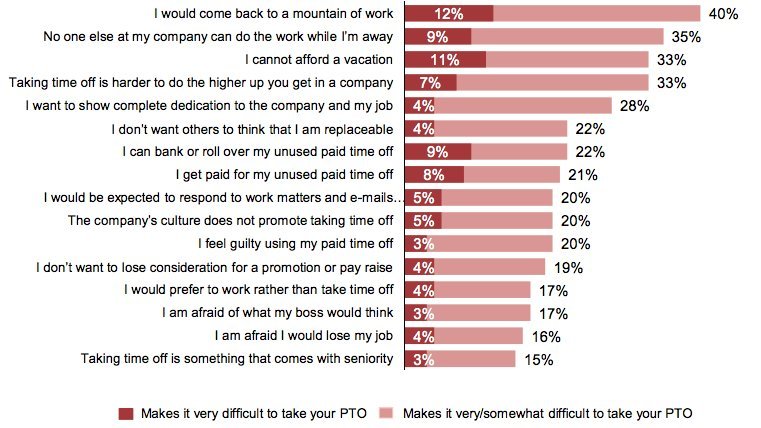 The share of American workers taking vacation is at historic lows. In the 1970s, about 80 percent of workers took a weeklong vacation every year, according to a recent analysis from Vox. Now, that share has dropped to a little bit more than half, Vox found.
Compounding workers' fear of taking time off is the "perception we have based on corporate culture," that being away from work means we're bad employees, according to Chris Moessner, vice president of public affairs at GfK.
The declining popularity of vacation has wide-ranging effects not just on workers, but also on their employers and indeed the overall economy. Studies have found that taking fewer vacations is correlated with increased risk of heart disease in both men and women. Other research has shown that workers who take vacations -- and even smaller breaks like naps or walks -- are more productive when they return.
"If you keep pushing yourself and you keep becoming exhausted, you're going to become more distant and less caring," Leiter said.
That's a major issue for companies looking to get as much as possible out of their employees, particularly when many jobs require workers to show up with the capacity to contribute intellectually and creatively.
Scott Johnson and his wife, who work in property management in New Hampshire, have taken just two vacations in the past five years. Both times, they said, they've returned early and subsequently worked several 12- to 14-hour days to "straighten everything out." The primary reason they don't use their allotted two weeks off, Johnson said, is because he likes his job and doesn't want to lose it.
The Johnsons drove far out of cell phone range this summer to Maine on a camping trip, aiming to escape work's demands. Yet three days into their break, they stumbled into some Wi-Fi in the main office of the campground where they were staying -- and saw an urgent email from the office. They went back to work.
"I'm 50 years old, my wife's 49, career changes right now can be a little bit rugged," said Johnson, who has worked for the company for about seven years. "We feel sort of trapped, we're very frustrated. We're trading vacation for a sense of security, but it's fragile at best."
Companies and bosses don't do much to encourage workers to take time off, even if it could make them more productive to come back refreshed after a few days away. Two-thirds of employees said their company says nothing, sends mixed messages or actually discourages staffers from using paid time off, the survey found.
Employees described those types of corporate cultures even as 95 percent of senior business leaders polled for the survey said they think using paid time off is important. Still, the bosses in the study appeared to be setting a bad example for what it means to get away: Nearly half of bosses surveyed said they respond to emails during time off, and almost 30 percent said they take calls during vacation.
"There's this sense that the companies don't really talk much about taking [time off]," Moessner said. "Employees are hoping that senior business leaders start the conversation for them."
The study found that one way to push workers to take all of their time off is to implement a "use it or lose it" policy, which means that vacation days don't roll over from year to year.
Workers tweet about how they're scared to take vacation in response to a question from The Huffington Post:
Enjoy reading this article? Read more selections from the best of HuffPost in Huffington Magazine.
Related