Few Americans are paying close attention to the 2016 presidential campaign yet, but they know what they want to see when they do tune in: not the candidates' diets or their lunch stops, but, rather, their policy positions and fundraising.
In a HuffPost/YouGov poll conducted from April 30 to May 2, respondents were most likely to say that election news should focus on candidates' policy positions and where their money comes from. Respondents were allowed to choose up to two answers, and 63 percent chose policy positions as one of their top two. Another 33 percent chose the fundraising option.
The other options respondents had to choose from were: who candidates are meeting with (10 percent chose this), where candidates hold events (7 percent), and candidates' daily routines (3 percent). Fourteen percent said anything a candidate does should be covered.
The poll also sought to determine how many people are already paying close attention to the race. Within that group, the numbers are even more skewed toward policy and fundraising. Seventy-four percent of people who are already paying close attention chose policy positions as one of their top two coverage priorities, and 43 percent chose fundraising information. Less than 1 percent of these respondents said they cared about the candidates' daily routines.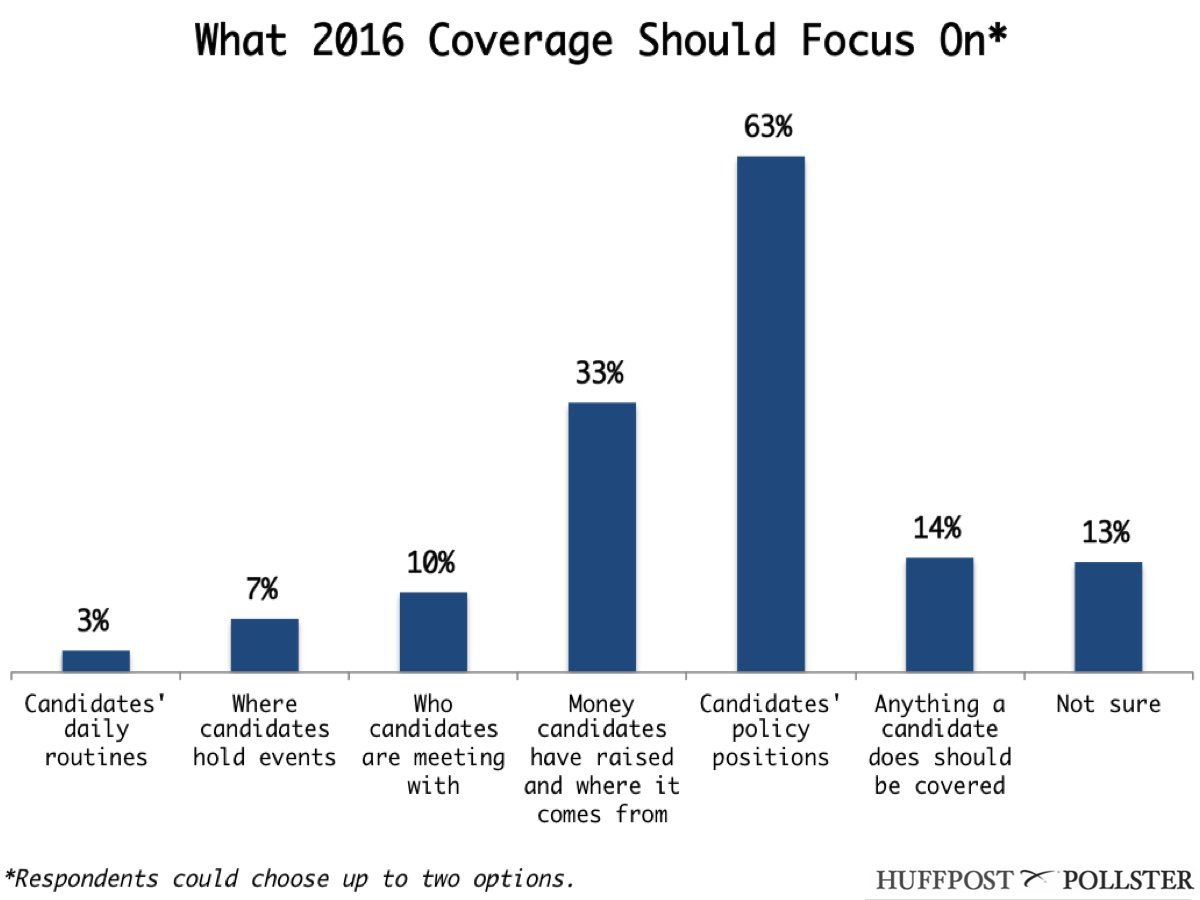 But how many people actually care about the 2016 election at this point?
The HuffPost/YouGov poll used a two-question test to determine the proportion of Americans who are paying close attention to the election. The first question asked respondents how closely they were following election news, and 28 percent said they were following it very closely. However, more than a quarter of those people contradicted themselves when answering the second question, which asked when they would start closely following the election. Of those who had answered the first question by saying they were following the the race closely, 74 percent answered the second question consistently, saying they were already paying attention. The remaining 26 percent selected different answers, saying they would start paying close attention later in 2015 or sometime in 2016.
Some might never follow the race closely: Seven percent of respondents answered the second question by saying they don't ever plan to play close attention, while another 10 percent don't know if or when they will start paying attention.
Primary competitiveness seems to factor into the amount of attention paid -- only 25 percent of Democrats and 23 percent of independents are paying close attention to the campaign, compared to 41 percent of Republicans. The HuffPost Pollster chart is currently tracking 15 Republican candidates and potential candidates nationally, none of whom are averaging over 15 percent. The national Democratic chart, on the other hand, is tracking just seven candidates and potential candidates, and Hillary Clinton has a commanding lead with an average of over 60 percent. It makes sense that Republicans would be paying more attention than Democrats and independents.
The HuffPost/YouGov poll consisted of 1,000 completed interviews conducted between April 30 and May 2 among U.S. adults using a sample selected from YouGov's opt-in online panel to match the demographics and other characteristics of the adult U.S. population.
The Huffington Post has teamed up with YouGov to conduct daily opinion polls. You can learn more about this project and take part in YouGov's nationally representative opinion polling. Data from all HuffPost/YouGov polls can be found here. More details on the poll's methodology are available here.
Most surveys report a margin of error that represents some, but not all, potential survey errors. YouGov's reports include a model-based margin of error, which rests on a specific set of statistical assumptions about the selected sample, rather than the standard methodology for random probability sampling. If these assumptions are wrong, the model-based margin of error may also be inaccurate. Click here for a more detailed explanation of the model-based margin of error.
Calling all HuffPost superfans!
Sign up for membership to become a founding member and help shape HuffPost's next chapter