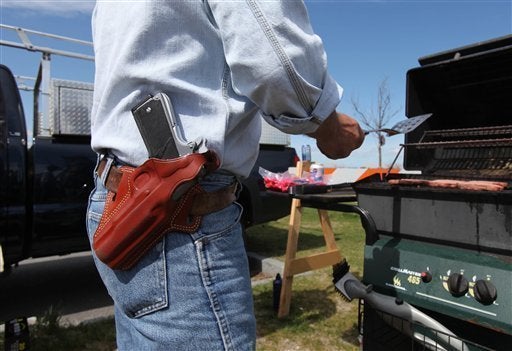 Gloria Cruz's 10-year-old niece was riding her bike one sunny day when a bullet, meant for a neighborhood man, tore through her tiny body abruptly halting her vibrant life.
Carolyn Thomas lost 80 percent of her face, and has endured unimaginable trauma over the course of 11 operations, because of a bullet launched from a .44 caliber pistol in the hands of her boyfriend.
These women and others like them across the country have been directly victimized by the lethal power of guns and are agitated by their growing ubiquity. They represent the faces and voices and stories of the majority of Americans who said in a poll released this week that they oppose people carrying loaded guns. They also have problems with companies and politicians who believe that guns in public are an acceptable risk.
According to a poll conducted April 26-28 for the Brady Center to Prevent Gun Violence by respected polling firm Lake Research Partners, most Americans disagree with people carrying loaded guns openly in public. More feel unsafe than feel safer with brandished weapons, and nearly a third feel much less safe.
"We found strong negative reactions to more guns in public - both carried openly and concealed - among many key voting blocks...," said Celinda Lake, President of Lake Research Partners.
Lake's survey found a sizable gender gap in the data, with 63 percent of women feeling less safe with allowing open carry. The gap, of 49 points between the net attitudes of men and women, represents "one of the largest divides seen on current issues," the researchers explained.
The women who responded negatively to guns in public in this poll come from the suburbs, the cities and the farms of this country. They come in shades of black, white, and brown. They are affluent, low-income, and jobless, young and elderly. And they have a potent message: Politicians who are doing the bidding of the gun lobby, and businesses who worry about offending gun rights extremists should look at this data and be aware that there is potentially a large price to pay with voters and customers alike.
Having more guns in public places not only puts more people at risk, it clearly makes people feel less safe.
· A solid majority of Americans - 56 percent -- favor Starbucks and other retail establishments establishing strict "no guns" policies for their retail premises. The numbers are dramatically more pronounced among women who say the current policy allowing guns makes them fear for their safety.
"Retailers - especially Starbucks - who allow guns in stores risk losing business," Lake explained.
The gun lobby's vision of more guns, anywhere, and at any time, clearly doesn't fit with the vision held by most Americans and, particularly, by most women. And to ensure that the gun lobby's vision doesn't take hold, women such as Cruz and Wilcox have joined forces in recent years to fight for stronger federal and state laws to keep dangerous guns out of the hands of dangerous people.
They are leaders within Million Mom March and Brady Campaign Chapters, which represent the grassroots base of the Brady Campaign to Prevent Gun Violence. They are part of a growing and strengthening legacy begun 10 years ago today by Donna Dees-Thomases, a New Jersey mother who founded the Million Mom March after watching the news of a mass shooting at a day care center.
Gloria Cruz and victim Theresa Williams
While juggling childcare, household chores, and family shopping, through word of mouth, basement phone banks and Kinko's, a motivated corps of volunteers with little to no organizing experience launched the Million Mom March and hundreds of thousands of women into this pitched battle for sensible gun laws. They have not had the money of the gun lobby. But their track record -- and the results of this new poll -- tells us in convincing fashion that their hearts and voices will continue to be heard on this issue.
For more information about "open carry," including which states allow it, click here.
REAL LIFE. REAL NEWS. REAL VOICES.
Help us tell more of the stories that matter from voices that too often remain unheard.