Most Americans aren't worried they'll be personally affected by an act of terrorism, according to a HuffPost/YouGov poll taken this week in the wake of an attack in Manchester, England.
Thirty-nine percent of Americans say they're concerned that they or someone in their family will become a victim of terrorism, with 12 percent saying they worry a great deal, and 27 percent saying they worry only somewhat. Another 50 percent say they're not very worried, or not worried at all.
That's a modest uptick from a February poll, in which 32 percent were at least somewhat worried and 57 percent were not very worried or not worried at all. It's not clear whether the change has any direct relationship to the attack in Manchester. Concerns about gun violence also ticked up, from 33 percent in March to 37 percent in the most recent poll.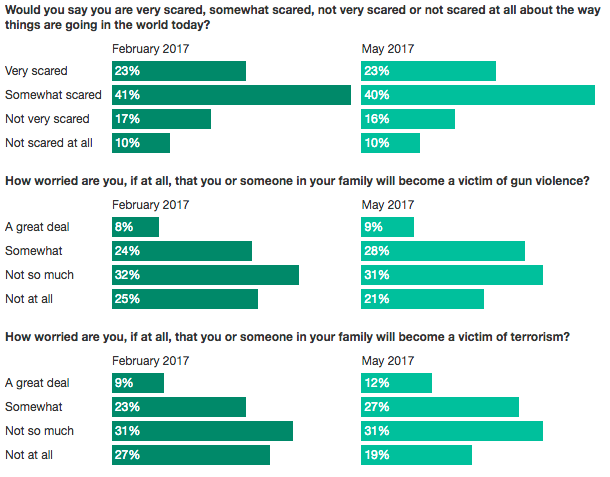 Asked to choose their two top concerns from a list, Americans did not focus on terrorism. Forty-one percent say they're most worried that they or someone in their family will suffer a serious illness or injury, and 40 percent say they're most concerned about losing a job or having financial problems. Twenty-one percent name being the victim of either gun violence or a terror attack.
A 63 percent majority of Americans say they're at least somewhat scared about the way things are going in the world today, with 23 percent saying they're very scared. In February, those numbers were a nearly identical 64 and 23 percent, respectively.
There's a significant political divide: 41 percent of voters who supported Hillary Clinton in last year's election say they're "very scared," but just 16 percent of those who supported President Donald Trump say the same.
Other demographic divides are apparent as well. Thirty percent of women, but just 17 percent of men, consider themselves "very scared." Older Americans are also significantly more fearful ― 36 percent of those age 65 or older say they're "very scared," compared to less than 20 percent of those under age 45.
The HuffPost/YouGov poll consisted of 1,000 completed interviews conducted May 23-24 among U.S. adults, using a sample selected from YouGov's opt-in online panel to match the demographics and other characteristics of the adult U.S. population.
HuffPost has teamed up with YouGov to conduct daily opinion polls.You can learn more about this project and take part in YouGov's nationally representative opinion polling. Data from all HuffPost/YouGov polls can be found here. More details on the polls' methodology are available here.
Most surveys report a margin of error that represents some, but not all, potential survey errors. YouGov's reports include a model-based margin of error, which rests on a specific set of statistical assumptions about the selected sample, rather than the standard methodology for random probability sampling. If these assumptions are wrong, the model-based margin of error may also be inaccurate. Click here for a more detailed explanation of the model-based margin of error.
Popular in the Community