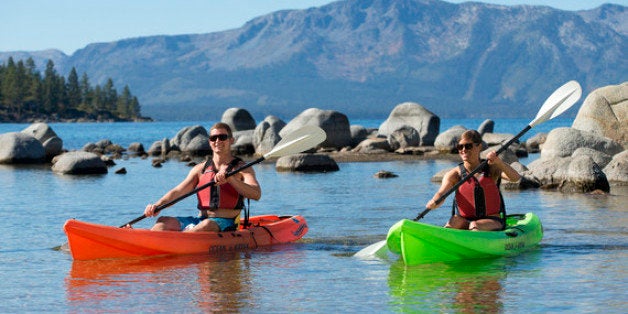 Conventional wisdom says that, in the game of summertime destinations, beach towns are the undisputed champs. And y'know what? It's hard to argue with conventional wisdom: beaches are pretty damn great. Still, America loves an underdog, and in the geographical feature version of Rocky, the lake town is Balboa to the beach town's Creed. To balance the scales a little bit, we decided to build a case for the lake town as a legitimate contender: from aquatic party havens to family-friendly oases, these are the 10 best reasons not to go to the ocean this summer.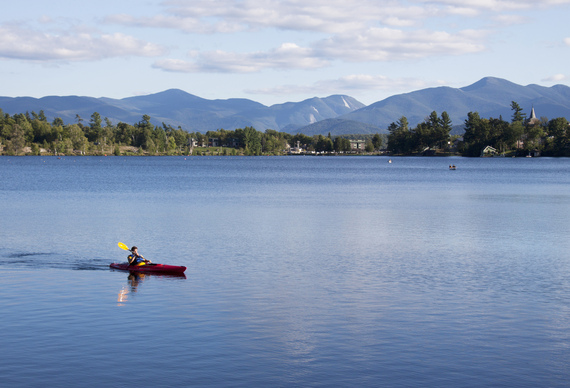 Credit: Flickr/Michel G.
Lake Placid, NY
This upstate NY town got its name from the Placid Park Club designed in 1895 by Melvil Dewey (he of Decimal System fame), and although the tourists flock here during the winter months, summer's still the best time to visit. Temps average in the high 70s, making outdoor activities a comfortable endeavor -- whether you're hiking the nearby Adirondacks or just taking scenic walks around Mirror Lake. There are even live events like the I Love Barbecue Festival and the Lake Placid Blues and Heritage Festival, to balance out the whole "nature" thing.
Stop by the Lake Placid Pub & Brewery as soon as you arrive, grab a pint of Ubu Ale, and be thankful the town is nothing like that gloriously awful "Bill Pullman vs. the crocodile" movie.
Grand Marais, MN
Alright, so you're probably not gonna be doing much swimming in the generally frigid waters of Lake Superior, even if it is August -- but if all you wanted to do was swim, you'd be at the beach. There's more to a lake town than showing off your scissor kick, and Grand Marais offers the full outdoorsy spectrum of canoeing, hiking, fishing, camping, rock climbing, and even birdwatching (for voyeurs who like to spy on birds).
On top of the active stuff you'd expect from a vacation spot on the lake, though, there are also some solid dining (like Sven & Ole's Pizza and World's Best Donuts), and the town's actually got a pretty vibrant arts scene too. No trip to Grand Marais is complete without taking a walk down to the lighthouse at Artists Point, a small peninsula perfect for snapping the kind of Sutro-filtered Instagrams that'll get you hidden from your friends' feeds.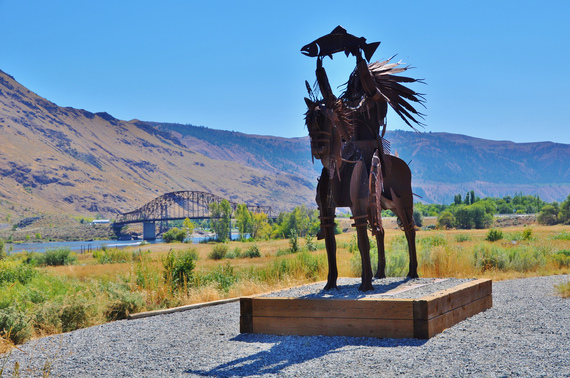 Credit: Flickr/WingsOfMan
Chelan, WA
With an average of 300 annual days of sunshine, it's easy to see why Chelan's a choice summer destination for rain-soaked residents of Seattle. Coupled with its frankly outrageous allotment of solar goodness, Chelan's also smack dab in the middle of one of Washington's newest wine regions (officially declared an American Viticultural Area in 2009). More than 24 wineries and vineyards dot the shores surrounding Lake Chelan, allowing would-be sommeliers to take a tannin-infused break from their skydiving, parasailing, and ziplining. Once you've had your fill of wine and adrenaline, stop in at Local Myth Pizza for some artisanal slices, hefty calzones, and, alright, maybe some more wine.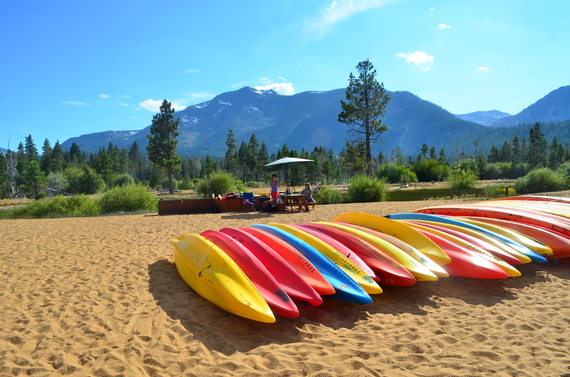 Credit: Flickr/Markus Spiering
South Lake Tahoe, CA
This town on the Californian side of the lake is a solid play pretty much any time of year, and although the winter ski season is a definite contender, it's the summers that really bring out the best of what Lake Tahoe has to offer: namely, booze-fueled parties on the water. Even if you're not in the mood to take in the Hot Body Contest at Zephyr Cove, though, there are plenty of ways to absorb the natural splendor all around you, whether you're zipping along downhill trails on a mountain bike or tearing ass across the lake on a rented Sea-Doo. Plus, a quick drive over the border into Nevada, and boom: you're in casino country.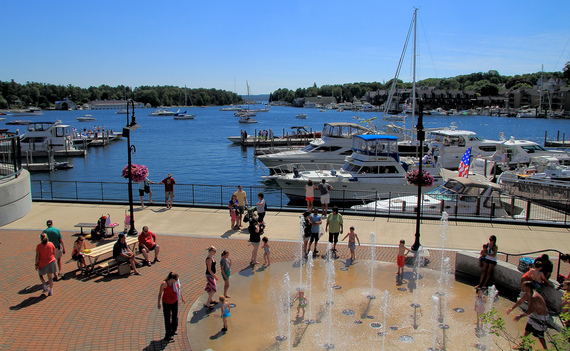 Credit: Flickr/John Menard
Charlevoix, MI
Back in 2004, the residents of this quaint little Michigan town successfully prevented Walmart from opening a location within city limits, capping the legal size of any new store at about one-fourth the size of your average big-box retailer. As a result, Charlevoix is still refreshingly devoid of any of the rampant consumer development that tends to befall quaint little towns. Alright, so there is a K-Mart right on the edge of town, but that doesn't count.
Once you've had your fill of Downtown Charlevoix's mom-and-pop charm, there's still the sprawling grounds of Castle Farms, the verdant shores of Fisherman's Island State Park, and the hobbit-like architecture of Earl Young. Oh, and it's bordered by not one, but two lakes.