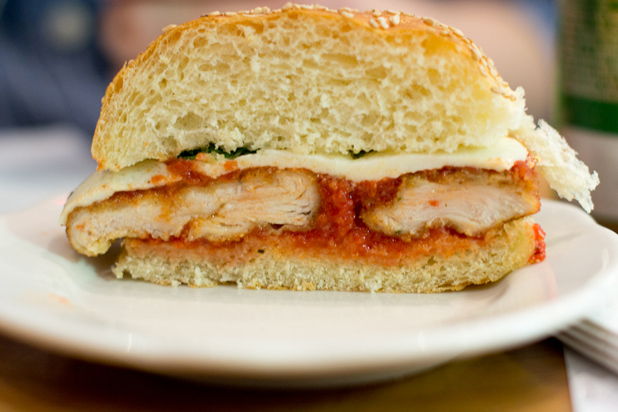 The art of applying fried chicken, tomato sauce, and cheese to bread is a tricky one. First, you have to decide what to call it. Is it chicken Parmesan, Parmigiana, or just Parm? Is it a hero, a hoagie, a sub, a wedge, or a grinder? Once you've made those decisions, the really hard part begins: What kind of bread to use? With or without sesame seeds? Do you use chunky or smooth sauce? Fresh mozzarella or another cheese, like provolone? And finally, how do you keep the whole mess from sogging itself into oblivion? (Credit: flickr/ Erin & Camera)
In short, how do you construct the perfect chicken Parm sandwich?
Like most great sandwiches, this one originally started as a plated dish. Parmigiana is actually a Southern Italian dish (having nothing to do with the city of Parma, unlike the cheese or ham), and was originally constructed with pan-fried layers of sliced eggplant, a sprinkling of cheese, and tomato sauce. It wasn't until Italians immigrated to America that eggplant was replaced by chicken or veal, and then it finally found its way onto a roll (interestingly enough, chicken Parmigiana is also one of Australia's most popular pub foods, and is usually served with fries and salad and called Parmi).
But the reason we've gathered here today isn't to find the best example of the dish; it's to find the top versions of the delicious sandwich that it begat. While it might seem like a piece of cake to just slap some chicken fingers, canned sauce, and pizza-grade shredded mozzarella onto an Italian roll, heat it up, and call it a day (and trust us, there are plenty of perfectly serviceable examples of those in pizzerias all along the Eastern Seaboard), a truly great chicken Parm sandwich requires a bit of finesse. The bread needs to be a light and not chewy long roll, toasted but not crunchy. The sauce should be homemade, or high-quality and bright if store-bought. The chicken should be pounded thin, freshly fried (preferably in a pan with shallow oil), and should retain some of its crunch. Finally, the cheese should be high-quality but not so full of moisture that the whole thing becomes a soggy mess, and it should be melted in a broiler so it gets golden brown and delicious. All of these elements need to work together, so that no one component overpowers the rest.
How it's served is also important: if being taken to go, the whole sandwich should be tightly wrapped in waxed paper and aluminum foil to compress all the ingredients together, then sliced right through the center. This not only makes for some great food porn when you separate the two halves, it also forces you to briefly consider saving the second half for later before giving into your baser instincts and just going for it, bro.
While decent chicken Parm subs are available in just about every pizzeria on the East Coast, truly great versions are much harder to find west of the Mississippi and south of the Mason-Dixon Line, and that's the reason why our ranking of the nation's top 10 skews to the Northeast. It might be considered a regional specialty, but this humble gut-buster is ready for its moment in the sun. Here are America's top chicken Parm sandwiches.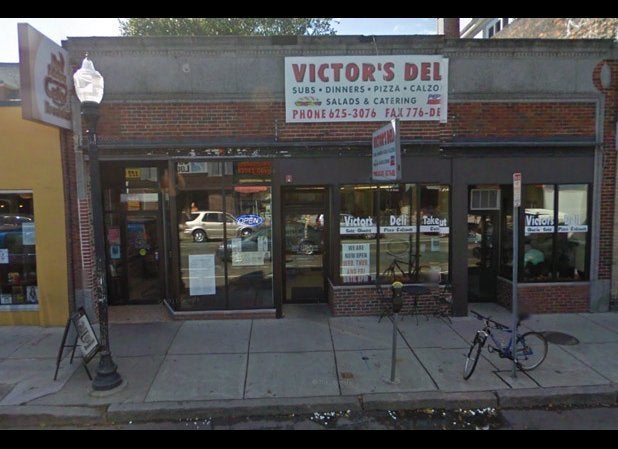 America's Best Chicken Parm Sandwiches
Related