If you haven't immersed yourself in at least one viral dog video in the past 48 hours, we've got some bad news: you're a cat person.
But don't worry -- the damage is far from irreversible.
To remind you of the endorphin-fueled feeling that comes with a happy dog, we've partnered with Beneful to bring you nine of the nation's best dog parks (or, as we like to call them, Disneyland for canines).
From colossal dog houses to bone-shaped swimming pools, we hope you get as much joy from these pictures as the dogs playing within them!
Congressman Bill Archer Bark Park
Houston, Texas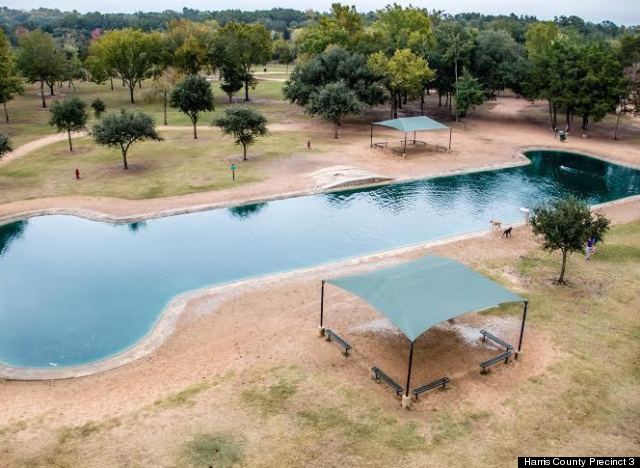 This park gets two paws up for its enormous bone-shaped ponds where pups can swim, fetch and play off-leash. Dog showers keep muddy paws from ruining your car on the way home, and covered areas throughout the park provide shade for especially hot days. Complete with walking trails, water fountains and an agility course, the 17-acre park is not fenced in, so there's no limits to how much fun you and your furry friend can have!
Shaggy Pines Dog Park
Ada, Michigan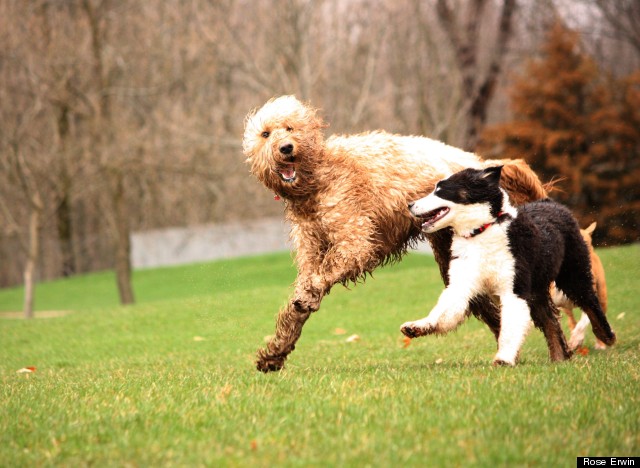 If you want to get in this doggy door, you'll have to get past a park bouncer. Four-legged attendees are temperament-tested, and owners must show various proofs of vaccination before entering. But it's completely worth it. Once you get past the chain-link fence you'll find 14 acres of completely fenced-in grounds, lighted and plowed trails, a 'Doggy Mountain,' sand pile for climbing and digging, a swimming pool, and separate areas for smaller dogs and agility training. To keep both pups and people pampered, an onsite clubhouse offers self-service dog wash and drying areas, and a coffee bar and lounge.
Rocky Top Dog Park
Kingston, New Jersey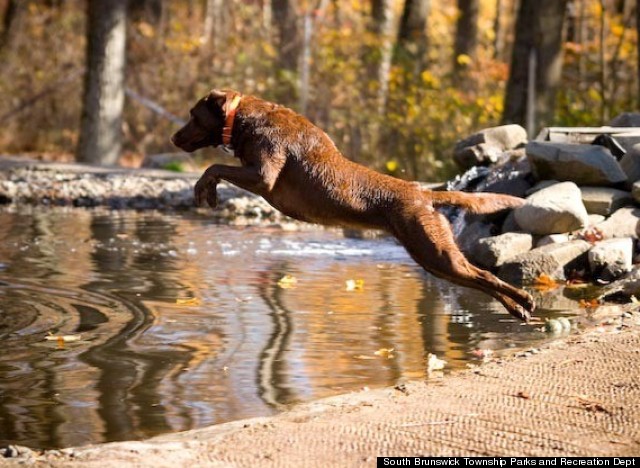 This park isn't just popular for its doggy play dates: their humans use it to socialize, too! Rocky Top's 5.75 acres include walking paths, tables, benches, trees offering plenty of shade and a refreshing pond for hot summer days. But with roughly 80 annual memberships, the park is busy all year round. Memberships provide peace of mind for owners that all dogs will be licensed, vaccinated and neutered, while three separate areas (one for medium and large dogs, another for training, and a third for smaller dogs) prevent doggy bullying.
Dog Wood Park
Jacksonville, Florida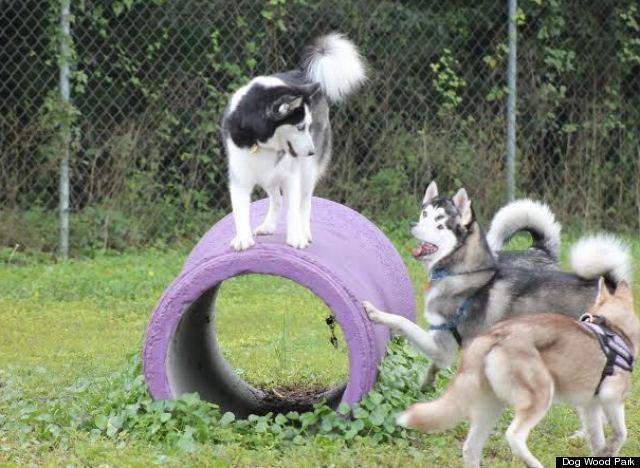 You'll find big puppy perks at this 42-acre oasis for man and his best friend. The giant playpen includes 25 completely fenced-in acres (making it one of the largest enclosed dog parks in the nation!), Lake Bow Wow (a two-acre swimming lake and Beckham Woods), and 10 acres of hiking trails for extra-rugged canines. Bonuses include three lighted acres for late night and early morning roaming, an agility course and self-service dog bathing stations offering Blueberry Facials. (Yes, doggy facials are a thing.)
Point Isabel Regional Shoreline
Richmond, California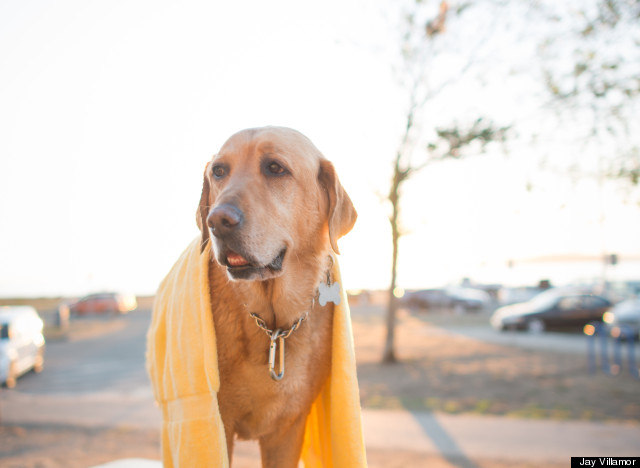 Over 500,000 pups visit this 23-acre park every year, making it one of the largest public off-leash dog parks in the nation -- and a true puppy playground! Formerly a landfill, the park is now clean and beautiful, boasting sensational views of the Golden Gate Bridge and a waterfront landscape. After playing outside all day, humans treats are served at the Sit and Stay Cafe, while furry friends can get cleaned up at Mudpuppy's Tub & Scrub, a dog bathing facility that'll leave your BFF smelling like anything but a wet dog.
Pilgrim Bark Park
Provincetown, Massachusetts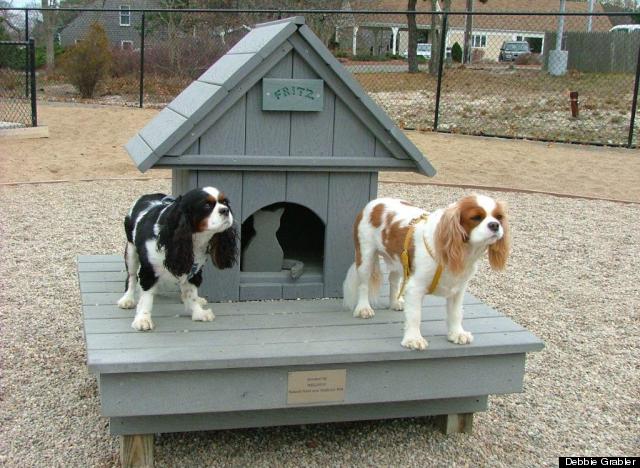 This park is easy on the eyes -- partially due to the adorable dogs frolicking around around, and partially because it's also an interactive art exhibit! Celebrating Provincetown's diverse and dog-friendly community, locally-designed benches, sculptures, a super-sized doghouse, and even poop bag stations decorate the acre of land designated for the ruff-ly 10,000 canines that visit each year.
Montrose Beach
Chicago, Illinois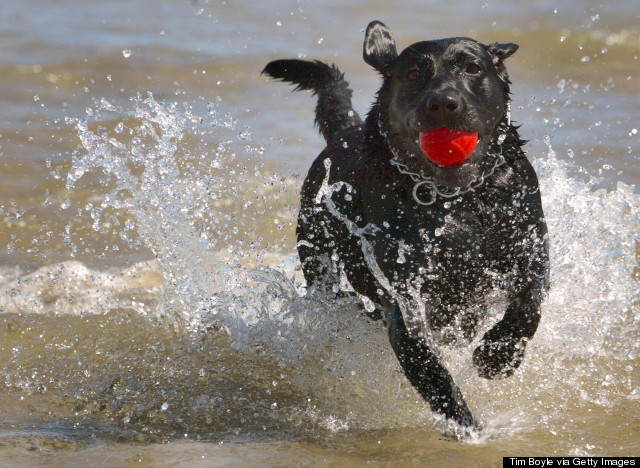 It might not be your traditional dog park, but Chicago's first legal off-leash dog beach ensures residents and their pets have a fun, clean and safe environment separate from sunbathers and picnic-goers. Completely closed off from the 'people' portion of the beach, the 3.83-acre gated spread of sand and waves is open from sunrise until 9pm for maximum play. The volunteer-driven beach is free to use, but Dog Friendly Area (DFA) tags are required for all pups.
Runyon Canyon Dog Park
Los Angeles, California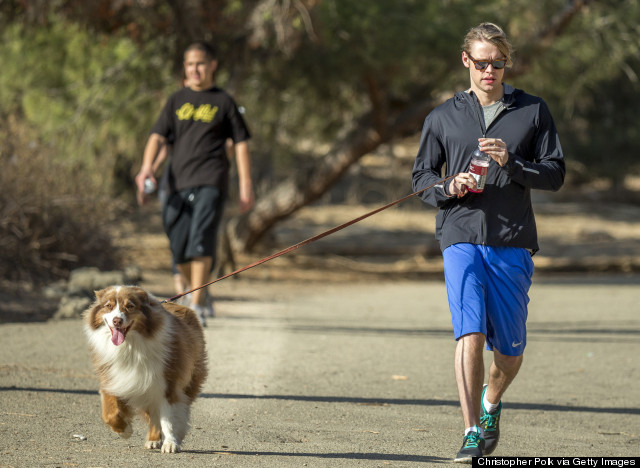 This park is perfect for especially active dogs and their humans looking to get their sweat (er, pant) on. With 160 available acres, Runyon Canyon offers an escape from the city. And with 90 of those acres available for off-leash play, this is a hot spot for pups ready to run(yon). For a pre- or post-romp rest, tables and dog fountains are available just before the off-leash area. Feel free to star gaze, as celebrity sightings are as frequent as tummy rubs here.
Beneful Dream Dog Park, Willow Creek Park
Prescott, Arizona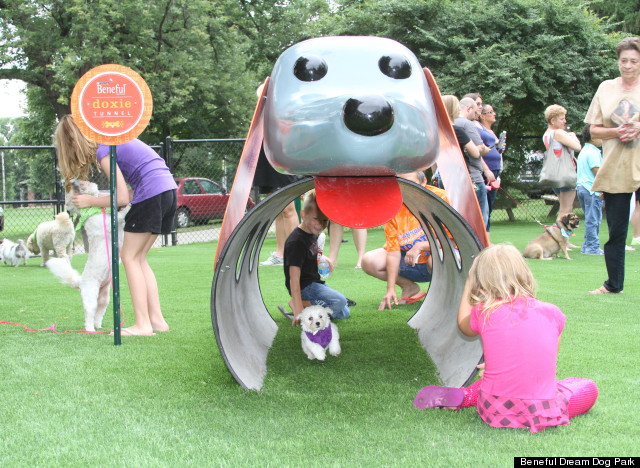 This pooch park is currently a work in progress -- but its final product will be what actual dreams are made of. That's because the 2013 winner of Beneful's Dream Dog Park Contest won a $500,000 renovation of local Willow Creek Dog Park in her hometown of Prescott, Arizona. Renovations will incorporate winner Linda Nichol's design of a 'Sirens and Hydrants'-themed park. The park is a one-of-a-kind fire station-themed paradise complete with a red fire truck play area, fire hose shaped tunnels and a firehouse lounge area. For much-needed green space (a rarity in Arizona), special dog-friendly turf will be used throughout. This dog park of the future will be unveiled in December 2014.
Want to see more wagging tails? There are three other pant-worthy Beneful Dream Dog Parks throughout the U.S. in Johns Creek, Georgia, Alabaster, Alabama and Lancaster Pennsylvania.
Related