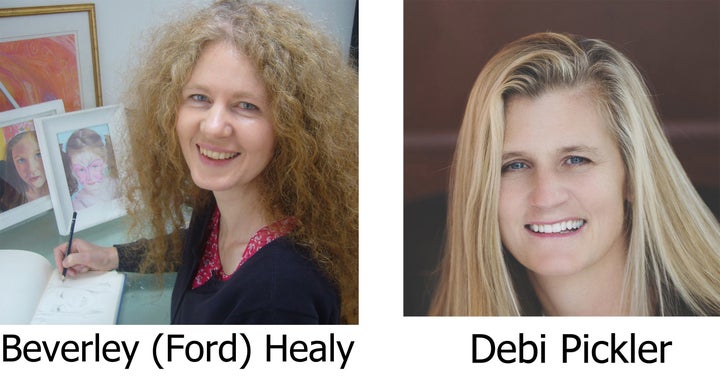 This year the American Art Awards (www.AmericanArtAwards.com), scored by The 25 Best Galleries In America, had winners from 40 countries including Argentina, Australia, Austria, Belgium, Bulgaria, Canada, England, Finland, France, Germany, Great Britain, Greece, Hungary, Iceland, India, Iran, Israel, Italy, Japan, Lebanon, Lithuania, Macedonia, Malaysia, Netherlands, New Zealand, Northern Ireland, Norway, Philippines, Poland, Romania, Russia, Serbia, South Africa, South Korea, Spain, Sweden, Thailand, UK, USA, and Wales.
In CATEGORY 32, PORTRAIT OF SOMEONE NOT FAMOUS, Pickler, from USA, who took 7 awards this year, tied for 1st here with Northern Ireland's Beverley Ford Healy. American Lauren Tilden was awarded 2nd Place. The Netherlands Daan van Doorn tied for 3rd with American Eric Zener, and van Doorn also tied for 4th with Canadian Michael Hames. India's Mukesh Thapa tied for 5th with American Martha Wade. Canada's Helen Broadfoot complete the winners circle. Truly stunning portraits all the way around.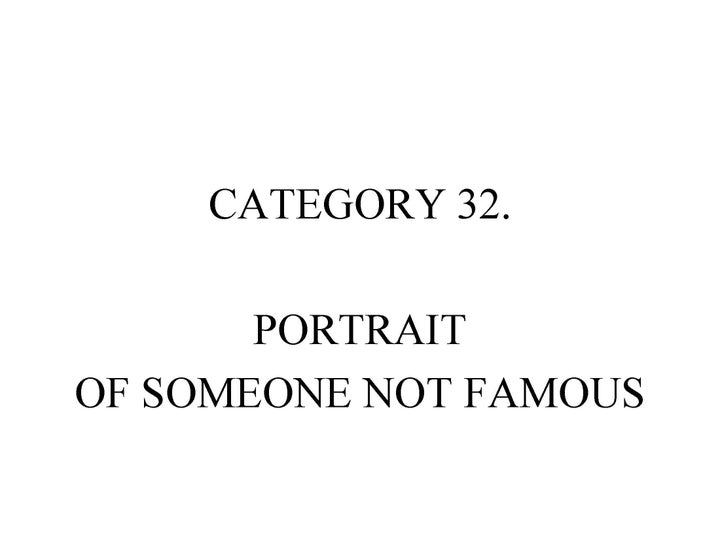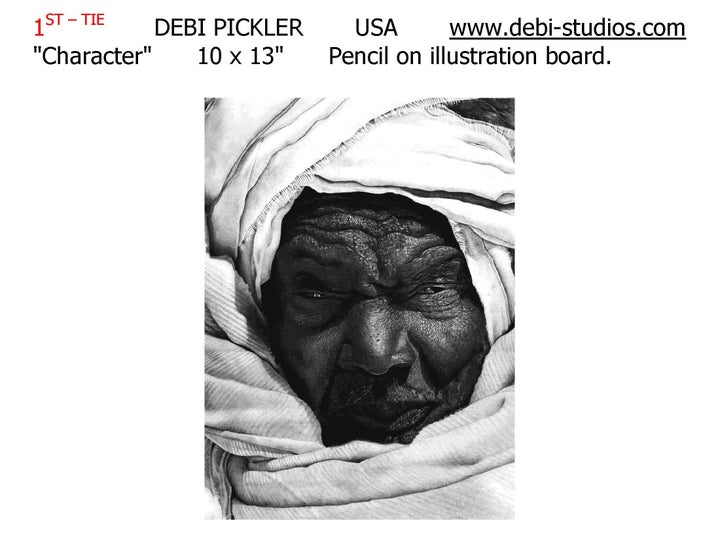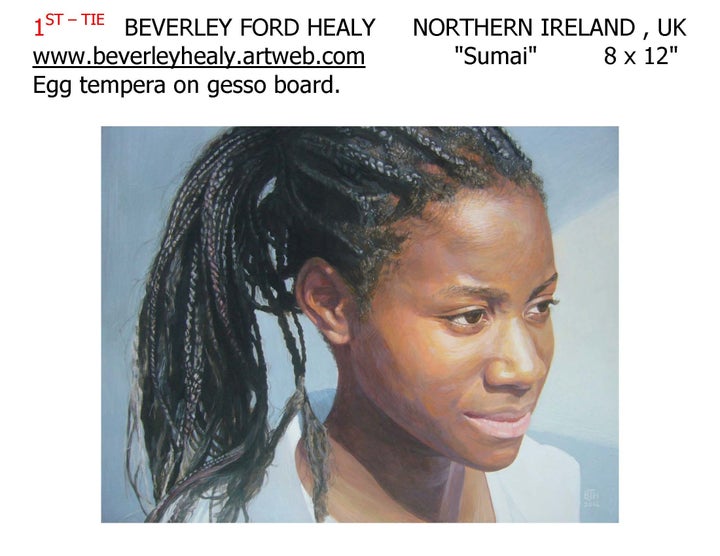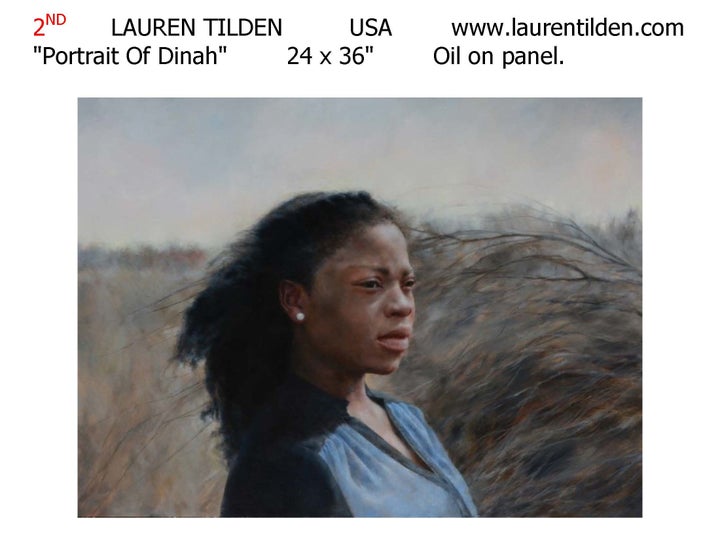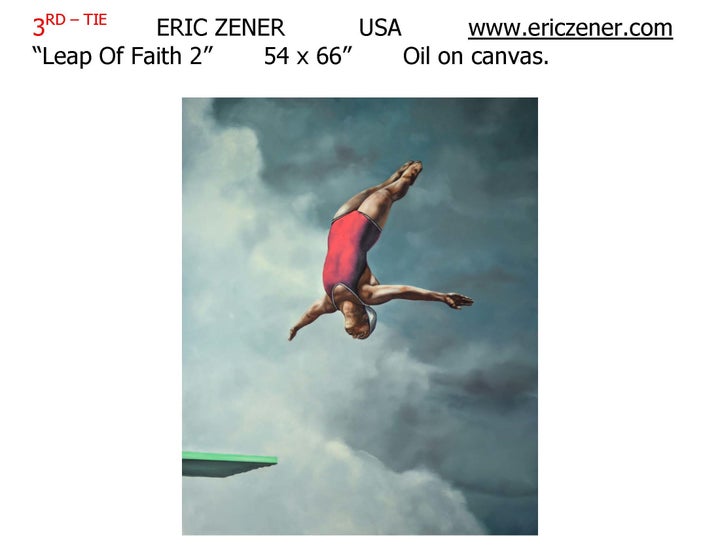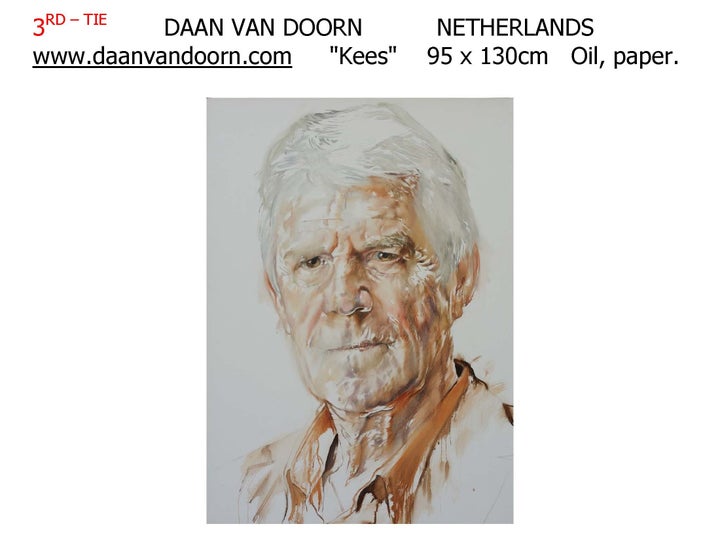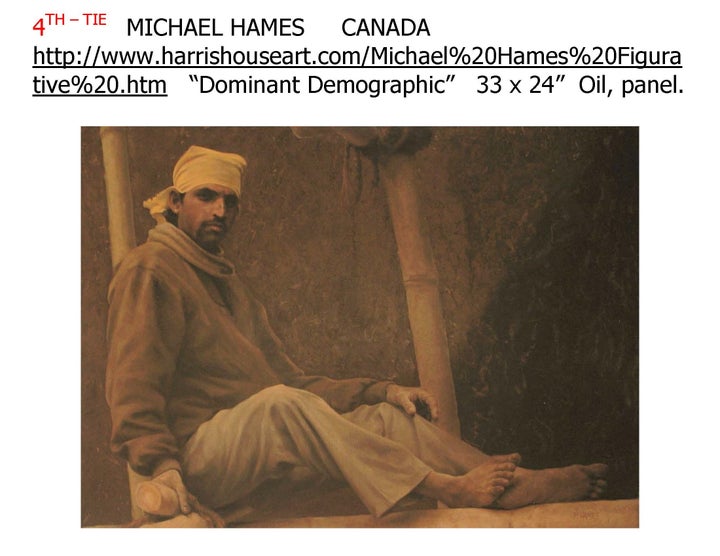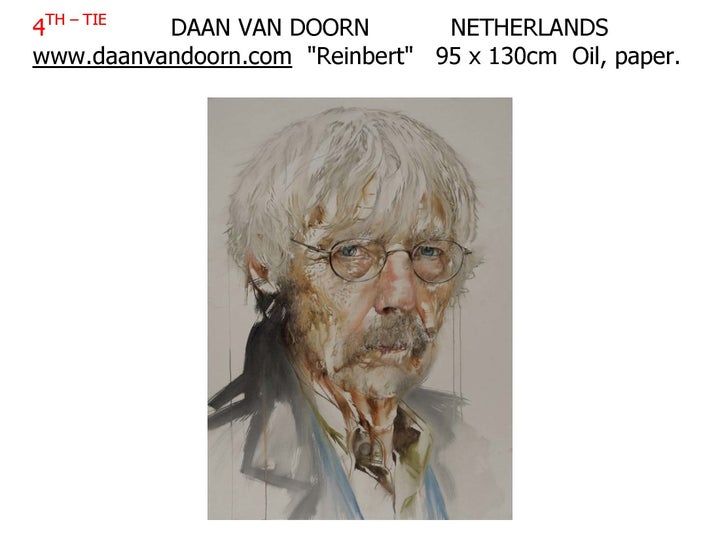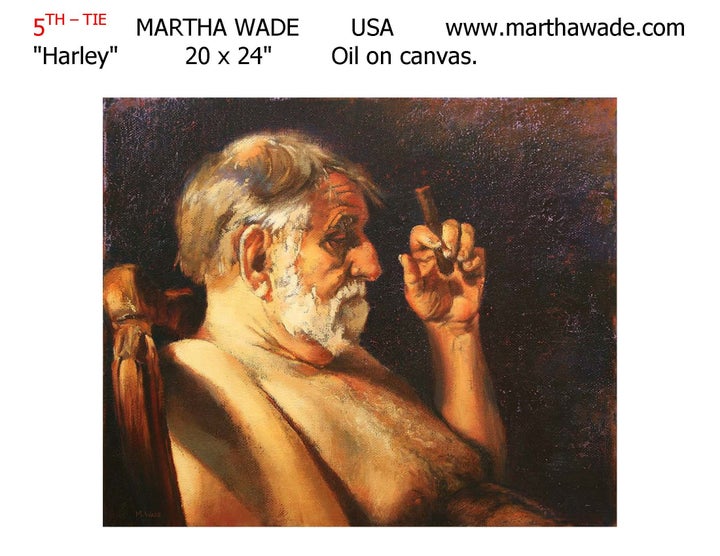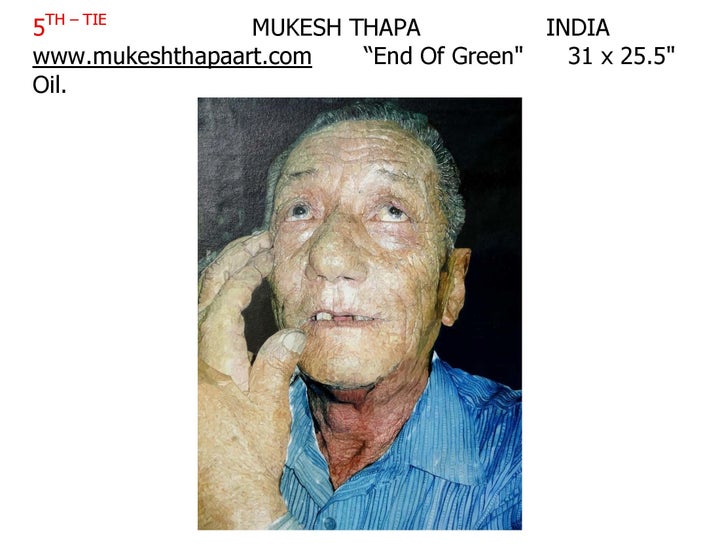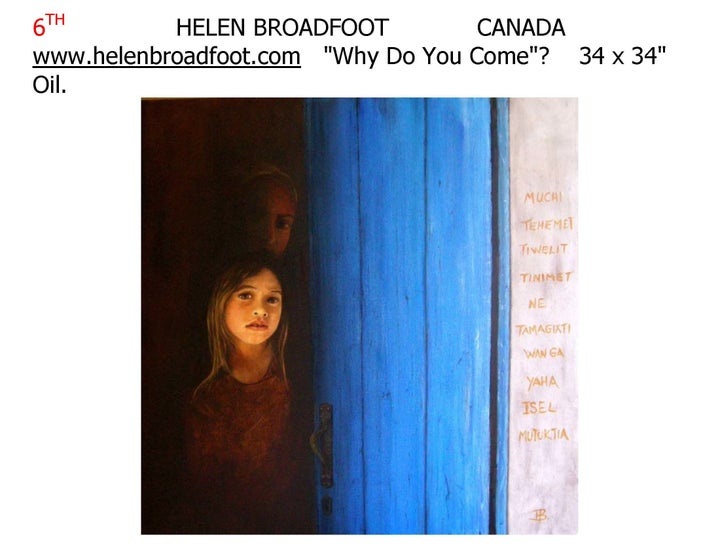 2016 AMERICAN ART AWARDS WINNING ARTISTS FOR CATEGORY 32. PORTRAIT OF SOMEONE NOT FAMOUS:
1ST – TIE: DEBI PICKLER, USA, www.debi-studios.com, "Character" 10 x 13" Pencil on illustration board.
3RD – TIE: ERIC ZENER, USA, www.ericzener.com, "Leap Of Faith 2" 54 x 66" Oil on canvas.

BIO ON 1ST PLACE WINNER BEVERLEY (FORD) HEALY:
I was born just outside London to parents who loved to foster my interest in art. I received my Fine Arts Degree in Coventry, England some years ago and postgraduate Diploma in History of Art and Design a few years later. I focus primarily on two strands of work – portraiture in pencil or egg tempera and imaginative pastel work. I moved to Belfast, Northern Ireland in 1993 to pursue my interest in working with people and have since worked in the area of Art and Health whilst also continuing my love of painting. I exhibit regularly in selected shows in the UK and recently won a local Arts Award for smaller work, called the Anna Cheyne Award. Although I fit my painting around my Community Arts work and family concerns I have been fortunate enough to sell a number of portraits even though they are primarily of my own friends and family!
My most recent work will be on show in Belfast's Ulster Museum in October as part of the Annual Royal Ulster Academy Show.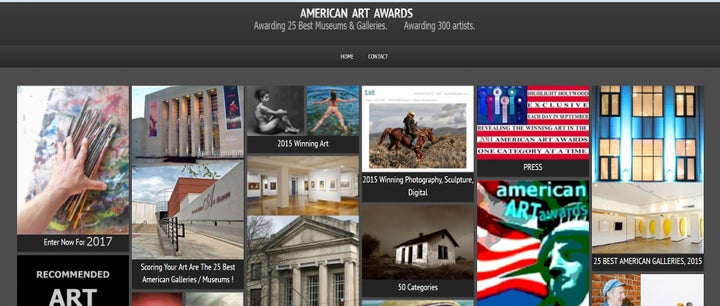 BIO ON 1ST PLACE WINNER DEBI PICKLER, "MASTERPIECE":
Debi Pickler knows exactly who to thank for her successful career as an artist. "My Mom was a tremendously gifted artist," Debi says. "I remember watching her paint and draw when I was a little girl, wishing I could be that good at creating art. She made it look so simple. I was truly fascinated by how she selected what to draw or paint and how she made them come to life."
Inspired by her mother's art, Debi began drawing and painting when she was in kindergarten. She became completely immersed in art, and before long had a collection of work in a variety of media. "I had so many drawings and paintings that I decided to have an art show in our back yard. My dad worked with me to make a sign for our mailbox announcing the show, and I hung up all of my art on our back yard fence." But before the show saw its first visitor, a sudden downpour from a rainstorm ruined all of her work. "Dad came to the rescue though, and bought the whole collection for 2 dollars. And that, was the beginning, of my artistic career."
Debi continued to develop her skills, becoming adept in a variety of different media such as pencil, oil, acrylic, watercolor, pastel, clay, wool sculpting, airbrushing, digital art and wood working and steadily becoming more proficient. After earning a BFA, emphasis in illustration from Kansas University, she ventured into the world of commercial art. Now, after more than 20 years as a graphic designer, she has worked for many different organizations such as a major university creating medical illustrations, several consumer products companies creating marketing pieces, trade show booths, and packaging and large companies who are in the business of selling their services to their clients. "Sometimes I think I'd like to focus on just one media, but I just wouldn't be happy," she says. "It's just how my mind works. It seems like I'm always thinking about art, about new ways to do things. I'll have dreams about creating art and I'll wake up at 3 a.m. with a new ideas that I just have to try. My mind just never stops."
Regardless of the media, there are common threads that run through nearly all of her work. First, Debi is obsessive about detail and loves putting extremely fine detail into her work. "I like for people to be able to really look at my art, to spend time with it and be rewarded by finding some new, tiny detail that maybe no one else had noticed," she says. "That drives me." And, as with the viewers of her art, she is passionate about her clients. "I like challenges" says Debi, a dedicated runner/cyclist who has completed several marathons and bike tours. "And walking into a new situation with a client, learning about their communication, marketing, branding, advertising or fine art needs and coming up with something that 'wows' that client is tremendously rewarding and inspiring to me!"
That inspiration seems to be a constant for Debi, whose greatest attribute may well be that she sees the world as her canvas, a place full of art and the potential for new, more intriguing works of art. "Art is everywhere … it's all around us and I believe the inspiration I find in the world and the talent to create art comes from God," she says. "Of course, it's up to me to see what's out there, dare to live outside the box, work extremely hard developing my talent and the ability share it with others."
While Debi's path has taken many twists and turns throughout her artistic life, she still looks back to where that path began, at a backyard art show in New Jersey, where a dad and his little girl turned a rain-out into a life.
Debi Pickler is a member of SCBWI (Society of Children Book Writers and Illustrators), BOMH (Best of Missouri Hands), St. Louis Artist Guild and IGOR (International Guild of Realism). Having studied at the University of Kansas obtaining a BFA in Illustration, she has won countless awards for her art.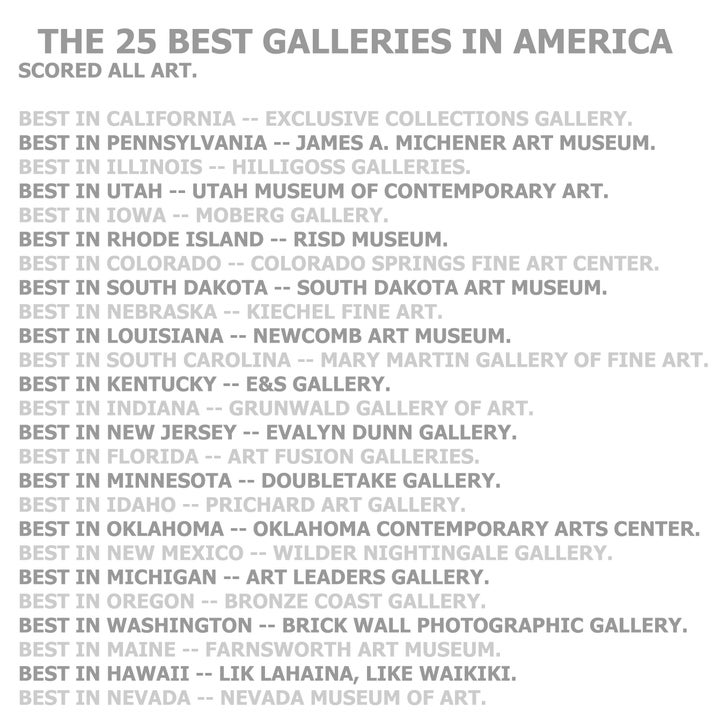 Support HuffPost
The Stakes Have Never Been Higher
Related
Popular in the Community