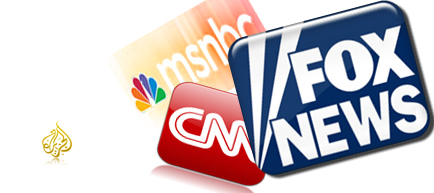 Cable news channels did not have a bad month in May. They had a dreadful month. The kind of ratings book that makes executives grim and staff jumpy. Here's the bad news about the key 25-54 demo:
"CNN had the least-watched 9 p.m. hour in the channel's history and finished fourth, behind Fox News, MSNBC, and even its sister channel HLN ... MSNBC had its lowest performance in prime time since July 2006 ... Fox News had its worst overall month since before the 9/11 terrorist attacks."
Oh, and the median age for Bill O'Reilly's audience? 72 years old.
Yes, May is typically a slow month for cable news. But with any luck this drop (along with the miserable demos) will be the new normal for pundit-laden yapping and tragedy telethons that pass for news programs.
THE NEWS NETWORKS VS. A "NEWS" NETWORK
Meanwhile, there is a 24/7 news network of outstanding, experienced journalists providing comprehensive US and world news coverage, excellent analysis of the big stories, and investigative journalism that would have made Murrow proud. There are also (unfortunately for them) far fewer commercial interruptions.
That channel is Al Jazeera America, owned by the Kingdom of Qatar and part of the worldwide Al Jazeera network. In August 2013, the network took over channels that had been airing Al Gore's Current TV.
In terms of raw numbers, Al Jazeera America's ratings are dismal. According to Nielsen, an average of 12,000 homes tuned in to Al Jazeera daily during May (which is, encouragingly, a 25 percent increase over February). Al Jazeera is quick to point out that all cable networks had small audiences at start-up. They also say that Nielsen found the network has a higher "composition" of affluent, educated, professional or managerial viewers than their competitors.
As for content, Al Jazeera America is generally engaging, relevant and well-staffed. Anchors and interviewers like Antonio Mora, Ray Suarez, Joie Chen and John Siegenthaler have not succumbed to the breathless breaking news" intonations or the "tell us what we already know" questions. The schedule is a mix of news, analysis, business and investigative documentaries. The network has won two Peabody Awards within its first year of operation.
In short, Al Jazeera America is a News Network, not just a channel with the word "news" in its name.
Yes, the network is owned by a foreign country, Qatar. Like every nation, Qatar has its own interests and perspectives. Does the King of Qatar influence Al Jazeera America? Not that I can tell. But I don't really know whether Prince Charles influences the BBC, either.
According to Jocelyn Austin, a spokesperson for Al Jazeera America (AJAM): "There is a strong firewall between our business side and our editorial side. Our editorial decisions come from within the editorial team at AJAM, not from our corporate owners."
News coverage of Qatar itself seems to be on a par with coverage of other nations in the region. Saudi Arabia, the United Arab Emirates and Bahrain have been haggling with Qatar over its support for the Muslim Brotherhood, but if there's a shred of bias on this issue, I haven't seen it. Al Jazeera America does have one specific editorial bias. It airs frequent self-produced spots (in commercial time) attacking the controversial imprisonment of four Al Jazeera reporters in Egypt. This is an issue that EVERY news outlet should be publicizing.
From the start, Al Jazeera America has faced a daunting public relations challenge among conservatives who see all things Muslim as the first step towards public beheadings. But there has been recent criticism of Al Jazeera America from a surprising and respected source: Reese Schonfeld, who started CNN, has weighed in here on The Huffington Post with a warning that Al Jazeera America is doing too much muckraking about ... America.
Al Jazeera is a Qatari owned company reporting on American faults. Their concentration on the negative side of American life does not sit well with me. I wonder how many of their stories are shared with other Al Jazeera networks -- Al Jazeera Mid-East, Al Jazeera Balkans and Al Jazeera English. I wonder how many people in other parts of the world are learning of America's shortcomings as seen through the eyes of Al Jazeera reporters.
I have tremendous respect for Reese, but I'm surprised that he would criticize investigative reporting within the U.S. because other countries might find out about our faults. One might ask whether CNN does a disservice to the U.S. when it airs negative stories about America, which it then shares on its international channels. Alas, that's not much of a problem, because today's CNN (as opposed to Reese's old network) does far less useful "muckraking."
(By comparison, watch the egregiously lopsided reporting on the Russian-owned RT "news" network, which often seems be broadcast from a basement studio in the Kremlin's Propaganda Ministry.)
There are two obvious things (at least!) that will need to happen if Al Jazeera America is to succeed as a journalistic enterprise. First, it must find enough viewers to become economically viable. If it starts making money, no one will question why an Arab Kingdom (or an Australian newsman) would want to run a cable network. Second, it will need to find an audience and sponsors that won't flee when the next celebrity scandal or police chase hits air on all the other so-called news networks.
CORRECTION: In a previous version of this post, Antonio Mora was incorrectly identified as Anthony Mora.
Related
Popular in the Community