From its origins in the culinary culture of Italian peasants, pizza has taken over the world. Here we select the seven best cities in the United States in which to eat the country's best pizza. New York is a given, but where else in America can claim to have the best pizza? Read on to find out...
7. Tempt your tastebuds in the pizza-loving city of Boston, Massachusetts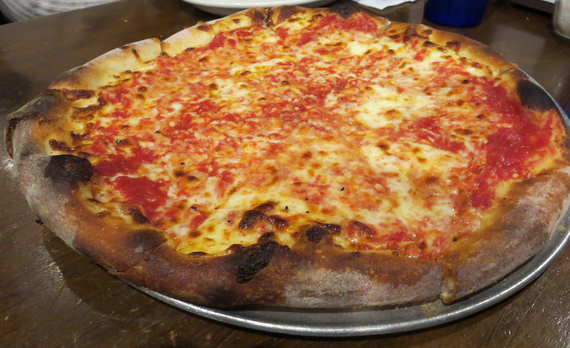 Santarpio's Pizza, by bucky jones.
Pizza in Boston, though lacking a unifying culture or style, has a few fantastic artisans creating it. The top two pizzerias in terms of reputation are Regina's and Santarpio's, and there's much disagreement over which is better. Regina's has been established in the city since 1926, and is an immensely popular North End institution. This means long queues and a quick turnaround, both of which are justified by excellent, crispy and cheesy pizza. Santarpio's is a little less touristy, tucked away in the east end of town, and makes pizza that has slowly gained an international reputation. Really, you should try both and decide for yourself.
6. A strong Italian heritage gives rise to several superb pizzerias in Philadelphia, Pennsylvania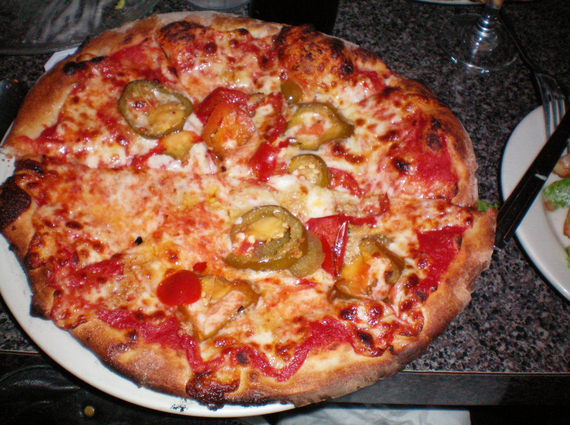 Marra's!, by Alexandratx.

Philadelphia has the second biggest Italian-American community in the United States and is famed for its big Italian market in the south of the city. So it's not surprising that it is also home to a string of superb pizzerias. Some of the best include Stogie Joe's, which serves square pizza with the cheese buried beneath a tangy sauce; Tacconelli's, with its thin crust, superb tomato sauce and light sprinkling of cheese; and Osteria, serving puffy-crusted pizza in a more formal restaurant setting.
5. Sample the upcoming and inventive pizza culture of Providence, Rhode Island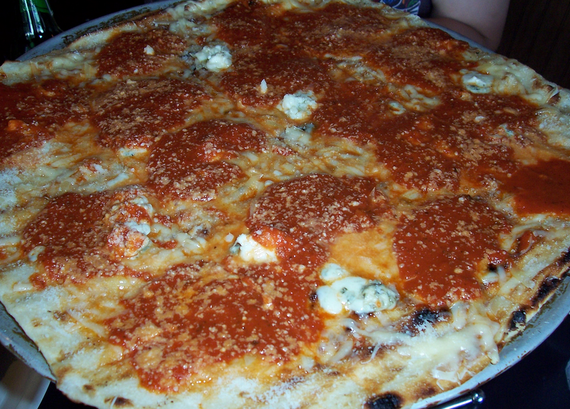 bob and timmy's pizza, by spablab.
Providence, capital of Rhode Island, has emerged from its post-industrial malaise over the past couple of decades to become an excellent destination for food-lovers. Part of this transformation has involved evolving a great pizza culture, with a variety of twists on traditional methods. Italian restaurant Al Forno is famous for its distinctive grilled pizzas, which it serves as an appetizer. Providence Coal-Fired Pizza bakes its pizzas in a coal oven that reaches much higher temperatures than the usual wood-fired approach, imbuing the final product with a smoky flavor; it also has a range of more decadent toppings, such as meatballs. And a small, eccentric contender for Providence's best pizzeria is Bob & Timmy's Grilled Pizza, which grills its pizza over a wood fire and offers a range of unusual toppings.
4. Experience deep-pan and thin-crust excellence in Chicago, Illinois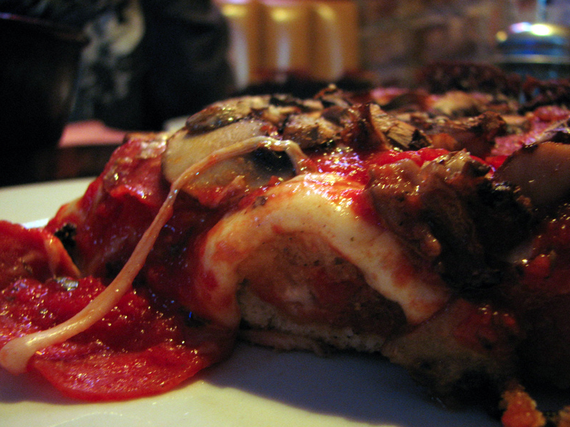 Pequod's, by osphia.
Chicago is where American-style pizza really diverges from its roots in Italy. The city is famed for its thick-crust, deep-pan pizza, laden with toppings and cheese, which, in contrast to the thin, delicately-flavored pizza of Naples, seems somewhat symbolic of American indulgence. But this hearty invention can be excellent, particularly on a cold, windblown Chicago night. And the city's pizza culture goes beyond the deep-pan with which it is associated: restaurants such as the superb Spacca Napoli serve only traditional Italian thin crust pizza. Pequod's Pizza serves terrific varieties of both, and is perhaps the best place in town to experience deep-pan Chicago-style pizza.
3. Feast in a small American city renowned for its pizza culture, New Haven, Connecticut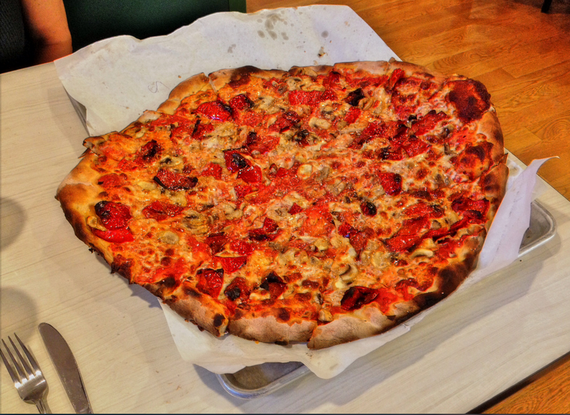 Frank Pepe's, by Joe Hall.
As any stateside pizza lover will tell you, New Haven has earned a reputation for world-class pizza, cultivating its own distinctive take on the Neapolitan style. This is mostly thanks to Frank Pepe's Pizzeria, a Neapolitan pizza joint serving a stripped-down pizza with a wide thin crust, tomato sauce, oregano and a little grated pecorino romano cheese. White clams and garlic are added to this base to create Frank's legendary white clam pizza. Such a fanfare for Frank's won't go down well with Sally's Apizza, however, which has claimed the title of the town's best pizzeria since it opened in 1938. Sally's pizzas are huge and have mozzarella as standard.
2. Eat at some of America's most long-established pizzerias in and around Trenton, New Jersey
Travel a little south of New York and you'll reach another city with a sprinkling of superb pizzerias, finished with a distinctive old-world charm. The king of pizza in and around Trenton is probably Papa's Tomato Pies, a few miles away in the neighboring town of Robbinsville, which claims to be the oldest family-run pizzeria in the States. Having been open since 1912, it probably is. While you're in Robbinsville you can also drop into De Lorenzo's, another Trenton establishment with a national reputation which has recently hopped over into Robbinsville. And the newest contender is Massimo's, which has locations in both Trenton and Robbinsville, and makes pitch-perfect Neapolitan pizzas with that instantly-recognizable puffy crust.
1. New York City is pizza's original home in America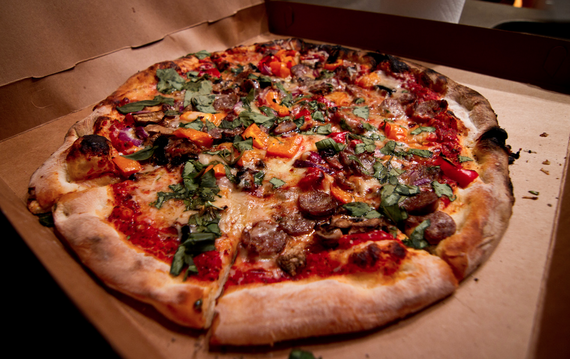 Di Fara, by Guian Bolisay.
If Naples was pizza's global birthplace, then New York is its American counterpart. Gennaro Lombardi introduced pizza to the States in 1905, when he applied for a license to sell it from his Spring Street store. New York remains the heart of American pizza culture today, and has some superb pizzerias. Di Fara has masterfully-prepared, authentic Italian thin crust pizza, and wins frequent accolades. Brooklyn-based Spumoni Gardens sells slightly less traditional pizza, rectangular and with cheese beneath the sauce, but has gained a passionate following. And Roberta's in Bushwick is famed for its simple and sublime margheritas. One interesting way to experience the pizza scene in New York is with a food tour. A Slice of Brooklyn offers regular tours of Brooklyn's best pizza spots and is perennially well reviewed by its guests.