Andre Morris, president of Varran Media, had a challenging puzzle to solve last December: where to throw a Manhattan party for his VIP client, hip-hop star 50 Cent. Morris knew that in order to please the celebrity rapper, he'd need a venue with the right mix of sophistication and tranquility; that's why, once his search began, he decided to "go up"--that is, to look at rooftop bars.
High above the bustling din of Midtown Manhattan, Morris found what he was looking for atop the 21st floor of the Strand Hotel. The Top of the Strand had a retractable roof, chestnut wood-box planters, flickering hurricane lanterns, plush banquettes in wooly Ralph Lauren upholsteries and an overall graceful atmosphere designed by Sex and the City set designer Lydia Marks, which added to the rooftop bar's selling points. But it was the awe-inspiring views of the city's skyline that sealed the deal.
"The moment you step off the elevator, you feel as if you're transported to a South Beach, hot spot," said Morris. "But once you look up, you're in the shadow of the Empire State Building."
New York is just one of the U.S. cities that's seen a profusion of new rooftop bars in recent years. Residents use them as sanctuaries from street-level hubbub and as after-hours "offices" for conducting business; tourists appreciate them for their aerial vantage point over landmarks and local goings-on. Manhattan alone seems to have sprouted a new rooftop bar for every type--whether you want a glass of champagne in a manicured English roof garden with views of Central Park (The Surrey on the Upper East Side), artisan cocktails with an arty downtown crowd while gaping at the Brooklyn Bridge (Jimmy's in Soho) or martinis with a mixed Midtown crowd while admiring the ambition-stirring views of the iconic Empire State Building (Top of the Strand).
But New York is not the only rooftop game in town. Elegant sky-high bars have cult appeal in cities as varied as Portland, Oregon (with its Departure Bar, an architectural gem that sits atop the Nines Hotel) and Chicago (where patrons at the Peninsula Hotel's Shanghai Terrace gaze over the city's iconic Water Tower and John Hancock Building).
Some rooftop oases--like La Fonda's Bell Tower Bar in Santa Fe, or High, at the Hotel Erwin in Venice Beach, California--have such breathtaking sunset views you might forget you're in a city at all.
Our list of the country's best rooftop bars includes all these options, and more. Each venue offers its own particular reminder that getting up above it all is a rare treat. It's coming down that's the problem.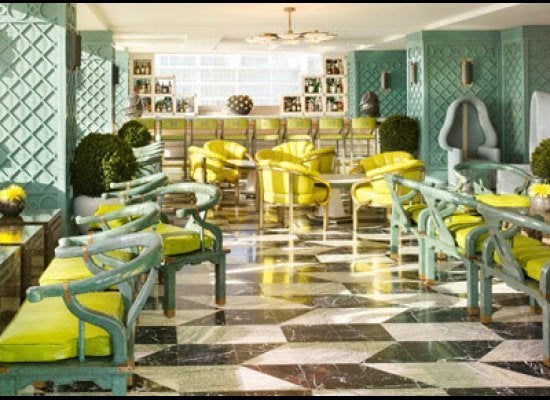 America's Best Rooftop Bars