Our recent article on America's Top 10 New Sandwiches caused quite a stir in the blogosphere, but no one was more riled up than a group of spunky vegan bloggers. Their de facto leader, Namely Marly, explains:
We read this article with great curiosity but it didn't take long until the curiosity faded and was replaced with something else. OK. We were grossed out. Particularly at one sandwich that referred to an ingredient called suckling pig. We hoped this was a reference to something other than the obvious, but it appears it is exactly as it sounds. Only one of the 10 sandwiches appeared to be vegetarian. We felt like a cross between Stan Laurel and Rodney Dangerfield, scratching our heads with a half whimper and half scowl thinking, "Why don't we vegans get any respect?"
So they decided to demand their own respect, teaming together to create tasty and healthy versions of each cholesterol-laden entry on the list of America's Top 10 New Sandwiches. Hence, America's Top 10 New Sandwiches -- Veganized. Here are all ten of 'em. Follow the links for recipes.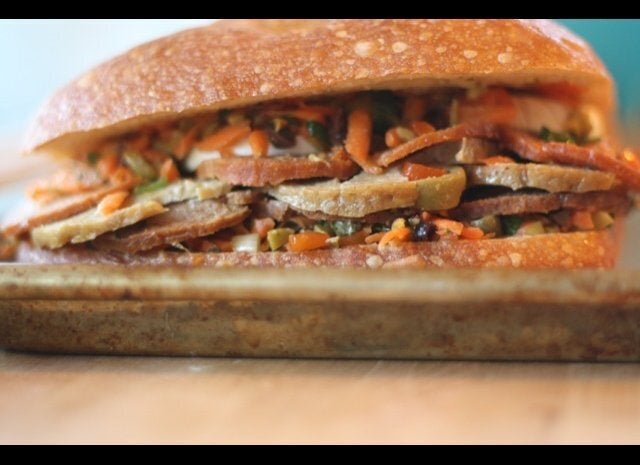 America's Best Sandwiches --- Veganized