Nothing tops a good summer concert. But sometimes jumbo shows at sports stadiums just don't provide the ambiance you're craving. Luckily, America has been graced with the glory of multiple breathtaking outdoor concert venues. Whether they're built right into their surroundings or have been turned into works of art, these venues are sure to satiate that live-music-on-a-summer-night need.
Red Rocks Amphitheatre -- Morrison, Colorado
Located just outside of Denver, Red Rocks consistently tops the list of coolest outdoor theaters in America. And it's easy to see why: The open-air theater is framed by shockingly red rocks, jutting out in every direction. On the schedule for this summer are The Lumineers, The National, Bob Dylan, Odesza and more. Red Rocks hosts other events too, like yoga, fitness challenges and movie screenings. And attendees can usually expect to enjoy the show while drinking a cold one from one of Denver's many craft breweries.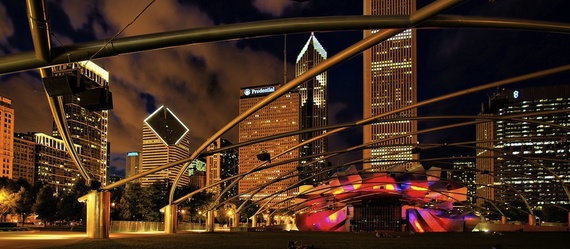 Chicago's skyline provides the backdrop for Jay Pritzker Pavilion. Photo: Sergey Gabdurakhmanov - Flickr
Jay Pritzker Pavilion -- Chicago, Illinois
Pritzker Pavilion has been fostering perfect views of Chicago's skyline from its Millennium Park outpost since 2004. It has 4,000 seats, and the lawn seats roughly 7,000. Most concerts are free and BYOB--though this summer's Flight of the Conchords and Wilco shows are worth shelling out a little money for--and Chicagoans flock here with blanket and alcohol in hand as soon as it's warm enough to not need 8 sweaters. And a winter coat. Whether or not there's a concert, the pavilion itself is worth visiting, if only for the photo op--a giant steel ribbon structure frames the stage, and a web of crisscrossing steel pipes stretch over the pavilion and entire 95,000-square-foot lawn. It's more art than building. In fact, the city had to designate it as a piece of art to circumnavigate some building height restrictions.
Nikon at Jones Beach Theater -- Wantagh, New York
This theater is located inside a state park, and first opened in 1952 to host musicals. Back then it had a moat -- performers were brought to the stage in a boat and some of the scenery floated. That all changed after the first renovation, when the moat was filled in and seats were added closer to the stage. It had to undergo another major reno to the tune of $20 million after Hurricane Sandy hit hard in 2012. It reopened in spring of 2013, and only started selling alcohol outside of VIP boxes in 2014. Meaning this summer's headliners--Bad Company and Joe Walsh, Weezer and Panic at the Disco, and the BLI Summer Jam (with Meghan Trainor and Iggy Azalea)--will be that much more fun.
The Hollywood Bowl -- Hollywood, California
Nestled in the Hollywood hills, the Bowl opened in 1922 and rode the wave of Hollywood fame. Frank Sinatra played there in 1943, the Beatles in 1964, and a showcase of the world's best musicians followed. It's been the summer home of the Los Angeles Philharmonic since it opened, and has drawn famous visitors, from President FDR to Mickey Rooney. This summer's highlights include Janet Jackson, Paul Simon, The Cure with Twilight Sad and Steely Dan.
Gorge Amphitheatre -- George, Washington
This amphitheater is often considered one of the most scenic in the world, with sweeping views of the Columbia River and the foothills of the Cascade Range as its backdrop. The land on which it sits was originally set to be a vineyard. Instead, the Gorge opened in 1986, with a mind-blowing capacity of 27,500. Since then, it's held dozens of music festivals, one of the most notable being Sasquatch! Music Festival. Fans can actually camp at the Gorge for 24 hours on the day of the single show, or until noon the day after a festival ends. This summer, the amphitheater will also host the Paradiso Festival, the Watershed Festival and Phish.