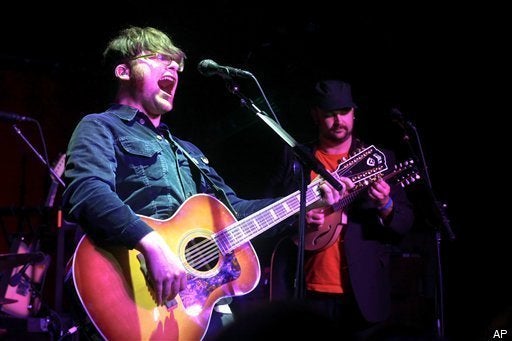 America glories in its tradition of the self-made individual. Political candidates compete to be a friend to entrepreneurs, and policymakers, imagining the next Microsoft or Google, design laws to back the innovator in the garage. But, what about the band in the garage?
Most of us don't think of them this way, but the eager young band and other independent creators -- illustrators, filmmakers, writers, musicians -- are "the ultimate start-ups," searching for the business model that will earn them a fair living at a time that their work is often shipped illegally around the Internet without earning them a penny. They don't always get the same love that politicians or the rest of us direct at high-tech start-ups, but I learned at a recent forum on artists in the digital world that most creators have the same zeal for business success. After hours of discussion at an Arts&Labs forum called CREATE, I know that artistic entrepreneurs aren't locked into a fading old model in which their fans have to shop in a brick and mortar store. They are determined to make the Internet a great tool for sharing their creativity; but they sure wish the digital revolution didn't also make it so easy to rip them off.
Evan Lowenstein, who scored several top 40 vocals as part of the pop duo Evan and Jarron, offered his new online venture "StageIt" as one example of artists' entrepreneurial bent. The website offers live performances and other real-time interaction between musicians and their fans. Born out of his recognition in the early 2000s that his sales were falling even as his songs climbed the charts, Lowenstein says the idea is to deliver a "front row seat for a backstage experience," and at an affordable price instead of $100 or more for a concert. From a business standpoint, he says it's one more revenue stream for musicians at a time when the Internet has broken old business models. Lowenstein is convinced that his fans weren't stealing from him, but they just wanted to hear his music and didn't have many ways to buy it online.
Ellen Seidler, an independent filmmaker who raised $250,000 to make her film And Then Came Lola, fought an extensive battle against online thieves, who translated the movie into 14 languages and moved around tens of thousands of copies without any compensation to Seidler. Despite the frustration from that experience, Seidler remains determined to use Internet tools to support future films. For example, she says one option is to provide incentives to independent blogs to provide legal links to films and other online media.
Marcus Johnson, musician and attorney, says creators have to think of themselves as " brand" and apply their creativity to business as well as artistry. He noted, for example, that his music is more popular with women than men, and that women, as a group, drink wine. His response was to work out marketing arrangements with wineries and wine distributors to drive traffic to both businesses.
Another example of entrepreneurial spirit among creators is Kickstarter, a Website that borrows from political fundraising to connect artistic ventures with who might be willing to invest a few dollars (or, sometimes, larger amounts) to help new projects off the ground.
That's not to say any of these artists have identified the secret path to riches in the digital age, or that one model is better than the other. But these creators do deserve recognition as entrepreneurs who are entitled to a degree of the support that American policymakers offer to other start-ups. High on the list is government enforcement of copyright laws and other measures designed to safeguard intellectual property, with a special emphasis on shutting down rogue web sites that exist exclusively to make money from online theft. That's the minimum we can do so that artists can fairly test new business models and find out the best chance to earn a living in the digital age. Let's give them a hand.
Related
Popular in the Community