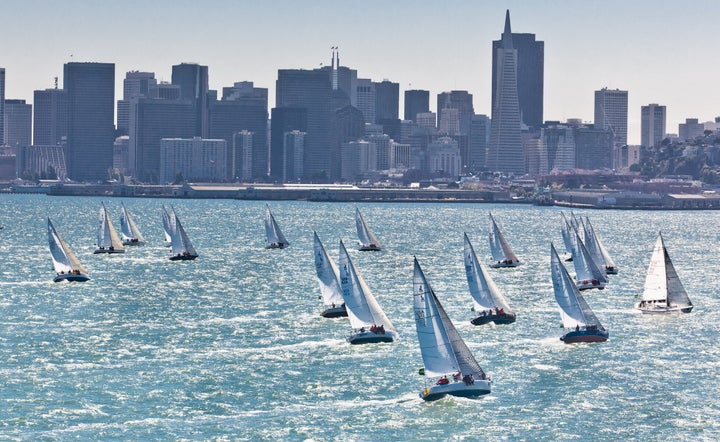 The America's Cup Event Authority recently announced a dramatic scaling back of its plans for next year's San Francisco race, and unsurprisingly, there will be a big chunk of layoffs along with it.
The San Francisco Chronicle reported Friday that the world-famous sailing competition fired 14 staff members in San Francisco and 14 in other parts of the world, mostly on the marketing, technology and communications teams. The 28 individuals comprise roughly a quarter of the entire America's Cup Event Authority.
"We're having expenses match the revenues as much as we can," Stephen Barclay, the authority's recently-tapped interim CEO, told the Chronicle. "And a number of people will be leaving as a result."
When San Francisco was first chosen host the America's Cup last year, the event authority made lavish plans to completely overhaul a number of piers along the water in order to transform the Embarcadero into a sailing-palooza. But a number of factors, including budget woes, fundraising snags and environmental concerns, have resulted in a much more modest roadmap.
Despite the change of plans and signs of marked instability among America's Cup staffers (in addition to the layoffs, the event authority was plagued by a management shakeup earlier this year), many locals remain enthusiastic about the prospect of hosting the third-largest international sporting event right here in town. "This may be a downsize from the original extravaganza, but it will still be an awesome event in the perfect spot," wrote SFGate columnist C.W. Nevius. "It will be a showcase for the city and the bay, and I will be extremely surprised if it isn't a killer event."
But others aren't so sure. "The once-glorious event that was going to be almost as big as the Super Bowl and the World Cup is now shrinking, and the billions of dollars that were going to come in are looking more and more dubious," wrote the San Francisco Bay Guardian's Tim Redmond.
Indeed, a new report by budget analyst Harvey Rose found that if the team responsible for fundraising on behalf of the city fails to raise its projected $32 million, San Francisco could lose up to $11 million on the deal. For now, those involved remain optimistic.
"We are excited to host the 34th America's Cup, one of the world's greatest international sporting events, in San Francisco and benefit from the jobs and economic impacts that come with it," Mayor Ed Lee said in a recent statement.
The hullabaloo begins this coming summer with practice races and culminates in the big event the following September.
Calling all HuffPost superfans!
Sign up for membership to become a founding member and help shape HuffPost's next chapter