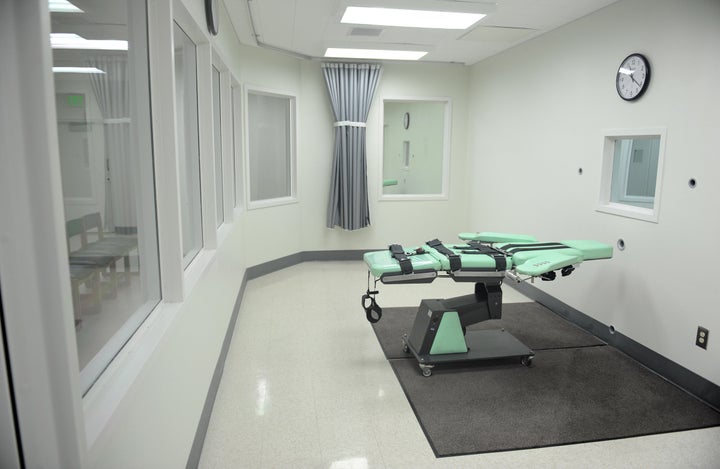 Prosecutors who seek the death penalty more frequently than their peers have had alarmingly high rates of misconduct, according to a report analyzing the outsized impact the nation's most aggressive prosecutors have had on death sentencing.
The report, "America's Top Five Deadliest Prosecutors," released Thursday by Harvard Law School's Fair Punishment Project, identifies five head prosecutors who, together, were responsible for 440 death sentences -- equivalent to approximately 15 percent of the current U.S. death row population. The prosecutors championed capital punishment more to feed their "over-aggressive" and "reckless" style than for the circumstances of the crimes, the report argues.
"Their overzealous pursuit of the death penalty does not accurately reflect America's growing skepticism of the death penalty, nor is it representative of local constituencies that are more attached to the death penalty," the report reads. "It better reflects the lack of meaningful controls on prosecutorial discretion and a lack of consequences for their illegal or unethical behavior."
The report names Joe Freeman Britt of Robeson County, North Carolina; Bob Macy of Oklahoma County, Oklahoma; Lynne Abraham of Philadelphia, and Johnny Holmes of Harris County, Texas -- all now retired. The fifth, Donnie Myers of Lexington, South Carolina, is still in office, but has announced he won't seek re-election and plans to step down in early 2017.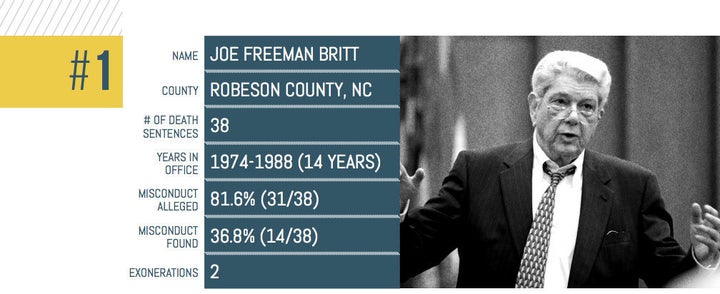 Britt, Myers and Macy each personally won more than 35 death sentences during their decades in office, the researchers found. Abraham and Holmes, who did not try many death penalty cases themselves, oversaw prosecutors' offices that obtained more than 300 death sentences collectively during their tenure.
Disturbingly, courts found high percentages of misconduct in death penalty cases under three of the prosecutors. Misconduct was found in 37 percent of Britt's death cases, 33 percent of Macy's cases and 46 percent of Myers' cases, according to the report.
And when four of these prosecutors retired, death sentences declined dramatically in their jurisdictions -- a trend that researchers say shows individual personalities drove the death sentencing rates, not commitment to capital punishment by local residents. Eight people sentenced to die under district attorneys on the list were later exonerated and released from death row.
"What's striking is not just that there a few peculiar personalities that account for so many death sentences, but that their overzealous support for capital punishment comes paired with underzealous commitment to the rules and regulations that promote fairness and accuracy," Rob Smith, senior research fellow and director of Harvard Law's Fair Punishment Project, told The Huffington Post. "These are not the people with the best temperament for the job of deciding between life and death, but the worst."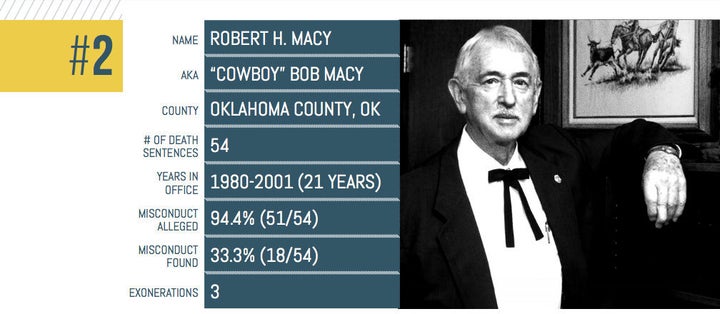 The use of capital punishment, plagued by controversy and a shortage of drugs used for lethal injections, has declining for the last 20 years. The number of executions have fallen to record lows in the modern death penalty era, with fewer people put to death in 2015 than since the 1970s. Some states banned capital punishment more than 150 years ago and now, 19 states and the District of Columbia have abolished the death penalty.
And while most prosecutors pursue fewer death sentences than in the past, researchers note that the issue of personalty-driven death sentencing still happens.
In counties that continue to vigorously impose the death penalty, "a handful of prosecutors dominate death-sentencing statistics," the report says.
The researchers name three active prosecutors who, if they continue at their current rate, may one day find themselves atop the list of "deadliest" prosecutors.
The "watch" list includes: Assistant State Attorney Bernie de la Rionda of Florida's Duval County, who has won 22 death sentences; Deputy Maricopa County Attorney Jeannette Gallagher, of Arizona, who has obtained nine death sentences; and Commonwealth's Attorney Paul Ebert of Prince William County, Virginia, who has obtained at least 14 death sentences.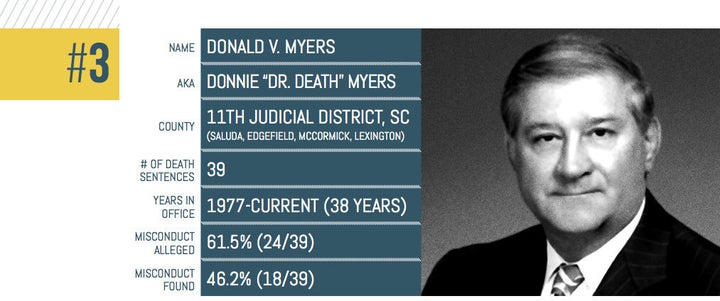 Popular in the Community