It's difficult to measure all of the positives that can come from just one visit to a U.S. National Park. By simply dipping your toe into the waters of America's great outdoors, your world is touched by greater health, improved mood, increased knowledge, all the while you are offering support to the preservation of one of the world's finest treasures... and, national parks are a perfect place to go play.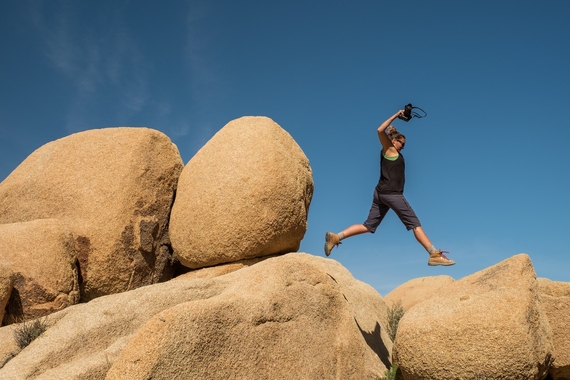 Wahoo! at Joshua Tree National Park. Jonathan Irish catches Stefanie Payne in mid-air while playing on the rocks.
With 14 parks in the bag in just 10 short weeks, all we really wanted to do by the time we got to Joshua Tree was to relax and regroup, goof off and unwind for a minute. This park is ideal for that--it really is a perfect place to go play. It is also a perfect place to camp. The clear skies and temperate spring climate found in the California desert makes pitching a tent, building a fire, and practicing the lost art of conversation a lot more relaxing.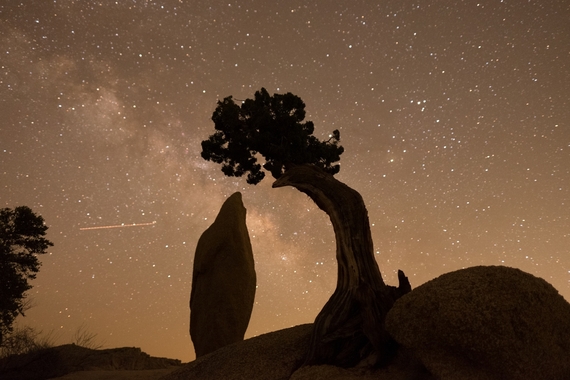 A balanced rock and Juniper Tree right next to our perfect campsite, site #18, at the Jumbo Rock campground.
Luck was on our side the day we arrived, because not only did we find a campsite at the popular Jumbo Rock campground during a particularly busy week, but we found the best campsite one could possibly hope for--set beneath a balanced rock formation and a beautiful outreached tree that climbed upwards toward the sky. It was not only an "aw, that's really nice" view; but a "brilliant, we can step outside of the tent in the middle of the night to capture star-stuff and photograph the sunrise five minutes after waking with coffee in hand" kind of view. A little dose of inspiration to kick off our park visit dedicated to "relaxness" (relaxness: noun, The state of being completely relaxed.)
Beyond the the Joshua tree forests lies a world of adventure that appeals to three important factors that compel people to enjoy it: accessibility, the draw of adventure, and inspiration.
First, it's easy to get there--just a couple hours east of L.A. and you are traversing well-maintained scenic roads from one awesome landmark to the next. Trails start flat and rise and fall over geological formations in all directions allowing families spanning generations to head off on the same trails together, adopting exertion levels that suit their personal ability.
On the adventure front, climbers find here a world-class climbing and repelling playground. Photographers visit to capture silhouettes of wonder-shaped trees against the backdrop of the sun, moon, and stars. Equines go there to ride horseback, birders to bird, mountain bikers to ride, nature walkers to walk, campers to camp... It's the "every man" park--a true wilderness playground.
And for our hearts, there is inspiration. Famous artists and musicians have taken from Joshua Tree ideas that have manifested into creative works that we all know and love... anybody out there a fan of Dr. Seuss? How about U2, Selena, John Lennon, Victoria Williams, Keith Richards, Gram Parsons, and Jim Morrison? At a more grass-roots level, inspiration is gleaned every day in the park. One can see the very act of discovery occurring all around. Kids scamper with cotton-tail rabbits through the brush and climb upon rock formations shouting to mom or dad, "can I go up here?!" Gown-up kids stand aside Joshua Trees that are the park's namesake taking selfies to share with their friends on Facebook and Insta. Solo explorers sit atop boulders looking into the distance taking in moments of solitude. And then, there are the Joshua Trees themselves. Like snowflakes and fingerprints, each is one of a kind. Every slight change of angle in your view produces what seems like an entirely different tree to look at. The sun shines, the birds soar, and it is just another stroke of great luck to be able to participate in the makeup of the landscape any day of the year.