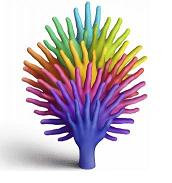 Many smart people are thoughtfully pondering how America can responsibly move forward utilizing our myriad strengths and resources, while also recognizing our limitations and imperfections. America's continued prosperity is dependent upon the generation of new ideas. Rightly, some propose leveraging our industrial capacity and trusted consumer safeguards to help propel the United States on a trajectory of prosperity in an increasingly competitive and interconnected world. But that is just one of many good ideas. Despite differing opinions over how to accomplish this, one thing is certain. Any viable effort to ensure America's continued prosperity must, at its core, embody the diversity of our society.
One of America's greatest strengths is its diversity - ethnic, religious, geographic, experiential, and socio-economic among others. Diversity is a fundamental characteristic of our democracy and of a pluralistic society generally.
I was fortunate to recently spend some time with Dr. James West, a world renowned African American inventor and acoustician, also a veteran of the Korean War. He is currently a Research Professor of Computer and Electrical Engineering at Johns Hopkins University, in Baltimore, MD. Dr. West is a recipient of the National Medal of Technology, holds over 250 foreign and U.S. patents, and is an inductee to the National Inventors Hall of Fame. Above all, he is a zealous advocate for increasing diversity in the fields of science and technology. Dr. West was instrumental in the establishment of the Corporate Research Fellowship Program (CRFP) at Bell Laboratories. The fellowship is highly selective and was designed to address the underrepresentation of minorities at the doctoral level in the fields of science, mathematics, and engineering. The CRFP has produced over 300 PhD.'s. Dr. West continues to work tirelessly to expand the reach of these types of programs. Dr. West says:
"No other country on earth has what we have here in the U.S., and that is diversity."
This wealth of diversity will enable America to lead the international community in a truly interdependent global marketplace. It is in this uniquely American profusion of talent and perspective that we should search for solutions to our most challenging problems. In many respects, the challenges which confront us as a nation are shared by the international community - adjusting to a changing climate, violence and terrorism, poverty, access to quality health care, education, and the list goes on . . . There is no question that finding solutions to these problems will require great creativity and input from many individuals. This problem solving process must also be interdisciplinary, something that is essential if problems are to be analyzed from multiple perspectives.
It is critical that America take advantage of the diversity of perspective that is organic to our society. Culture informs how individuals see a problem, and in some cases can be the catalyst for recognizing that a problem even exists. Guided and informed by different backgrounds and experiences, inherently Americans will approach problem solving from different angles.
One approach to a problem may focus only on a single aspect of its complexity, leaving unaddressed other aspects equally as critical to developing an optimum solution. This is when diverse perspectives prove indispensable. In a sense, each perspective will grow broader having benefited from the contributions of the others. Ultimately, they will coalesce to produce a comprehensive solution. In essence, this process is a type of collective cognition.
President Truman, civil rights leaders, and senior military officers recognized that in order for our armed forces to be maximally efficient they needed to be fully racially integrated. Consequently, in 1949 Truman issued an executive ordered to integrate the ranks of the military.

The military brings together incredible individuals with diverse perspectives from all over the country. It's great when Texas meets New Jersey for the first time! It is also amazing to witness the speed with which problems are identified and solved on a daily basis by our men and women in uniform. This diversity has helped to sustain a military that has been fighting two wars for most of the past decade. Our political and military leaders have signaled that the military is again on the cusp of progress through an embrace of diversity. Though this time, it will be by recognizing that openly homosexual individuals have a right to serve.
I asked Dr. West what generates new ideas. His response:
"What generates new ideas is when people from different backgrounds - ethnic, religious, experiential, socioeconomic, men and women -assemble to solve a problem."
After all, Dr. West would know. It is he and a German colleague, Gerhardt Sessler, who together in 1962 invented the Electroacoustic Transducer Electret Microphone. If you talk on a telephone today chances are you are using their invention. Ninety percent of all microphones currently produced are based on their science and innovation.

Popular in the Community