Research firm YouGov BrandIndex interviews 5,000 people each weekday on a range of consumer topics. The company recently sought to find out what snack brands resonated most with respondents. All major snack brands were measured by asking the question "Do you have a general positive feeling about the brand?"
Ritz and Lay's were the favorite for both males and females, but Doritos were rated higher by men than women. Fritos and Orville Redenbacher were rated higher by women than men.
See the best snack brands below:
PHOTO GALLERY
America's Favorite Snack Brands
Here's how the company explains its methodology:
Measurement scores range from 100 to -100 and are compiled by subtracting negative feedback from positive. A zero score means equal positive and negative feedback.
See the changes in score from last year to this year: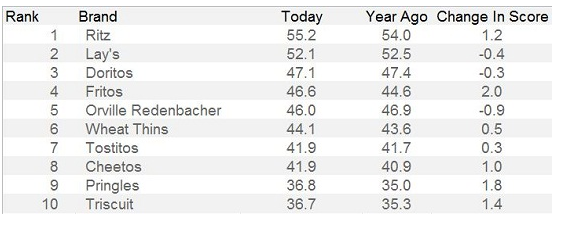 BEFORE YOU GO