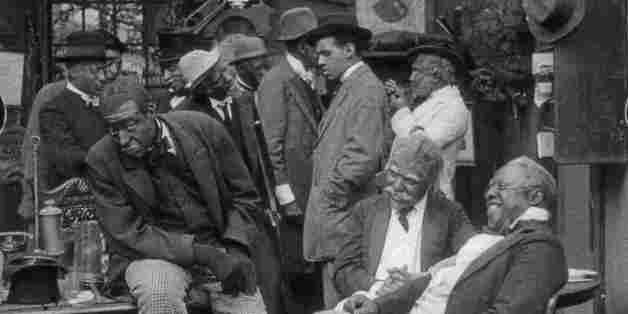 The 87th annual Academy Awards on Sunday will honor Hollywood's biggest achievements of the year, but many have already taken note of who's been left off of the nomination list: namely, non-white actors, directors and writers.
D. W. Griffith's "The Birth of a Nation," released in February 1915 and adapted from Thomas Dixon Jr.'s novel The Clansman: An Historical Romance of the Ku Klux Klan, is an overtly racist movie that went on to make history as the first major box office hit. Despite this historical feat, many have decried the motion picture for its scenes celebrating the founding of the Ku Klux Klan in the south.
As Magliozzi notes, the silent film's MoMA debut is a testament to its authenticity in comparison to D. W. Griffith's controversial motion picture. Both movies were filmed at about the same time. The MoMA footage is the work of two white filmmakers, Edwin Middleton and T. Hayes Hunter, and one black filmmaker, Sam Corker Jr. The negative for the unreleased and untitled film, which was meant to be a romantic comedy, has been in the museum's archival collection since 1938, and it began going through a restoration process in 2004.
"To me, it's remarkable that this film was made in 1914, and it turns up now when it's the 100th anniversary of 'Birth of a Nation.' And our film is a testament to what a slander the Griffith film was," Magliozzi said. "The performances are very sophisticated and very normal, very authentic, and very real feeling when you watch them. Whereas the Griffith film was very minstrelsy and racist stuff that it's appalling. So that within itself is amazing to us."
"Our film wasn't released, we think, because of 'Birth of a Nation,'" he added. "For this film to make a profit, they have to play it before large white audiences, and it's apparent that the producers of our film in 1914 said, 'There's no way that we're going to get an audience for this film with everyone going to see 'Birth of a Nation.' So we're not going to release it.' So I think the issue of how the films in theater have to attract audiences to make money is something that the producers in Hollywood today think about, the same way they did 100 years ago."
"Things haven't changed that much, and that's the reason why we wanted to put this exhibition on at MoMA at this time, to show you in a sense how little has changed in one way," Magliozzi said. "It's the same issues: 'Is something going to be profitable?' and 'Is the subject of the film going to make money to large multi-cultural audiences?'"
In addition to worrying about potential viewership and revenue, the directors of the footage on display at MoMA were likely also thinking about another issue related to black actors portraying love and affection on the silver screen.
"The romance in Bert Williams' film is very adult. It's a romantic comedy, with two mature adults having a sexual relationship with a long kissing scene in the film," Magliozzi said. "And that's one of the reasons they weren't going to release it back in 1915, because in that period romantic relationships between black characters had to be comic. If they weren't funny, they weren't going to be acceptable. It was a fact."
(See the kissing scene below.)
It's a problem that still hasn't gone away. According to a series of 2011 studies conducted by Indiana University telecommunications professor Andrew J. Weaver, white audiences are still biased when it comes to black leads in romantic films. Weaver concluded in his studies that "the higher the percentage of black actors in the movie, the less interested white participants were in seeing the movie" and "white participants exhibited a clear preference for films with white romantic couples over both interracial and black romantic couples."
Magliozzi noted that the filmmakers were likely aware of this issue back in the early 1900s. "I just read a quote where Sam Corker Jr., one of the directors for our film, said in 1909 that his play wasn't going to get staged because it's too much serious romance between the black characters -- they needed to make their relationship ridiculous, otherwise his play isn't going to get produced," he said. "So to me, our film shows the level of accomplishment that black performers had achieved. A level of talent and their abilities as actors was as good 101 years ago as it is today."
Following the film's run at the renowned New York City museum this spring, it is scheduled to be featured at the Smithsonian Museum and the San Francisco Silent Film Festival in June. It will then premiere in Europe in October and be released on DVD by the end of 2015.
Calling all HuffPost superfans!
Sign up for membership to become a founding member and help shape HuffPost's next chapter
BEFORE YOU GO
PHOTO GALLERY
African-American Filmmakers