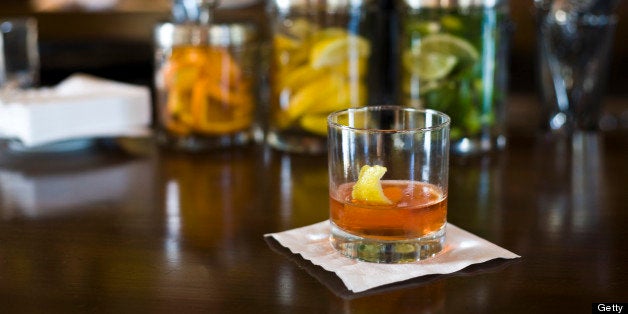 There are about as many stories about who invented the Sazerac as there are ways to make one. There has also been plenty of debate about whether or not the Sazerac was America's first ever cocktail. This classic New Orleans cocktail is one of our favorites -- we even urged you to make Sazeracs for your Fat Tuesday parties in February.
As we started to dream up our Independence Day cocktail menu, celebrating the best, brightest and earliest American cocktails, we knew two things: the Sazerac had to be on the list, and we needed to get the cold, hard facts regarding its history. For that, we reached out to our booze spirit guides at Liquor.com. Here's what they had to tell us: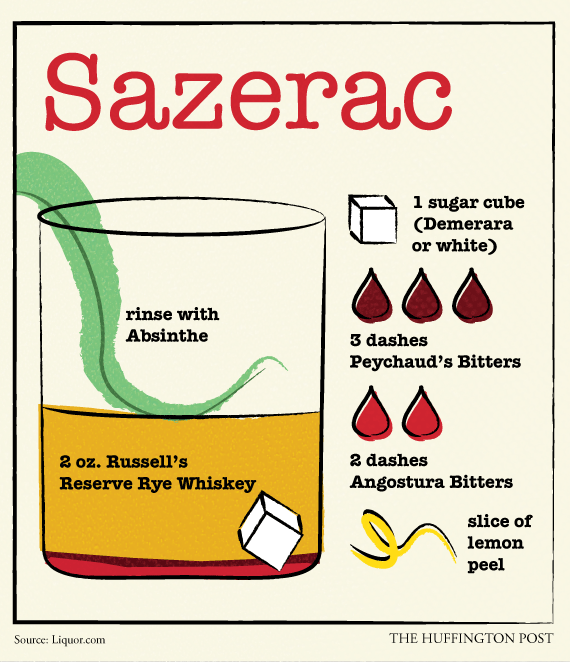 Absinthe
1 Sugar cube (Demerara or white)
3 Dashes Peychaud's Bitters
2 Dashes Angostura Bitters
2 oz Russell's Reserve Rye Whiskey
Slice of lemon peel
Rinse a chilled rocks glass with absinthe, discarding any excess, and set aside. In a mixing glass, muddle the sugar cube and both bitters. Add the rye, fill with ice and stir. Strain into the prepared glass. Twist a slice of lemon peel over the surface to extract the oils and then discard.
In case you're still feeling a bit shaky about the process, watch a pro do it!
This story appears in the special July 4 issue of our weekly iPad magazine, Huffington, in the iTunes App store, available Friday, June 28.