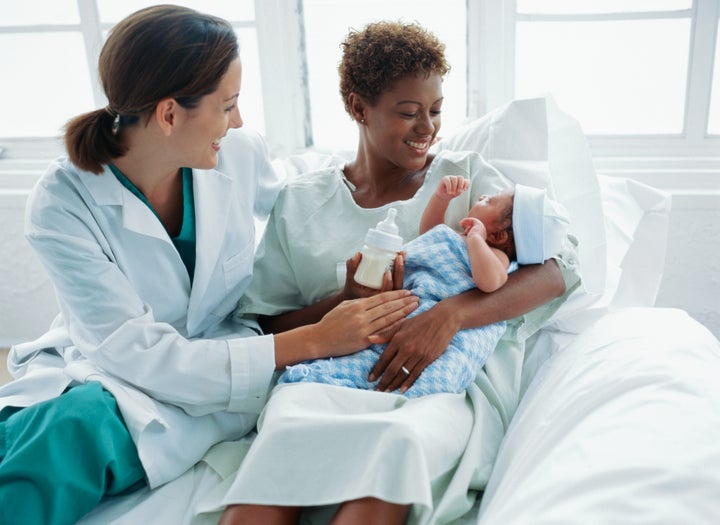 The unit opened this week, and two of its five beds are already occupied for 7 to 14 days of treatment. Doctors expect to be at capacity (with a wait list) by the beginning of next week.
"Postpartum depression is so common that our clinic absolutely fills a need," Dr. Samantha Meltzer-Brody, the director of UNC's Center for Women's Mood Disorders, told The Huffington Post.
Between 50 and 85 percent of new mothers experience mood disturbances -- loss of appetite, difficulty sleeping, sadness -- that many begrudgingly refer to as "baby blues." But for the 10 to 15 percent of women who develop the psychiatric condition postpartum depression, the "baby blues" don't go away. Symptoms, including feelings of worthlessness and guilt, negative feelings toward oneself and the baby and a decreased ability to fulfill daily tasks, get worse.
In most cases, outpatient care is sufficient to adress those symptoms. At UNC, roughly 750 new mothers per year are treated this way successfully, but around 5 percent are sick enough to warrant more attention.
"If a woman has thoughts of acutely hurting herself or her baby, is experiencing a separation from reality and is not able to perform activities of daily life (like eating, sleeping and showering), her current treatment is not working," Meltzer-Brody said.
In the past, new mothers with severe depression were placed in general psychiatric treatment centers, which are less equipped to treat the needs of new mothers.
"They need a calm and nurturing environment," Meltzer-Brody said. "Being housed with people who have dementia, substance abuse problems and schizophrenia is not the best fit." Psychiatric wards simply are not prepared to meet the highly specific needs of new moms, she said.
UNC is attempting to address those needs.
"Experts who specialize in helping postpartum moms have moved to North Carolina just to work with us," Meltzer noted. "It is really critical that you have specialty care [for new mothers] or else you can do more damage than good."
The clinic has about 20 employees, including specially trained nurses and therapists, lactation consultants and nutrition and yoga therapy instructors to assist with coping and relaxation.
The clinic also provides gliders, breast pumping equipment and bassinets. There is a separate dayroom that caters to family and partner therapy. Patients are allowed extended visiting hours with their infants (although the babies do not stay overnight because the mothers need uninterrupted sleep to get well). The overall goal is for each mother and child to bond during treatment as much as they would at home.
Dr. Kathie Wisner began studying perinatal psychiatry and postpartum depression when it was barely a recognized field in the U.S. in the 1980s. Back then, she tried to bring a freestanding perinatal psychology unit to the U.S. (they were already prevalent in the U.K. and throughout Europe, Australia and New Zealand), but couldn't get enough support.
"Use of the infant is really important for therapy," Wisner said. "For some women, the thought of going to a hospital without their baby is impossible. This is a healthy instinct, but it means that getting her to go to the hospital is a problem."
Wisner also said it's difficult, if not erroneous, to diagnose a mother with postpartum depression if she isn't with her baby because symptoms will be at a minimum. The mother might then face the possibility of relapsing when she readjusts to caring for the child and might be less able to adapt to her maternal role.
While some hospitals have stellar outpatient programs that emphasize the importance of mother-child bonding during treatment -- for example, Brown University's Postpartum Day Hospital, which offers services from 9 to 5, Monday through Friday -- the UNC program largely solves the problem of infant separation for mothers who need full-time care.
The UNC clinic could lead the way for other hospitals and programs in the U.S. Wisner hopes to prove there is an economic benefit to creating inpatient perinatal psychiatry units.
"They have the chance to collect cost information, because the big barrier to more units in England and America is if they are cost effective," she said. "It's also an incredible opportunity for research -- if you have the mother and baby together in a unit, can they get better faster?"
Meltzer-Brody hopes that the clinic's opening will catalyze a national movement to create other inpatient programs for perinatal psychiatry.
"Our goal is to provide a model that can work and be exported," Melzer-Brody said. "We want to let people know [about our clinic] so they can come find us and other hospitals can take the torch."
Even though the UNC unit still in its first week, administrators have been receiving calls from medical practitioners across the country asking how they can replicate the program at their own facilities.
Related