On the eve of the Games, excited to follow the magical moments of Olympic glory, it is poignant to realize that the greatest athlete of our time, the greatest Olympian of our time, will not sprint off the blocks in London.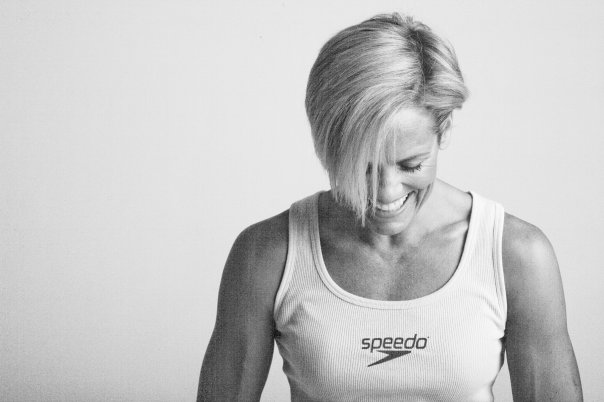 photo via OfficialDaraTorres on Facebook
We will of course thrill to follow the unique genius of Michael Phelps, along with a number of greats in various disciplines, in London. But, for my money, it is sprinter extraordinaire Dara Torres who deserves the "incomparable" moniker among all active Olympians on the planet.
Yet Dara finished 4th, just an eyelash out of the qualifying few, at the Trials and will sadly not grace us with her magnificent, elongated, smooth perfection in the 50-meter freestyle in London.
We can, and do, and should marvel at dominant Olympic performances, as well as numbers of gold medals won by one athlete at one Games, but the longevity of Torres, from her 1984 Games debut as a tender 17-year-old to her 12th medal twenty-four long years later, as a 41-year-old mother....is simply mind-blowing.
Throw in the fact that Torres retired after her third Games and we universally agree that her appearance in Atlanta in '96 would have been a foregone conclusion. Then throw in another missed Games when she retired again to have her daughter during the 2004 Games. When we do the simple math, she has competed in 5 Olympics but would have no doubt made 7 Teams.
And still, at the crazy-old age of 45...FOR A SPRINTER....Dara proved to be 4th best in all the United States in her attempt for yet another coveted Summer Games miracle.
Like many of you, I'm a certified Olympics junkie. Sure, it starts with Swimming and Track & Field. But I watch it all.
The Equestrian events, the epee fencing, the rowing down the fabled Thames, gymnastics, indoor and beach volleyball, tennis, table tennis, badminton.....all of it.
But I will dearly miss the sinewy muscles, the gleaming smile, the grand Olympian spirit of Dara Torres over the next few weeks.
Thank you, Dara, for all the champion moments you've given us. If only you were going to lead the way in that 50 meter free....for our sake.
Related
Popular in the Community