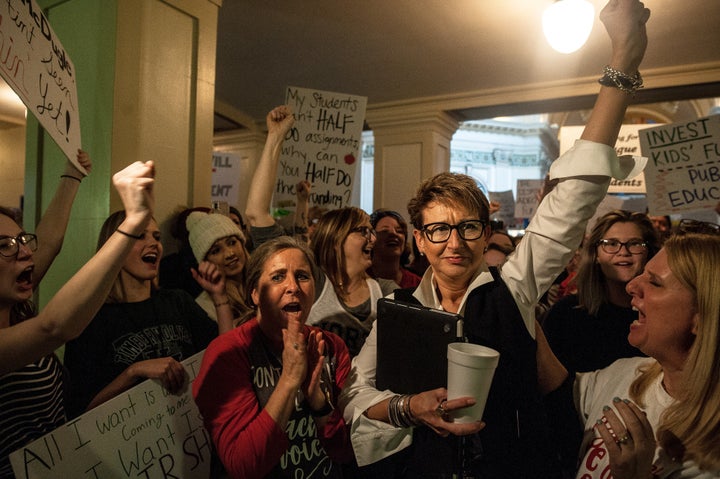 OKLAHOMA CITY and FRANKFORT, Ky. ― Kenny Bridges spent five years as a school superintendent in Kansas, a state famous for the anti-tax, austerity agenda of its former Republican governor, Sam Brownback. Tax cuts had left the schools in such dire shape that Bridges ― the son of two teachers, husband to another and father to two more ― had trouble attracting talent. He found there was just one state from which he could reliably recruit educators, thanks to its rock-bottom teacher pay: his native Oklahoma.
Bridges returned to Oklahoma last year to become superintendent of Jay Public Schools in Delaware County. More than 40 percent of residents there are Native American, and nearly 4 out of 5 students qualify for free or reduced-price lunches. The job brought him closer to his grandchildren, but Bridges quickly second-guessed the move. What he saw in Oklahoma was even worse than what he'd seen in Kansas.
The elementary school was dirty and dilapidated. Many of the textbooks were 15 years old. First through third grades lacked a contemporary reading series, and the classrooms didn't have whiteboards for the teachers to write on. Bridges had to cut a slow-pitch softball program to free up a few thousand dollars for such basic necessities.
"It was appalling," said Bridges, 59. "The conditions of the facilities were almost disgusting."
Oklahoma teachers are now in the midst of a walkout over school funding that is likely to spill into its second week. The shutdown follows a historic one just weeks ago in West Virginia, where a nine-day teacher strike led to a 5 percent pay raise for teachers and state workers. Kentucky educators have held their own walkouts this month and flooded the state Capitol to protest proposed cuts to pension plans and education budgets. Teachers in Arizona say they, too, will go on strike and close schools if the state doesn't grant significant raises and restore public school funding to 2008 levels.
There's a short explanation for why these low-tax, GOP-controlled states are now facing rebellion: They have slashed public school funding significantly since the Great Recession, while also pursuing many tax cuts that have benefited businesses and the wealthy. The budget shortfalls that austerity has created have left no money to pump into schools or salaries, leading to teacher shortages, overcrowded classrooms and even four-day school weeks in Oklahoma. Teachers forced to take on second or third jobs have finally decided they've had enough.
But the longer explanation stretches back a full generation, to when teachers in West Virginia, Oklahoma and Kentucky last walked off the job. Kentucky teachers shut down half the districts in the state in 1988 to demand more school funding. Teachers in West Virginia and Oklahoma both went on strike in 1990 for the same purpose. These were seminal revolts that today's striking teachers still remember, either as students or young educators early in their careers.
The work stoppages led to meaningful raises and investment at the time. But the promise they held eventually lost out to the anti-tax ideology of both legislators and voters.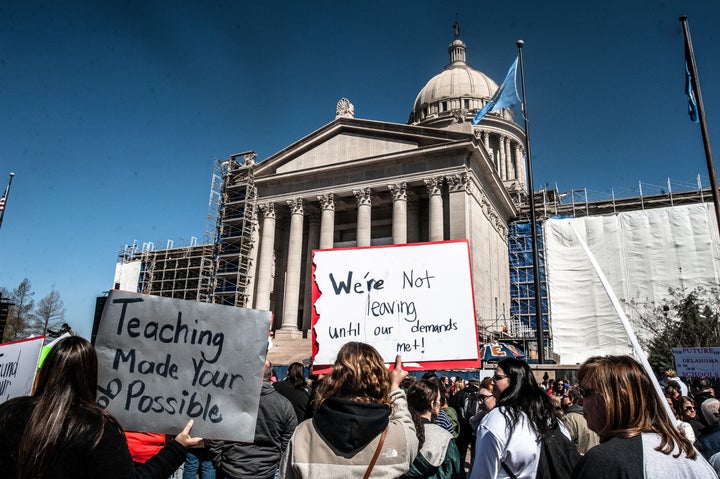 When Tish McDonald graduated from college in 1990, it was a time of great optimism in Oklahoma education. She started her career in public schools buoyed by the landmark legislation just passed in the statehouse to quell the walkout. What was known as House Bill 1017 dramatically reduced class sizes and set minimum teacher salaries, while also pouring money into early childhood programs and statewide testing. It did so by raising taxes, over the fierce objection of businesses.
"It's how we got our jobs," recalled McDonald, a counselor in Broken Arrow, Oklahoma. "Everyone was so excited. It was like a new day."
The decline that followed was so gradual that it was hard to see at first. Just two years after House Bill 1017 was enacted, voters approved a momentous ballot initiative known as state question 640. It required a supermajority of 75 percent in both chambers of the legislature for lawmakers to raise taxes again, making future hikes extraordinarily difficult. Meanwhile, many felt the full promise of the education overhaul never came to fruition.
"They said if there's a time where there's a crisis, we can increase class sizes," explained John Croisant, a sixth-grade geography teacher and girls soccer coach in Tulsa, Oklahoma. "The penalties for going over weren't enough to warrant hiring new teachers. The schools basically just had to stop following the rules, and that was 10 or 15 years ago."
Kentucky followed a remarkably similar path. Two years after the 1988 protests, the state Supreme Court ruled that Kentucky's education system had unconstitutionally failed to uphold its duty to provide adequate and equitable schools. The state legislature responded by passing a sweeping 1990 education reform law that raised taxes to better fund its public education system. In all, the changes generated $1.3 billion in new revenue between 1990 and 1992.
Most of it went to Kentucky's public school system: Teachers received a 15 percent raise over the next two years, former Kentucky Education Association director David Allen said, and in the ensuing decade, the funding gap between the state's wealthiest and poorest districts began to shrink. The Kentucky Education Reform Act drew national attention both for its increased funding and the academic programs it implemented in an effort to improve the school system.
But over the past decade, those funding increases have been slowly and steadily eroded due to round after round of spending and tax cuts. Since 2008, revenue shortfalls and a woefully underfunded pension system have combined to cause 20 separate rounds of budget cuts in Kentucky.
Teachers are increasingly forced to pay for their own school supplies. In some districts, educators said that schools have provided set amounts of paper at the beginning of the year and warned teachers not to run out. In most districts, there's rarely money for new textbooks or educational materials.
"I'm using the same resources that came out in the 1970s," said Andrew Bailey, who teaches business at Fairdale High School in Louisville, Kentucky, and is now running for a seat in the state Senate. "I haven't had a new textbook in my classroom since 2008."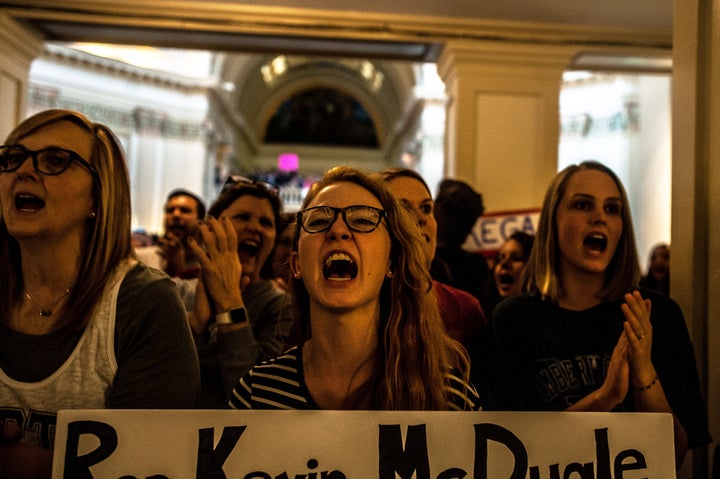 It was the same philosophy that led to huge budget gaps in states like Kansas: Cut taxes and reduce government, and the economy will prosper. Instead, the states are dealing with huge budget gaps.
"In Oklahoma, we thought cutting both personal income tax and corporate taxes would bring prosperity," said Croisant, who previously ran for an Oklahoma House seat as a Republican but recently switched his party affiliation to Democrat over the school funding issue. "We have sacrificed our schools and our kids' futures on economic policies that do not work."
The states are now facing the reality that they need to raise taxes to adequately fund their schools, though some of the solutions they're looking at are regressive ones.
On Monday, Kentucky Republicans passed sweeping reforms to the state tax code that they said would generate hundreds of millions of dollars in new revenues. They used the money to help avoid the most drastic of Gov. Matt Bevin's (R) proposed education budget cuts. But the plan reduces income taxes for the top 5 percent of Kentucky taxpayers, while relying heavily on cigarette tax increases and new sales taxes on various goods and services.
Taxes will increase for everyone else, according to an analysis from the Kentucky Center for Economic Policy. The modest education funding that was preserved in the state budget is coming first and foremost out of the pockets of poor and middle-class Kentuckians, many of whom are teachers. The Kentucky GOP's budget still zeros out funding for new textbooks, cuts funds for preschool and afterschool programs, and leaves K-12 education with less money on a per-pupil, inflation-adjusted basis than it received in 2008.
Late last week, Oklahoma lawmakers passed two revenue-raising measures for education ― one that would require Amazon's third-party vendors to collect sales tax and another that would expand gambling in tribal casinos. Earlier, lawmakers approved a tax on hotel and motel stays but quickly voted to repeal it. The state's teachers union says either the governor must veto that repeal or the legislature must reinstitute the tax.
So far the teachers have not wavered on their demands, and most of the state's superintendents, including Bridges, have stood behind them. His district has burned through its remaining snow days and will remain closed as long as necessary to boost school funding, he said. But he worries that even if Oklahoma can patch together enough taxes to reopen schools, they will find themselves in the same position in a few years, with funding that lags behind other states and a deep-seated aversion to any new taxes.
"The funding mechanism is broken," Bridges said. "They're going to put money in the top of the bucket, but they're not plugging the hole."
Popular in the Community