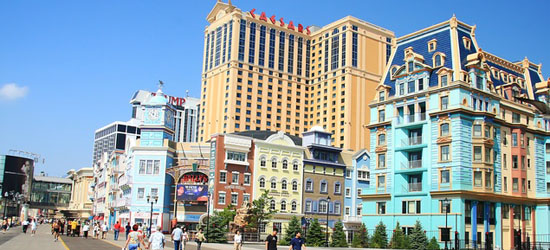 Photo Courtesy of Dreamstime. Article by Robert Firpo-Cappiello of Budget Travel.
Who says a boardwalk has to be by the ocean? Along Lake Michigan in the Windy City, the Navy Pier has got a 150-foot-high Ferris wheel that lets you take in the skyline and the lake, a carousel, wave swinger, mini-golf, and remote-control boats in season. And don't forget to grab an America's Dog Chicago hot dog with mustard, relish, onion, sport peppers, tomato, pickle, and celery salt. navypier.com
Atlantic City Boardwalk in Atlantic City, N.J.
This waterfront city may be known for its casinos, but its historic boardwalk is no gamble if you're looking for a great time. Originally built in the 19th century to prevent sand from blowing off the beach into the area's schmancy hotels, the Atlantic City Boardwalk has become a destination all its own. Its Steel Pier is a thriving amusement park, while its Garden Pier is a hot spot for the performing arts. atlanticcitynj.com
Coney Island in Brooklyn, N.Y.
Sure, the name may conjure images of barbershop quartets and early-20th-century couples strolling by the sea. But the revitalized Luna Park amusement park ain't your great-grandfather's Coney Island. The names of the rides at this iconic Brooklyn destination say it all: The Sling Shot throws you up in the air and lets you freefall back down to earth; the Cyclone roller coaster is still one of the most terrifying around, and the Wonder Wheel may be the best-known Ferris wheel in America. If it's a hot day, grab a classic New York-style Italian ice at Uncle Louie G's. lunaparknyc.com
Santa Monica Pier in Santa Monica, Calif.
I may be a native New Yorker, but my favorite Ferris wheel is here at Pacific Park, on Santa Monica's pier. Why? Because it's so close to the water that you can almost convince yourself that the wheel is going to dip you into the Pacific. You'll find gentle rides here for the little ones, and you can take a ride on the beautifully carved and painted carousel that was featured in the Academy Award-winning motion picture The Sting. santamonicapier.org
Oceanfront Boardwalk and Promenade in Myrtle Beach, S.C.
This one's just a baby compared with some of the historic boardwalks on our list. Opened just four years ago, this place feels as if it's been here forever. Welcoming crowds by the million with its charm and hospitality, Myrtle Beach's Oceanfront Boardwalk and Promenade features the Family Kingdom amusement park that includes the massive Skywheel and Slingshot, and the just-opened Twist 'n Shout steel roller coaster. visitmyrtlebeach.com
Ocean City Boardwalk in Ocean City, Md.
A carousel dating back to 1902, free boardwalk entertainment, and the classic vibe of a relaxed beach town make Ocean City's boardwalk one of the most popular stops on the Atlantic. For a taste of '50s-style seaside fare, drop by Atlantic Stand for fried chicken, soft crabs, and burgers. ococean.com
Venice Beach Boardwalk in Venice Beach, Calif.
Visit a typical boardwalk and you'll most likely return home with memories of blue water, candy-apple red kiddie rides, and the scent of fried seafood. Visit Venice Beach Boardwalk (officially Ocean Front Walk, but nobody calls it that) and you're more likely to return home with memories of blue hair, candy-apple-red lipstick, and the scent of pot smoke. It's not the beautiful location or the array of unique shops here that make the place unforgettable; it's the always-surprising, creative folks who turn out every day to make political statements, perform stunts, or just be their fabulous selves. venicebeach.com