Traffic came to a screeching halt one Thursday in May 2013 when a truck carrying an oversize load hit Washington's 1-5 Skagit River Bridge, causing a partial collapse of the 58-year-old steel truss bridge and sending three vehicles into the water below.
While there were no casualties and repairs are under way, the incident has drawn attention to the condition of aging bridges across the nation. And now that road-trip season is in full swing, we wanted to take a closer look.
Consider Boston's Storrow Drive, a double-deck roadway abutting Back Bay. Although nearly 60,000 cars cross this bridge heading west daily, few drivers may realize the condition of what's beneath their tires: the structure, which carries the road's westbound lanes over the eastbound, has been deemed "entirely insufficient" based on an evaluation formula used by government bridge inspectors.
The Storrow bridge's design flaws and corroding support beams make it one of many highly trafficked bridges in the nation to earn a low sufficiency rating--a score that indicates a bridge's sufficiency to stay in service. While a bad rating doesn't necessarily mean danger is imminent, when combined with high traffic volumes, it signals possible trouble for a bridge.
A majority of the nation's dangerous bridges are found in the Northeast, including No. 2 Pulaski Skyway in New Jersey. The disparity can be partly blamed on local conditions, according to Brian Leshko, a bridge expert with HDR, a global engineering firm based in Omaha, NE: steel tends to corrode more quickly in humid climates, especially where salt is used to de-ice roads in the wintertime.
One thing these bridges have in common, whether in Oregon or Louisiana, is age. All are more than 45 years old, and they've got company nationwide. Many structures from the bridge-building boom of the 1950s were designed for a 50-year lifespan, Leshko says. "When you do the math, you can see why we are where we are."
Although many insufficient bridges are undergoing major rehabilitation or replacement, such improvements require years of work, and in the meantime millions of cars still rely on them daily. William Ibbs, professor of civil engineering at UC Berkeley, points out that the risk is often a fiscal one: these troubled bridges are expensive to fix, yet left untended, they could be forced to close, costing the people and industries that use them time, money, and inconvenience.
As the nation's infrastructure continues to age, more large-scale projects will be necessary to keep our bridges in safe working order, according to David Goldberg of advocacy group Transportation for America, which recently released a report claiming 1 in 9 bridges is deficient, affecting more than 260 million Americans daily.
"We're going to see a wave of bridges that are going to need major overhaul or replacement," Goldberg says. "That's something we need to be ready for."
We analyzed 2012 data from the Federal Highway Administration for nearly 700,000 bridges, focusing on the subset with an average daily traffic volume (ADT) of more than 50,000 vehicles. We ranked those bridges according to their sufficiency rating (SR): a percentage from 0 (worst) to 100 (best), which is determined by a government formula that factors in a bridge's structural adequacy, safety, serviceability for modern use, and essentiality to the public. As civil engineer William Ibbs put it, "Those two variables are the standard measures we use for assessing bridge risk." The resulting list reveals America's high-traffic bridges with the worst sufficiency ratings (after removing 11 that are closed or have substantial improvements either completed or expected to be completed in the next year).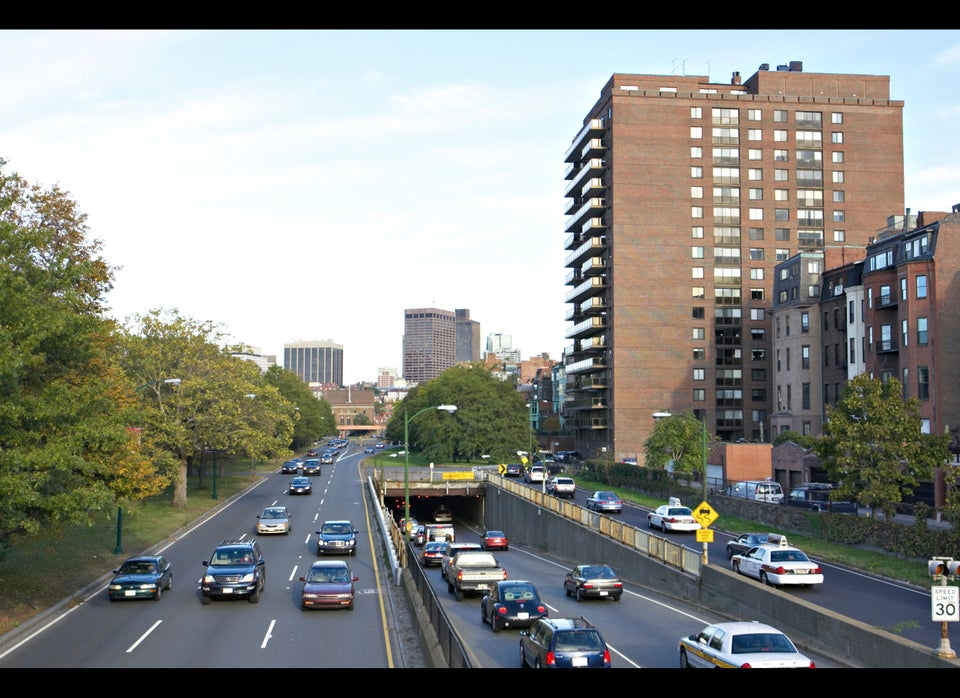 America's Most Dangerous Bridges (PHOTOS)
Related