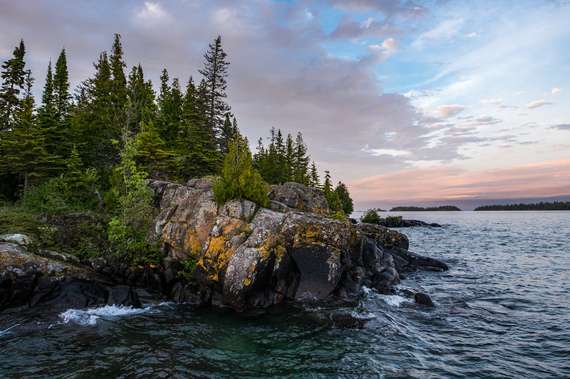 Isle Royale National Park in Michigan is one of the least visited national parks in the U.S., and the most revisited... it is wild, untamed, and in the middle of Lake Superior -- completely isolated and wonderful. Photo credit: Jonathan Irish
Michigan's Isle Royale National Park is one of the least visited national parks, and the most revisited. Formed by the world's largest lava flow and sculpted by glaciers for millennia, the island rises from the depths of Lake Superior (which might as well be an ocean when you look at its size and behavior) and is accessible only by sea vessel or by float plane. It is remote and it is wild; two factors that make a visit here a challenge, one that visitors are thrilled to take on. Price is another deterrent--equipping a remote island with supplies for visitors comes at a turn-key cost. And then there is the forbidding northern climate--it is virtually impossible for a layperson to travel there during the winter months, and as a result, Isle Royale is the only national park in the system that is closed entirely during the winter season. When it opens each year in May after seven months operating solely under the guidance of Mother Nature, the island comes to life. Moose come out to feed on aquatic grasses that breed in inland lakes. Loons sound their magnificent call on the coastal waters. Wildflowers and berries color the baseline of the hardwood conifer forests... if you stand still in one spot and listen to the surroundings, you will hear the natural world at work.
Such living rawness is of great allure. On this island in the middle of the world's second largest freshwater lake, there are no communications signals, nor throngs of people that alter the landscapes the way they do at most other national parks--there is no land in sight in any direction... it's just you and the world.
Adventure enthusiasts keen to kayak the rocky coastline, portage inland lakes and streams, and hike and camp throughout undeveloped wilderness arrive and quickly disappear into the rugged ridges and shorelines. Seekers of solitude come to experience a place where the only mode of travel is on foot, by self-propelled watercraft, or by motorboat. Families head out on guided sightseeing boat tours that provide access to historic places on the island. Wildlife fans take a rare opportunity to talk with the world authority on the wolves and moose--Isle Royale is home to the longest continuously running predator/prey study in the world, research that enables a better understanding of their behavior and how it impacts the ecosystem of the island; and as an extension, collective wildlife ecosystems on Earth. Early and late in the season, when the sky is at its darkest, astro-buffs get their fill when the enchanting Aurora Borealis can be seen dancing with green, red, and purple bands of color.
Isle Royale will not offer you its beauty on a platter, your participation is key. The mountains do not descend on you the way they do in parks like Yosemite. The wildlife is more reclusive here than it is in other places. Most of your hiking trails will require a bit of bushwhacking. In this park, your adventure truly is as good as you make it. There to help you refine your next adventure is the National Park Service staff and the team at the Rock Harbor Lodge, the only accommodation on the island, who are as thrilled to be on the island themselves as they are to open it up for visitors like us to enjoy. And enjoy we did. It came as a surprise to us that such a magnificent backcountry wilderness exists in this area of the country. We had no reason to believe otherwise, we just didn't know about it. But after a few days, it became clear why this park is the most revisited--its almost impossible not to be planning another adventure ("future tripping" we call it) when you are knee deep in Isle Royale.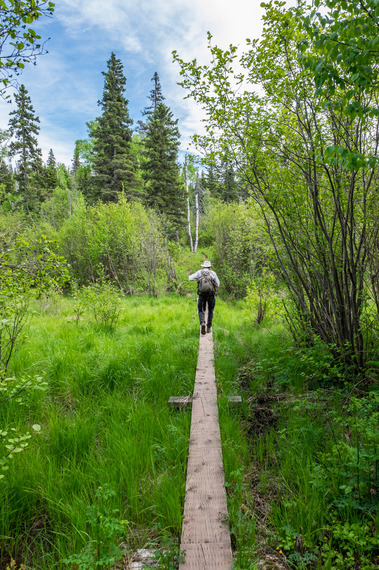 Bushwhacking in Isle Royale with the world authority on moose and wolves, Rolf Peterson. Photo credit: Jonathan Irish